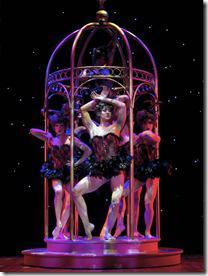 La Cage aux Folles 
Music and Lyrics by Jerry Herman 
Book by Harvey Fierstein
Directed by Terry Johnson
Bank of America Theatre, 18 W Monroe (map)
thru Jan 1  |  tickets: $32-$95   |  more info
  
Check for half-price tickets 
  
  
   Read entire review
  
---
Wigged out in the culture wars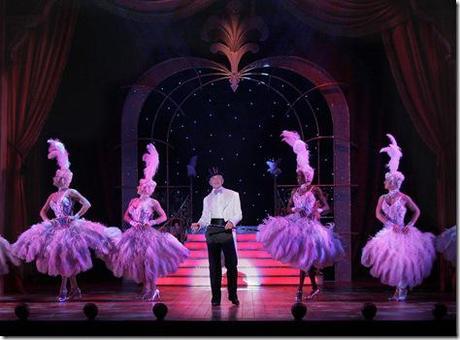 Broadway in Chicago presents
La Cage aux Folles
Review by Lawrence Bommer
Gay activists who deride this delight forget just how radical and topsy-turvy the musical can be. For all its gender-smashing glitz and farcical laughs, Jerry Herman's flagrant Tony-winning musical pushes many hot buttons–gay marriage, gay parenting, sexual freedom, and the family's changing image. It does it not by asking the audience to accept a possibly alien but flauntingly fabulous lifestyle—drag nightclubbing on the Riviera—but by triggering our protective instincts about the invasion of privacy. The audience identifies with sturdy St.-Tropez citizens Georges and Albin and their fully functioning family long before it's threatened by a homophobic home invasion by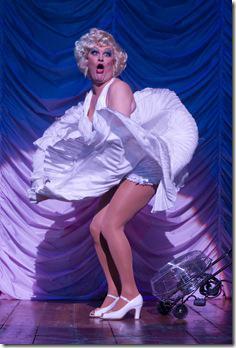 reactionary bigots who would ban a difference that feeds on their ignorance.
Happily, laughter is an argument that only life-haters can resist (i.e., fundamentalists of all persuasions). That bedrock plea for simple fairness makes "La Cage" a very mainstream musical: The frothy plot – two Riviera poofs, proprietors of the title "boite de nuit," must hide their contented "lifestyle" from the puritanical in-laws of the lovers' adored son – makes a persuasive and undogmatic case for tolerance simply because Georges and Zaza are perfect parents. La Cage Aux Folles is, like William Finn's Falsettos, a definitive musical about families and values.
Apart from Herman's contagiously singable score and laugh-out-loud lyrics, La Cage, like its French source, is a marvel of taut dramatic construction, with a terrific first-act finale, Harvey Fierstein's whiplash-witty dialogue, and a farcical build-up in the second that reduces bigotry to a contemptible cartoon.
Terry Johnson's touring version, here for a mere two weeks, lets you taste the workmanship, from the killer choreography by Lynne Page, which spoofs everything from the can can to Minsky's Burlesque, to the psychological precision of even the broadest sight gags. Heartstopping hoofing and wizard comic timing–it doesn't get any better than this.
Well, at least it shouldn't. George Hamilton, who played a very different (as in nasty) gay caricature in the execrable film "Zorro, the Gay Blade," is, it seems, atoning for it by playing another Georges, Albin's long-time companion (the "plain homosexual"). At times more robotic than real, the 74-year-old Hamilton offers sturdy if unimpassioned support and really strains to sell the finale. But the tan remains indomitable.
In any case, all eyes and ears are on Christopher Sieber's irrepressible drama queen Albin/Zaza (who's about as bi-polar as the fact that Albin and Zaza literally run the gamut from A to Z). A cunning combination of flaming pizzazz and lyrical self-pity, he's the most ferocious, almost carnivorous, Albin ever, using his heft to suggest a toxic hybrid of Harvey Fierstein's growl and Nathan Lane's sly subversion. For him "The Best of Times," usually a crowd-pleaser a la "Mame" and "Hello, Dolly," is a instead a promissory note for a time when Zaza and Albin are neither separate nor unequal. Hope can kill but Albin lives for it.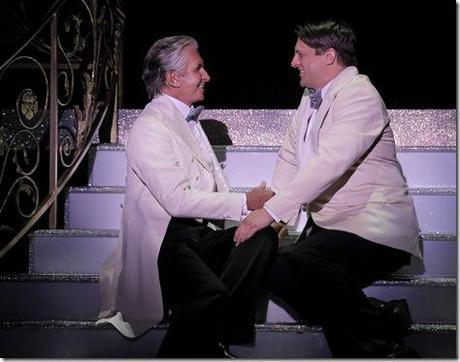 Bruce Winant fairly sneers in stereo as the stuffed-shirt hypocrite Dindon (the French name for "turkey"). Billy Harrigan Tighe is suitably straight and normal as Jean Luc, the undamaged child of two dads, Allison Blair McDowell is cluelessly devoted as his adoring Anne, and, resembling Catherine O'Hara in full frenzy, Cathy Newman cuts loose and up as Madame Dindon. Flamboyant to incendiary, Jeigh Madjus' mincing "maid" is one big lavender laugh machine. Like decadent refugees from the Kit Kat Club, the six Cagelles—ho, ho, ho, ho, ho, and ho!–are industriously androgynous (though, strangely, they never appear as their opposites in the usually much-bigger "Masculinity" number).
So, at least at the Bank of America Theatre, there's a big pink boa stuffed in your Christmas stocking.
Rating: ★★★
La Cage aux Folles continues through January 1st at Bank of America Theatre, 18 W. Monroe (map). Tickets are $32-$95, and are available by phone (800-775-2000) or online at ticketmaster.com (check for half-price tickets at Goldstar.com). More information at broadwayinchicago.com.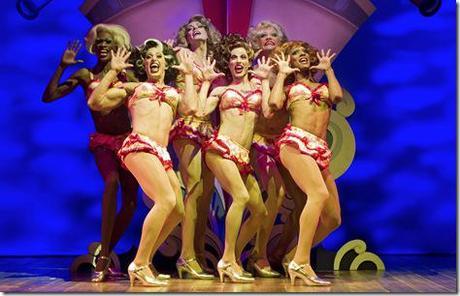 ---