I'd never tried any of Karen's Body Beautiful Skin products before. So when I picked up Creamylicious and Butter Love the last time I was at the store, I thought I would try out some of the Face Wash and review it here.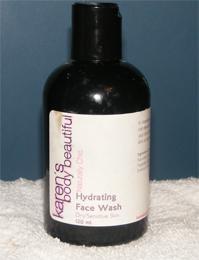 Karen's Body Hydrating Face Wash for Dry/Sensitive Skin $12.99 (4oz/120ml)
Ingredients: Purified Water, Aloe Vera, Saponified Coconut & Safflower Oils, Vegetable Glycerin, Panthenol, Essential Oils & Vitamin E
The first thing I noticed about this product is the consistency. It has a thick lotion-like feel, and reminds me of castille soap. The scent was the next thing that got my attention. It doesn't have a fragrance, per se, but it did remind me of plain, frangrance-free Dr. Bronner's liquid castille soap again. When I tool another look at the ingredients, I understood why. It has saponified coconut oil, (which is basically what castille is made of).
I substituted this cleanser for the black soap in my Morning Skin Routine. This product did a great job of washing my face, but left my skin feeling kind of dry. Except for once, after an evening workout, I didn't use this product at night, basically sticking to my usual Night Regimen. It's a great multitasking product though. I brought this cleanser with me traveling and used it as a facewash, handwash, body wash and a shaving gel.
I'm kind of on the fence about this product, because although it works, and it has multiple uses, at $12.99 for 4oz. I kinda think I can use my own castille soap to do the same things for less.
Maybe when I finish this product I'll recycle the container and put diluted Dr. Bronner's Castile Soap in it. Hmmm.
You can purchase Karen's Body Beautiful Face Wash here
RATING: 3 Smart! – Good product, good ingredients, multiple uses and a little goes a long way. Kind of pricey but good if you don't want to DIY.
Savvy Ratings: 5=Savvy 4=Smart 3=Suitable 2=Satisfactory 1=Stupid
Have you used Karen's Body Beatiful Facial Cleanser?