Read Time:
4 Minute, 40 Second
Let's start at the beginning. Nanti Kita Cerita tentang Hari Ini  by Marchella FP isn't necessarily a narrative book. It's more of a quote-and-inspiration book or, by the style of it, a visual poem. While the predecessor deconstructs and provides a rather ambitious plot to it, Jalan yang Jauh, Jangan Lupa Pulang is more reflective of the book.
Angga Dwimas Sasongko's script, co-written with M. Irfan Ramly, takes a different route from NKCTHI. Actual quotes from the book now appear as chapter titles and, seemingly, a guide to elaborate the substance into stories. In the process, this sequel uses scintillating combinations of non-linear narrative and montage to enhance the plot – plunging deeper into the character's psyche.
Related Post: Nanti Kita Cerita tentang Hari Ini (2020)
This is a major distinction in the creative front. By going deeper into the character, this sequel takes a less ambitious road – crafting a more intimate story. But, deep in the veins of it, this franchise's most stand-out trait is the penchant for melodrama. 
Home Away from Home
Nanti Kita Cerita tentang Hari Ini (2020) has unsurprisingly grown into a franchise with a shared universe. Three spin-offs – Story of Kale (2020), Story of Dinda (2021), and Awal & Akhir (2021) – have emerged from its primordial cauldron. Another prequel, Hari Ini Akan Kita Ceritakan Nanti, is announced for Netflix. None of them, however, continues the timeline directly like this inevitable sequel, Jalan yang Jauh, Jangan Lupa Pulang (2023). 
Just like what the title suggests, everything about this sequel screams distance. It's the story about a distant child, Aurora (Sheila Dara Aisha), chasing dreams in a distant foreign land. At the same time, this is a diaspora story about finding home – even in a place far away.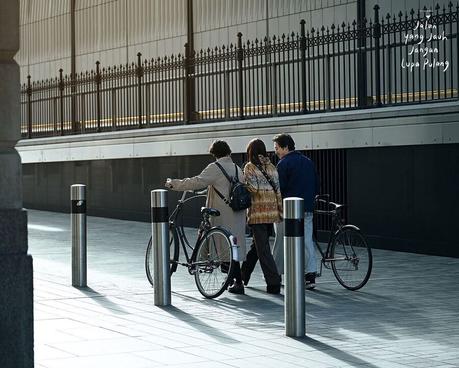 Aurora (Sheila Dara Aisha), Honey (Lutesha) and Kit (Jerome Kurnia). Image: Visinema
As depicted in the first film's ending, Aurora has finally come out from her siblings' shadow and decided to chase her own aspiration instead. Studying arts in London is what she takes up next. There, she finds love in the form of Jem (Ganindra Bimo), a striving artist trying to make a breakthrough. At the same time, she makes friends with fellow emigrants, Honey (Lutesha) and Kit (Jerome Kurnia).
Everything works out before an incident that forces Aurora to cut contacts with her Indonesian family happens. This is a pivotal moment that sets this sequel in motion. For that reason, Angkasa (Rio Dewanto) and Awan (Rachel Amanda), Aurora's siblings, have to travel to England on a mission to find her. But, this isn't an extraction mission; it's about finding the transformative truth about their distant sister.
Related Post: Story of Kale: When Someone's in Love (2021)
In exploring the family feud – which pits Aurora against her siblings' accusation of her being irresponsible – this sequel also explores the life of Indonesian diaspora, which is reflective of the bigger theme. The question that JYJJLP offers is about what makes a home? Is it the actual, physical location or the people who live in it? Is it the people who live as a legal family or is it the people who bring out the best in us? 
This is the kind of story that resonates better with people who live away from their home – either to make a living or to find their true self. On that front, this film makes a strong case on point. But, here's where the exploration gets back to square one once again.
Going Back Home Once Again
In accommodating the book's non-narrative nature, JYJJLP focusing on Aurora's personal issues is only logical. This has a familiar ring to it. The spin-offs have the same formula where the focal point sticks on a character. But, that's not where the familiarity ends. This sequel almost makes an official confirmation that the thread that binds all entries together is dysfunctional relationship infused with toxic-masculinity.
This will lead to the sequel utilizing a lot of arguing scenes that have become highly associated with this franchise. You'll get used to people shouting at each other regardless of the place or situation. This has proved to be either a hit or a miss. Dara Aisha nails it in almost every scene she's in; yet, her counterparts aren't always as convincing as she is. Bimo, who portrays Aurora's lover, quickly gets overshadowed (which makes an ironically interesting point to the plot). Dewanto and Amanda find their emotional output bridgeless – which makes it dead on arrival.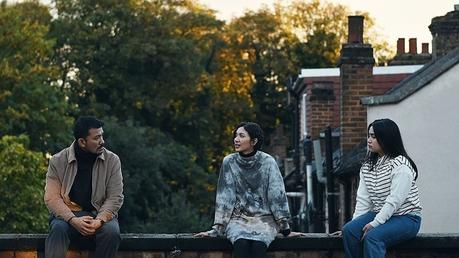 From left to right: Angkasa (Rio Dewanto), Aurora (Sheila Dara Aisha), and Awan (Rachel Amanda). Image: Visinema
Dara Aisha, who shows an effective restrained performance in the predecessor, steps up to give this sequel a much-needed life. Her performance makes the reflective title cards in between chapters believable. When paired with Lutesha, the screen is suddenly full of joy as both actors trade prowess between them. Given this franchise' tendency, it's no wonder if a spin-off focusing on Lutesha's character is imminent.
After all, the montage-heavy, lightweight Jalan yang Jauh, Jangan Lupa Pulang might better translate Marchella FP's non-narrative book into a melodrama. It's an enticing reflection about home as a place or a feeling that feels distant (unsurprisingly) and lacking gravitas. Only with Dara Aisha's stunning performance, it might feel closer to home – even when it's never, by any chance, close to home.
7.5
Jalan yang Jauh, Jangan Lupa Pulang
| February 2, 2023 (Indonesia)
Director:
Angga Dwimas Sasongko
Writer: Angga Dwimas Sasongko, Mohammad Irfan Ramly, Marchella F.P.
Stars: Sheila Dara Aisha, Jerome Kurnia, Lutesha
Summary:
Countries: Indonesia
Languages: Indonesian, English
Source: imdb.com
Disclaimer: This plugin has been coded to automatically quote data from imdb.com. Not available for any other purpose. All showing data have a link to imdb.com. The user is responsible for any other use or change codes.