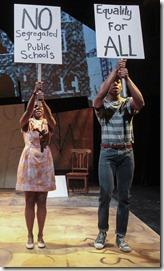 Important, timely - and sugarcoated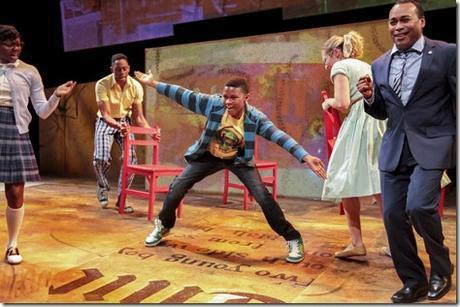 There should be more children's theater about civil rights. We already know it's largely ignored in most history texts, a footnote at best, but in these troubled times there's no subject more relevant. Jabari Dreams of Freedom is the mostly successful attempt of Chicago Children's Theatre to not only explore civil rights, but the role of young activists. The subject matter of this world premiere is essential and timely. The talent is excellent, the production values beautiful. If Nambi E. Kelley's script weren't just the slightest bit patronizing, it would be a perfect show.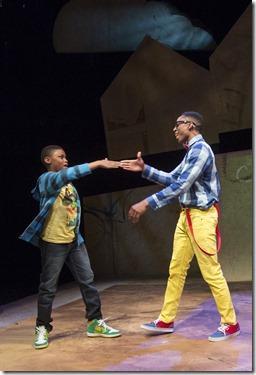 Fifth grader Jabari (alternately played by
Phillip Cusic
and
Cameron A. Goode
) lives on Chicago's South Side, and has many friends and even several followers on Instagram. He may not be the most studious kid, but he's confident - until his friend ends up in the hospital after an ill-fated walk home from school. Now Jabari doesn't want to leave the house, and his parents are considering leaving the neighborhood. But through the magic of dreams and art - and guided by his idol Barack Obama (
Gavin Lawrence
) - Jabari travels back in time, meeting kids who made a difference in civil rights and getting inspired to do the same in his own school, city and world.
According to CCT Artistic Director Jacqueline Russell in the show's press release, "Young people need this play right now." I couldn't agree more. Jabari Dreams of Freedom is not only a history lesson showing how much progress has been made, but a reminder of how much further we as a society need to go. The material is educational but not preachy, and even parents and teachers (and critics!) will walk away having learned a thing or two. Director Lili-Anne Brown keeps the pace moving - a must for children's theater - and the production values, especially Michael Stanfill's projection design, are stunning and vibrant. The diverse cast members boast stunning resumes and even more stunning skill sets. Lawrence's Obama is pitch-perfect, going much deeper than a simple imitation. Patrick Agada brings a wonderful, positive energy to several roles, including Jabari's earnest pal Emmett, and Leslie Ann Sheppardportrays grade-schooler Ruby Bridges with a heartbreaking innocence. Cusic is a relatable and capable lead, though at times he mumbles his lines and seems a bit unsure of himself on stage.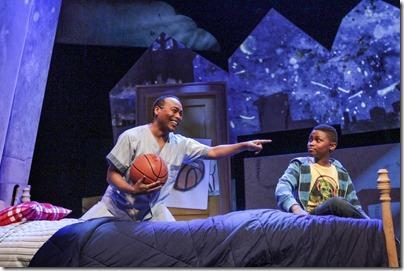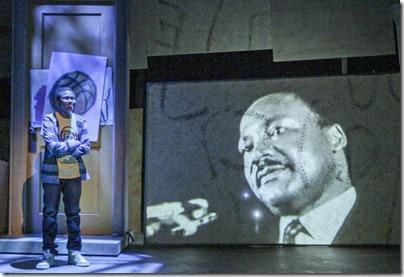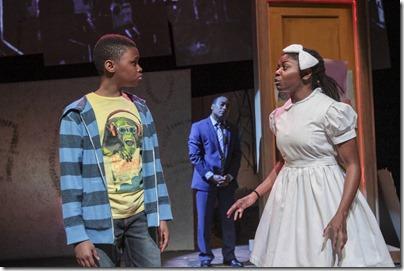 My main issue with Jabari Dreams of Freedom is some of the choices Kelley made in her script. Certainly, the civil rights movement has experienced its share of dark times, and a central plot point of is the title character's awareness of violence and unrest in his own backyard. Kids are aware of what's going on in the world, particularly those in Chicago and the surrounding area - it's a scary place. With this in mind, I can't understand why Kelley chose to cutesify and sugarcoat these dark moments, with policeman portrayed as dinosaurs and, most bafflingly, Jabari's friend being circled by an actress in a wild animal costume. Maybe this would be appropriate for an audience of six-year-olds, but nine-year-olds and above know better. I'm not saying the violence had to be shown, but this patronizing symbolism isn't necessary either.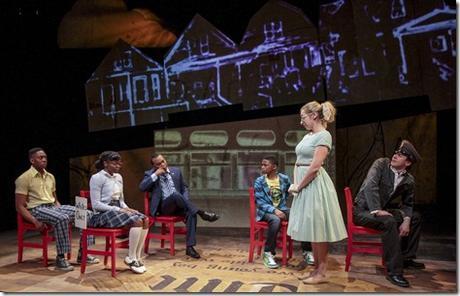 Script issues aside, Jabari Dreams of Freedom has all the makings of a hit. It's well-done, smart and conducive to many post-show discussions and activities. The show entertains and educates children and adults alike, nicely encapsulating important events and encouraging young people to effect positive change. These messages are strong on their own - no animal costumes necessary.
Jabari Dreams of Freedom continues through May 1st at Ruth Page Center for the Arts, 1016 N. Dearborn (map), with performances Tuesdays-Fridays 10am, Saturdays 11am, 2pm & 6pm, Sundays 11am & 2pm. Tickets are $10-$39, and are available by phone (872-222-9555) or online at PrintTixUSA.com (check for half-price tickets at Goldstar.com ). More information at ChicagoChildrensTheatre.org. (Running time: 75 minutes without intermission, including post-show Q&A)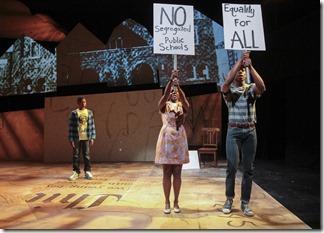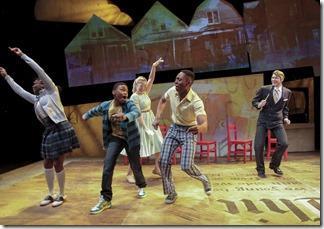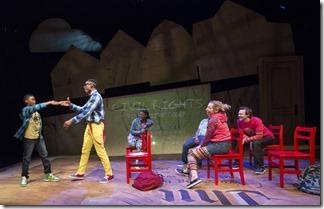 behind the scenes
Lili-Anne Brown (director), Jaret Landon (music director), William Boles (scenic design), Mieka van der Ploeg (costume design), Nick Belley (lighting design), Michael Stanfill (projections design), Victoria Deiorio (sound design), Mealah Heidenreich (properties design), Tina M. Jach, Will Bishop (production stage manager), Cara Parrish (asst. stage manager), Elizabeth Dauterman (2nd asst. stage manager, young performer supervisor), Charles Osgood (photos)
Tags: 16-0413, Cameron Goode, Cara Parrish, Charles Osgood, Chicago Theater, children's theater, Elizabeth Dauterman, Emily Glick, Gavin Lawrence, Harmony France, Jacqueline Russell, Jaret Landon, Leslie Ann Sheppard, Lili-Anne Brown, Matthew Keffer, Mealah Heidenreich, Michael Stanfill, Michael Turrentine, Mieka van der Ploeg, Nick Belley, Ninah Snipes, Patrick Agada, Phillip Cusic, post, Ruth Page Center for the Arts, Tina M. Jach, Victoria DeIorio, Will Bishop, William Boles
Category: 2016 Reviews, Chicago Children's Theatre, Children's Theatre, Lauren Whalen, New Work, Ruth Page Theater, World Premier