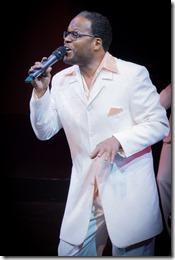 The Story of Curtis Mayfield
Written by Jackie Taylor 
Directed by Jackie Taylor and Daryl Brooks 
Black Ensemble Theater, 4450 N. Clark (map)
thru Oct 20  |  tickets: $55-$65   |  more info
  
Check for half-price tickets 
  
  
   Read review
  
---
Mayfield's 'Chicago Soul' come to life on the stage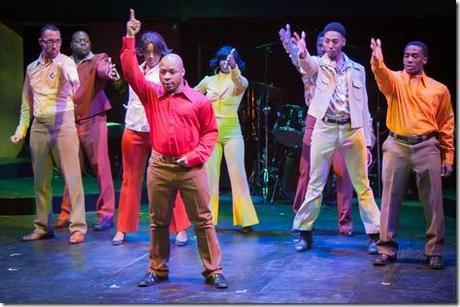 Black Ensemble Theater presents
It's All-Right To Have a Good Time: 
   The Story of Curtis Mayfield
Review by Lawrence Bommer
It's a legend made for Clark Street and Sunnywide Avenue. The prince of funk-adelic fun, before he died from diabetes at the age of 57 in Georgia, Curtis Mayfield (1942-1999) was born in Chicago and raised, along with his musical partner Jerry "Iceman" Butler, in the Cabrini-Green housing projects. He started singing with the Northern Jubilee Singers, then left gospel for R&B. As lead guitar for The Impressions, he played a big part in the civil rights movement, creating anthems for the cause, as he would in the disco-era blaxploitation film genre, evolving the funky sound showcased in "Super Fly" and other quasi-heroic urban epics. A two-time inductee in the Rock and Roll Hall of Fame, he also won a Grammy award for lifetime achievement in 1995. He was able to sire 10 kids but his life was literally cut short when in 1990 a piece of lighting equipment hit him, paralyzing him from the neck down.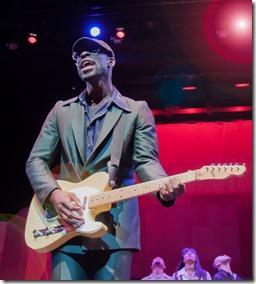 It's a life that deserves chronicling. But, of course, with Black Ensemble Theater the music is the motive. Informative and inspirational,
Jackie Taylor
's straight-forward, docudrama presentation of Mayfield's life, focuses on the highlights as much as the survival saga. It's narrated by
Reginald E. Torian, Sr.
, as the older, handicapped Mayfield—appropriately because Torian replaced Mayfield in The Impressions in 1972 and remains in the group today. The younger Mayfield, who can also sing up a funky storm, is crooned to glory by
Cecil Jones
.
What results is the undiluted sound of "Chicago soul"—and it's never sounded so necessary. These standards don't just resonate—they detonate. Musical director Robert Reddrick knows how a band and the right backup can make time stand still, then roll backward to reinvent a legend.
It's All-Right to Have A Good Time delivers just that, recreating the groovy sounds that pleased Columbia Records and other outlets with every surefire Mayfield hit. "Choice of Colors," "I'm So Proud," "We're a Winner," "Let's Do It Again," and "Um, Um, Um, Um" put us present at the creation and celebration. David Simmons and Lawrence Williams have abundant fun as the older and younger Jerry Butler, while "guest" appearances by Aretha Franklin and Carl Davis enliven the romp.
The one cavil is the sound system. On opening night it wasn't up to B.E.T. standards, crackling during the louder moments, raspy and muffled during the others. But that can be fixed and the rest was never broken.
Rating: ★★★
The Story of Curtis Mayfield continues through October 20th at the Black Ensemble Theater Cultural Center, 4450 N. Clark (map), with performances Wednesdays/Thursdays 7:30pm, Fridays 8pm, Saturdays 3pm and 8pm, Sundays 3pm.  Tickets are $55-$65, and are available by phone (773-769-4451) or online through PrintTixUSA.com (check for half-price tickets at Goldstar.com). More information at BlackEnsembleTheater.org.  (Running time: 2 hours 30 minutes, includes an intermission)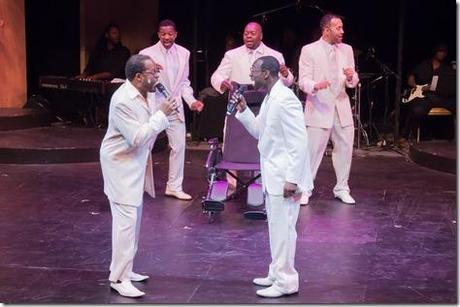 Photos by Danny Nicholas
---
artists
cast
Reginald Torian (Curtis Mayfield), Cecil Jones (Younger Curtis), David Simmons (Older Jerry Butler), Brandon Holmes (Younger Jerry Butler), Brian Nelson (Fred Cash of The Impressions), Donald Manuel (Sam Gooden of The Impressions), Casey Hayes, Rueben Echoles, Jos N. Banks, Mark Hood, Alanna Taylor, Katrina Richardson, Ereatha McCullough, Christina Harper (various roles, ensemble).
behind the scenes
Jackie Taylor (co-director, playwright), Daryl Brooks (co-director), Robert Reddrick (musical director), Emily Wells (stage manager), Ann D. Davis (set designer), Denise Karczewski (lighting design), Samantha C. Jones (costume design), Bekki Lambrecht (technical director), Danny Nicholas (photos)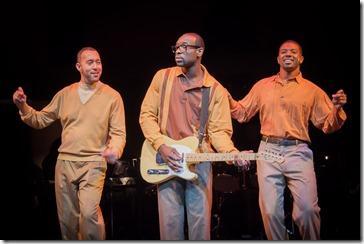 13-0945