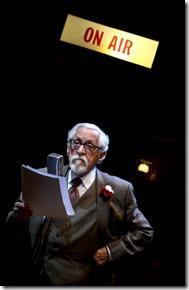 It's a Wonderful Life: 
   The Radio Play
  
Adapted by Frank Gabrielson
Based on the Frank Capra film
Directed by PJ Paparelli
American Theater Company, 1909 W. Byron (map)
thru Dec 29  |  tickets: $35-$40   |  more info
  
Check for half-price tickets 
  
  
   Read review
  
---
Atta boy, Clarence!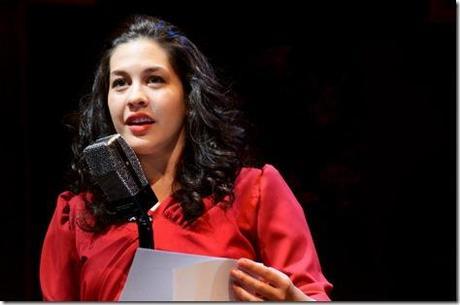 American Theater Company presents
It's a Wonderful Life: The Radio Play
Review by Patrick Dyer
"Each man's life touches so many other lives. When he isn't around, he leaves an awful hole, doesn't he?" says the (second-class) angel Clarence to George Bailey, a man at the end of his ropes in Frank Capra's Christmas classic "It's a Wonderful Life". And there's a reason why it's a classic: Jimmy Stewart's chilling performance, Capra's heartfelt direction, the lush black-and-white cinematography, and its overall celebration of the human condition make the film an annual tradition for many Americans around the holiday times. But is the original film the only way to see this timeless tale? Fortunately no, because American Theater Company this season brings the Windy City their own live radio play adaptation of the holiday classic.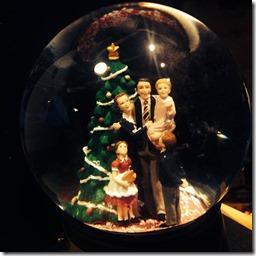 George Bailey (
Will Allan
) is a young would-be engineer who has spent his entire life devoted to giving back to his wholesome hometown of Bedford Falls. He provides for his family and friends, running a building and loans establishment, finds true love in his sweetheart Mary Hatch (
Sadieh Rifai
), and protects the good townsfolk from the corrupted business tycoon Mr. Potter (
Mike Nussbaum
). However, because of all of this, and due to a deaf ear from after rescuing his younger brother Harry (
Tyler Ravelson
) as a kid, he's never been able to fully live out his dreams, which include traveling to Europe, going to college, or even serving his country in the Second World War. But everything changes when his bumbling uncle Billy (
Howie Johnson
) misplaces the business's fund of $8,000 while trying to deposit it. Suddenly, George is at risk of losing everything and, in a fit of drunken rage, goes out into the night and contemplates jumping off the bridge. However, an angel named Clarence (Nussbaum) intervenes by showing him what the world would really be like without him. George sees a world where his loved ones are either ruined, miserable, or dead, realizing that his life is not only wonderful but it has touched so many beyond his comprehension.
Since this is technically a live radio play, American Theater Company treats it as such by setting it in the 1940s, having the set be an entire recording studio, all complete with an Announcer (Patrick Martin), a Foley Artist (Steven Yaussi), an Assistant Station Manager (Mark Yacullo), a pianist (Cheryl Parkes), and even commercial jingles sung by the players. This helps create a wholesome atmosphere for the story and allows the audience the experience of actually being at a live recording of a radio play. For the most part, the play is a straightforward adaptation of the Frank Capra film, with only half an hour cut off the running time while still keeping the film's spirit and joy throughout, thanks to PJ Paparelli's sensitive direction and obvious love for the source material. And this is all made more effective thanks to his delightful cast.
Allan as George Bailey not only nails down Jimmy Stewart's mannerisms and speech patterns but also brings the weight of the role fluidly to the stage – er, radio. The rest of the actors play multiple roles, and they each bring their own charm and effectively differentiate between each character. Nussbaum, a Chicago theater veteran, creates a great contrast between the kind, charming Clarence and the sinister, greedy Mr. Potter. Rifai is soft and sweet as Mary Hatch but also brash as George's mother, Mrs. Bailey. Mary Hollis Inboden has a lot of fun as Violet giving her a clear upbeat personality while also capturing the innocence of George's young daughters. Ravelson and Johnson have the most roles to play out of the cast as the denizens of Bedford Falls, and they succeed in specifying each character, making this wholesome town all the more recognizable. Martin is enjoyable as the Announcer, giving him a lot of character without distracting from the performance. Special kudos goes to Parkes, Yaussi, and Yacullo for their technical work all throughout the play all while making it look like a breeze.
While this production might not be quite as powerful as the original film, it's still a delightful treat this holiday season for anyone in Chicago who (for whatever reason) hasn't seen the film yet. This is a good substitute that promises a lot of heart and fun for all audiences. The affirmation of life this story brings is timeless and poignant not just for Americans but for all mankind. It's a story that shouldn't be missed out. And always remember: every time a bell rings, an angel gets his wings.
Rating: ★★★
It's a Wonderful Life continues through December 29th at American Theater Company, 1909 W. Byron (map), with performances Thursdays/Fridays at 8pm, Saturdays at 2pm and 8pm, Sundays 2pm.  Tickets are $35-$40, and are available by phone (773-409-4125) or online through PrintTixUSA.com(check for half-price tickets at Goldstar.com). More information at ATCweb.org.  (Running time: 1 hour 30 minutes, no intermission)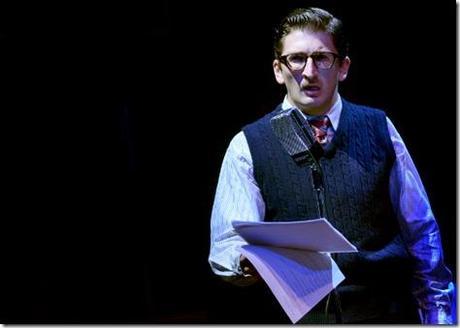 Photos by Katie Sikora 
---
artists
cast
Will Allan (George Bailey), Sadieh Rifai (Mary Hatch & Mrs. Bailey), Tyler Ravelson (Harry Bailey & others), Mike Nussbaum (Clarence & others), Howie Johnson (Uncle Billy & others), Mary Hollis Inboden (Violet Bick & others), Patrick Martin (Announcer & others), Steven Yaussi (Foley Artist), Cheryl Parkes (Pianist), Mark Yacullo (Assistant Station Manager & male understudy), Colleen DeRosa, Tina Naponelli (female understudies), Mitchell Reid (male understudy)
behind the scenes
Frank Gabrielson (adaptor), PJ Parapelli (director), Austin Cook (music director & composer), Tom Burch (set), Stephanie Cluggish (costumes), Mac Vaughey (lighting), Erin Albrecht (stage manager), Josh Jaeger (assistant director), Katie Sikora (photos)

13-1148