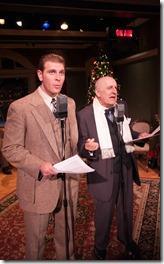 Fun and nostalgic holiday production for the entire family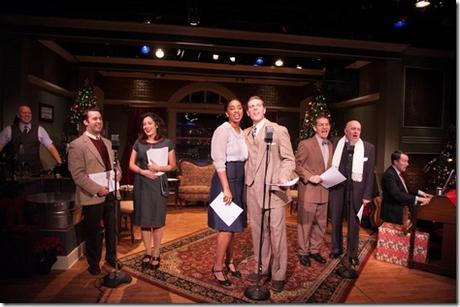 This pleasant production will bring oldsters back to the "good old days" and also introduce younger theatergoers to what life was like when one sought entertainment prior to TV and the media world in general. And it was usually enjoyed as a family, gathered around a Zenith radio.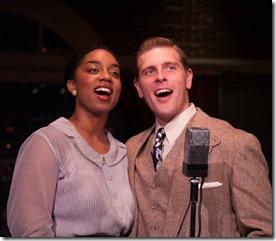 Everything here is an experience: As you enter the theater, you are ushered into a kind of time warp, a radio studio preparing to send out a show on the air waves to millions of listeners. A "warm-up" is in progress involving song and patter, getting the audience relaxed and prepared for the main event, the radio version of a film we know oh so well, " It's a Wonderful Life".
I'm sure most folks have seen the movie since it hits the TV programming a number of times during the Christmas season. So, as the radio show progresses, the corresponding scenes pop into your mental movie screen and give you an extra sense of satisfaction. And no doubt, when you watched it on television, you had commercials. So too here, as you get to see how live commercials were done in "the good old days".
The cast does a fine job bringing the story to life. The hero, George Bailey (Brandon Dahlquist), handles the dialogue, not only with his voice but with his facial expressions and body movement as well. Mary Bailey (Camille Robinson) injects gentleness, caring and love into her character's words. The two polar opposites, skinflint, money-grubbing Potter and Clarence, George's potential savior, are both voiced by John Mohrlein, who sounds remarkably close to the accents of Lionel Barrymore and Henry Travers, who played those film characters. Well done!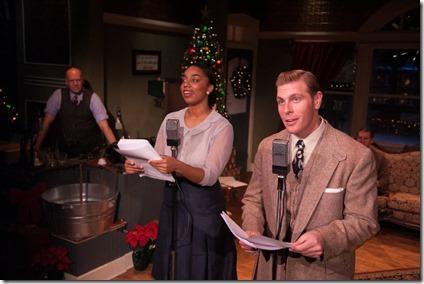 The supporting roles of Harry Bailey (Ian Paul Custer), Violet (Dara Cameron) and Uncle Billy (James Joseph) are handled with a lively flair, and the whole production moves along with crispness and alacrity by director Gwendolyn Whiteside. Sound effects are ably provided by Shawn J. Goudie and a big "hats off" goes to Michael Mahler, who does yeoman work as the announcer, musician, jingle composer and product pitchman during the commercial breaks.
It's a Wonderful Life: Live in Chicago! is a timely and entertaining way to put a lovely touch on this season and get as much joy as we can get after a tumultuous election. Deck the halls and buy a ticket or two!
It's a Wonderful Life: Live in Chicago! continues through December 31st at Greenhouse Theater, 2257 N. Lincoln (map), with performances Thursdays & Fridays at 7:30pm, Saturdays 4:30pm & 7:30pm, Sundays 2:30pm. Tickets are $19-$49, and are available by phone (773-404-7336) or online through Vendini.com (check for half-price tickets at Goldstar.com ). More information at AmericanBluesTheater.com. (Running time: 90 minutes, no intermission)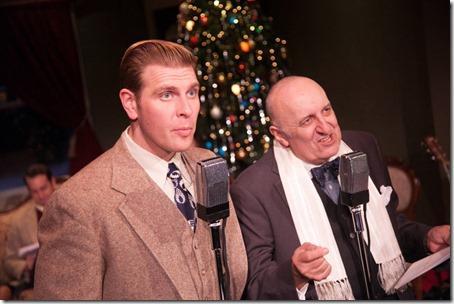 Photos by Johnny Knight
behind the scenes
Gwendolyn Whiteside (director), Michael Mahler (music director, jingle composer), Austin Cook (original score), Grant Sabin (scenic design), Katy Peterson (lighting design), Christopher J. Neville (costume design), Shawn Goudie (Foley design), Elyse Dolan (props design), Paul Deziel (video associate), Marty Higginbotham (original direction), Sarah E. Ross (production manager), Kathryn Lochert (stage manager), Johnny Knight (photos)
Tags: 16-1154, American Blues Theater, Austin Cook, Brandon Dahlquist, Camille Robinson, Chicago Theater, Christopher J. Neville, Dara Cameron, Elyse Dolan, Frank Capra, Grant Sabin, Greenhouse Theater Center, Gwendolyn Whiteside, holiday show, holiday theater, Ian Paul Custer, James Joseph, John Mohrlein, Johnny Knight, Kathryn Lochert, Katy Peterson, Marty Higginbotham, Michael Mahler, Paul Deziel, post, Sarah E. Ross, Shawn Goudie
Category: 2016 Reviews, American Blues Theatre, Duane Barnes, Greenhouse Theater Center, Holiday Show, Video, YouTube