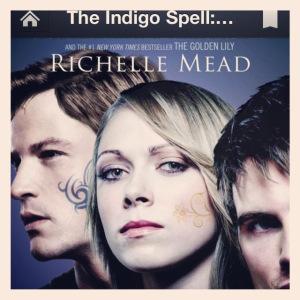 I'm pretty positive that I am on the long list of people that have been anxiously waiting for this book to come out. Ever since finishing The Golden Lily I couldn't wait to get my hands on Indigo Spell. As usual, if you aren't caught up in the series, don't read my review! I won't spoil Indigo Spell, but the earlier books will be discussed!
In the aftermath of a forbidden moment that rocked Sydney to her core, she finds herself struggling to draw the line between her Alchemist teachings and what her heart is urging her to do. Then she meets alluring, rebellious Marcus Finch–a former Alchemist who escaped against all odds, and is now on the run. Marcus wants to teach Sydney the secrets he claims the Alchemists are hiding from her. But as he pushes her to rebel against the people who raised her, Sydney finds that breaking free is harder than she thought. There is an old and mysterious magic rooted deeply within her. And as she searches for an evil magic user targeting powerful young witches, she realizes that her only hope is to embrace her magical blood–or else she might be next.
I have to say that Sydney is growing on me more and more. Like everyone else, I loved Rose and Sydney is so different from her so it was an adjustment. In Indigo Spell, Sydney continues to struggle with her feelings towards magic. I connected to her because I have definitely have things in my life that I grew up being told they are wrong and now feel differently. The way something that is supposed to be "unnatural" comes to her so effortlessly gives Sydney a pause in her logic. I feel like all of Indigo Spell is a point of crossroads for her. She has been riding the line between what she was raised to believe and what her heart is telling her for awhile and now, we get to witness her make choices in a specific direction.
On to the lovely romance…
  So clearly, I've been rooting for Adrian all the way and all this Marcus hype got me worried. Who is this guy? Is he the third in a love triangle? Was I going to have to find this fictional character and off him so that Sydney could focus on her true love, Adrian? Well, my questions were answered. I can't spoil it for you and if I have to deal with all that stress, well you do too! But I will say that Adrian gets more bold with confessing his love for Sydney.