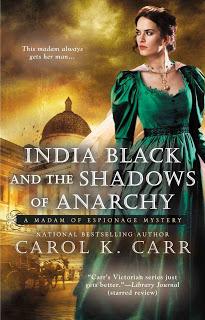 Description (from cover):
'In Victorian London, India Black has all the attributes a high-class madam needs to run a successful brother--wit, beauty, and an ability to lie with a smile. Luckily for Her Majesty's Government, all these talents also make her a first-rate spy...
India Black, full-time madam and occasional secret agent, is feeling restless, when one of Disraeli's men calls on her to meet the prime minister--alone. Even though all her previous meetings have been organized by the rakishly handsome spy French, it's been decided this is a mission India must attempt on her own.
Revolt has spread across Europe and reached the shores of England--anarchists have begun assassinating lords and earls, one by one. Now India must infiltrate the ranks of the underground group responsible for those attacks, the sinister Dark Legion. To stop their dread plot, India will go from the murkiest slums of London to the highest levels of society, uncovering secrets that threaten her very existence...'
My thoughts:
I love this series. I know when I pick up an India Black story that I will be amused to no end. India Black is a character that is witty, sassy and has an ability to always make me laugh. Carol K. Carr has a hit series on her hands and I simply devour these books as soon as they are released. India Black is not your normal Victorian spy. She is the madam of a successful brothel, which she maintains while she is on assignment for Her Majesty's government. She has a lot of sass and a way with words that leave me in fits of laughter as I read these books. A favorite line of mine from this novel:
'I commenced thrashing like a demented salmon, trying to wriggle out of my hessian shackles and screaming at a volume calculated to raise the ghosts from the nearest cemetery.'
I can just imagine what a 'demented salmon' looks like and the picture is amusing to ponder. It's the witticism like this that really endears me to these novels.
India Black has been asked to infiltrate the anarchist cell responsible for some brutal assassinations. She must keep her wits about her as she is involved in some dangerous escapades or she might end up forfeiting her life. India is not one to lose her cool and she uses her less than moral ways to do what she can for her government. She is quick on her feet and amusing all at the same time. It's hard not to love these novels.
I highly recommend this series and this book to all historical mystery lovers who are looking for a character outside the norm. If you're looking for a great read with a lot of giggles and suspense, then run to the bookstore, library, or where books are sold to get this series immediately. Carol K. Carr has become an author that I snatch up her books as soon as they come out. I know that I won't be disappointed and love to see what's up next for India. It's almost like catching up with an old friend when you read these and I hope that I can convince some of you to become interested in this series. I hope that Carr plans to write more books in this series, because they are just simply awesome.
Overall Rating: 5
Title:
  India Black and the Shadows of Anarchy
Author:
  Carol K. Carr
Series:
  Madam of Espionage Mystery #3
Publisher:
  Berkley Trade
Publication Date:
  February 5, 2013
Pages:
  320
Genre:
  Historical Mystery
Get It:
Amazon
;
Barnes & Noble
Disclaimer: This book was purchased by myself and I reviewed this book without compensation of any kind. All thoughts and opinions are solely mine.