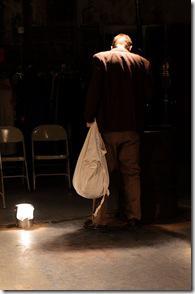 In the Jungle 
Written by Bertolt Brecht  
Directed by Keaton Wooden 
at The Brown Elephant Andersonville (map)
thru Dec 18  |  tickets: $30   |  more info 
  
  
   Read entire review
  
---
Hatred is an obsession in the jungle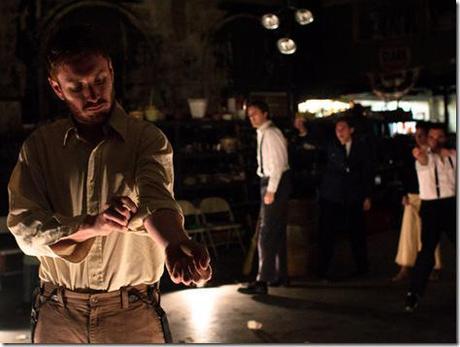 Wakadoo Production i/a/w Howard Brown Health Center presents
In the Jungle
Review by Keith Ecker 
I find it fitting that Wakadoo Productions would stage a production of Bertolt Brecht's In the Jungle of Cities (here simply titled In the Jungle and adapted by Wallace Dirges) for the benefit of the embattled non-profit Howard Brown Health Center. The story is about two Chicago men—one a simple bookseller and the other a lumberyard mogul—who become locked in an obsessive metaphysical boxing match wherein both use treachery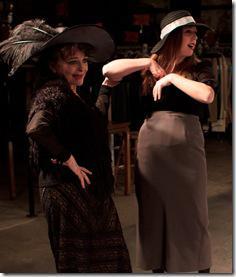 to try to defeat the other.
As anyone who has been reading the gay press knows, Howard Brown has been suffering a mass exodus of top executives since the charity was rocked by financial scandal in 2010. Much of the blame for the staffing shake-up has been placed on current CEO Jamal Edwards, whose management strategy has stoked the ire of current and past employees. Edwards, like the character of George Garga (Edward J. Eberwine III) who ascends to financial success after assuming the lumber business from nemesis Shlink (Drew Johnson), has fortuitously been bestowed with a degree of power as the head of the organization. And like Garga's enduring relationships that steadily crumble throughout the play, so too has the morale of the health clinic.
Obviously, this is not the parallel that director Keaton Wooden wished to draw when deciding to fundraise for Howard Brown. In fact, I'm not quite sure why he chose such a challenging play that has so little to do with the GLBT community, which is the population that Howard Brown serves. I know for a fact that the elderly group of patrons that sat next to me were perturbed to discover they were being subjected to the complex headiness of a Brecht play rather than something more digestible like About Face's The Homosexuals. Still, there's no denying that Howard Brown's frontline staff does good and life-saving work. And, hopefully, Wakadoo will specify in their contribution to the organization that all funds raised will go solely to support patient services instead of covering the cost of Edwards' paycheck, which according to an interview with the Windy City Times is a whopping $265,000.
But back to dissecting In the Jungle and judging it on its theatrical merits.
This is a tough play. I've seen it produced before by Ka-Tet Theatre (see review here), and it utterly confused me. Still, I was left with a significant impression thanks to some great performances, which merited a three-star rating. Wakadoo's take on the piece is much easier to comprehend thanks to some very cunning direction by Wooden. The stage is a makeshift, turn-of-the-century boxing ring outfitted with an assortment of different lighting fixtures that enable Wooden to oscillate between setting the characters in reality and setting them within the theater of their own minds. The dialogue, which is obtuse to say the least, is still just as rough and poetic as ever. But in the mouths of these capable actors, who are exceptionally skilled at delivering subtext, Brecht's intentions become clear.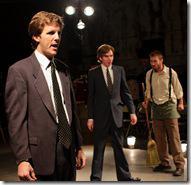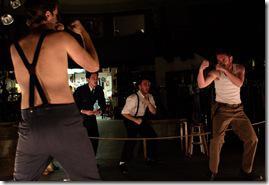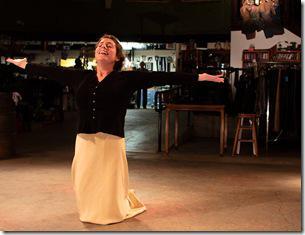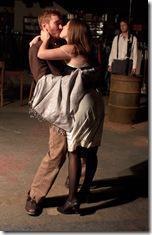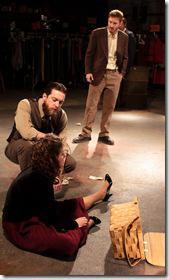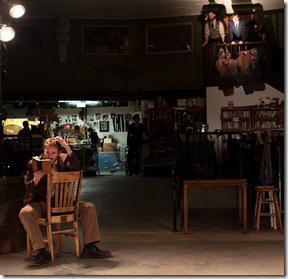 But despite everything that works, the play's momentum stalls by the last half. Clocking at more than 150 minutes, the production is just too long. Perhaps the company could have staged an abridged version, because this play has the tendency to test even the most avid theater-going audience's patience.
In the Jungle just saw its last weekend. And while I'm glad to see theater companies pairing up with local charities to raise funds for the greater good, I think it may be in everyone's best interest to produce a play that is marketable to the charity's donor base. I could see In the Jungle fairing better if, for example, it decided to fund the Dank-Haus German Cultural Center. You may find more audience members returning after intermission.
Rating: ★★★
In the Jungle continues through December 18th at The Brown Elephant Andersonville, 5404 N. Clark (map).  Tickets are $30, and are available online at brownpapertickets. More information at InTheJungleChicago.com.  (Running time: 2 hours 35 minutes, which includes one intermission)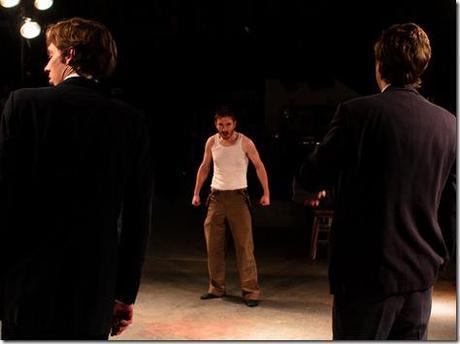 All photos by Oomphotography
---