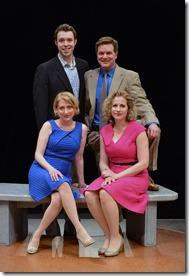 I Love You, You're Perfect,
   Now Change  
Book and Lyrics by Joe DiPietro  
Music by Jimmy Roberts
Directed and Choreographed by Matt Raftery
at Marriott Theatre, Lincolnshire (map)
thru Aug 11  |  tickets: $40-$48   |  more info
  
Check for half-price tickets 
  
  
   Read entire review
  
---
What happens when an able cast takes on inane show? See below.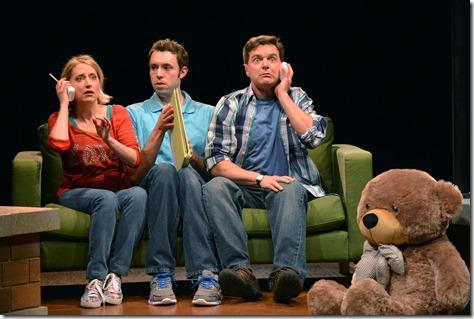 Marriott Theatre presents
I Love You, You're Perfect, Now Change
Review by Catey Sullivan 
If you are into clichés that pander to the lowest common denominator, boy have I got a show for you. Despite a charming, able cast, I Love You, You're Perfect, Now Change lands with the resounding thud of a rock in a kiddie-pool of Jell-O at the Marriott Theatre in Lincolnshire. That the show is the longest-running off-Broadway production ever (and has been translated into more than dozen languages and produced the world over) makes me despair at the apparent nature of humanity.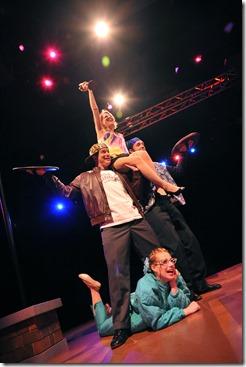 The world according to ILYYPNC traffics in one tired (sometimes borderline offensive) stereotype after another: Women love to shop! Especially for shoes! Also, they don't get football! Men hate to show their feelings! Their bathrooms are disgusting! And for both genders (and there are only two, and they are always straight), the worst thing in the whole, wide world is being single.
In Joe DiPietro (book and lyrics) and composer Jim Roberts' utter waste of time musical, there are no redeeming dance numbers, no memorable tunes and not much of a plot beyond a series of bland cutesy (and by cutesy, I mean they'll make you roll your eyes with total annoyance) skits about dating, marriage, child rearing, bereavement and then more dating. To be clear: The music's forgettable, the choreography non-existent; the show as a whole makes "Friends" look like a melting pot of multi-ethnic casting.
You can't fault the cast here, which includes Bernie Yvon, Alex Goodrich, Johanna McKenzie Miller and Kelly Anne Clark.  Yvon brings his signature rascally-ness to the stage, while Goodrich is a gawky, nerdy/sexy master of physical comedy. Clark and Miller are both warm-voiced, appealing women who manage to instill a bit of humanity into the proceedings despite the slight material they have to work with. Director/choreographer Matt Raftery keeps the pace spritely, and has incorporated an element of projection design into the proceedings that is a welcome complement to the bare-bones (there are chairs) set and costume design.
But there's no getting around the show's banal and broad-strokes simplicity. DiPietro and Roberts boil the emotional and physical hurdles inherent to love, romance and marriage to a battle between perky white heterosexuals bemoaning their respective/prospective partners' eternal allegiance to man caves and chick flicks. Despite superficial tweaks to the script – there are references to Viagra, everybody's adept with an Smartphone screen – ILYYPNC clunks along like a dinosaur in cement shoes.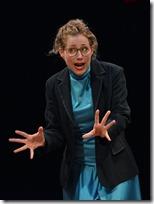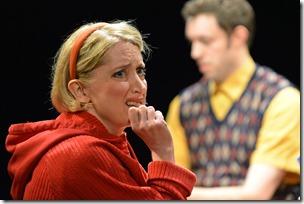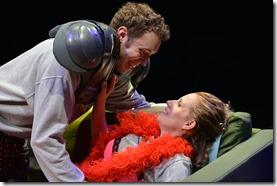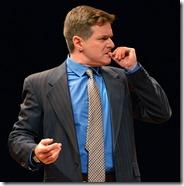 ILYYPNC starts with a superficial premise (all girls and boys are straight and want nothing more than to get married) and dumbs it down even further. What we wind up with is a exclusionary look at relationships that replaces hackneyed triteness for truth. In this alternate universe, lesbians, gays, and people of color don't exist, mother and fathers are around only to prod their wayward children into matrimony, and new babies reduce their parents to baby-talking bores who, if they're lucky, get to have sex once in a blue moon.
All that would be almost forgivable had Roberts composed a score that contained something more than a pleasantly forgettable pop album. But he didn't. As it is, I Love You, You're Perfect, Now Change doesn't have enough substance even for a slight, summer diversion.
Rating: ★★
I Love You, You're Perfect, Now Change continues through August 11th at Marriott Theatre, 10 Marriott Dr., Lincolnshire (map), with performances Wednesdays at 1pm and 8pm, Thursdays and Fridays 8pm, Saturdays 4:30pm and 8pm, Sundays 1pm and 5pm.  Tickets are $40-$48, and are available by phone (847-634-0200) or through their website (check for half-price tickets at Goldstar.com). More information at MarriottTheatre.com.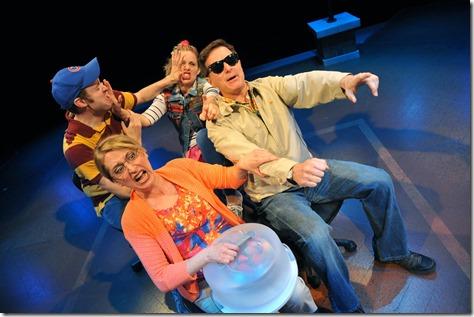 Photos by Peter Coombs 
---
artists
cast
Alex Goodrich, Bernie Yvon, Kelly Anne Clark, Johanna McKenzie Miller
behind the scenes
Matt Raftery (director, choreography), Aaron Thielen (artistic director), Ryan T. Nelson (music director), Tom Ryan (set design), Nancy Missimi (costume design), Jesse Klug (lighting design), Bob Gilmartin (sound design), Sally Weiss (props design), Patti Garwood (piano, conductor), Steve Winkler (violin), Peter Coombs (photos)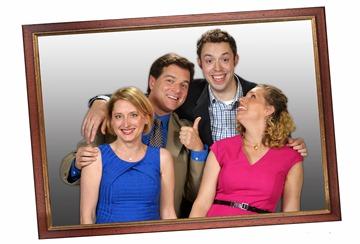 13-0620