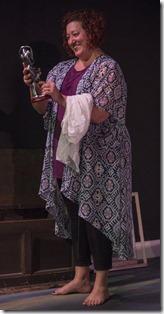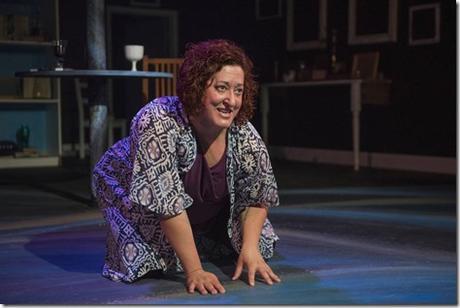 Review by Lauren Whalen
As society grows more complex, so does marriage - or does it? If you go by I Do Today , one of the world's most traditional institutions has never been cut-and-dried. Sarah Myers, a former Chicagoan who now resides in Minnesota, explores family, sexuality and weddings in her one-woman show, co-produced by The Other Theatre Company and part of Greenhouse Theater's series. doesn't pack the emotional punch of previous Solo Celebration! shows, such as , and at times borders on indulgent and silly, but fortunately the production's genuine humor and laugh-out-loud moments outnumber its shortcomings.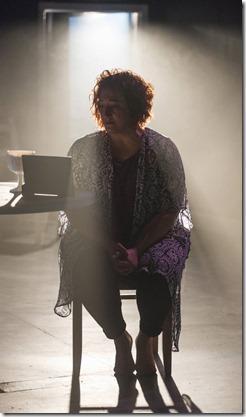 According to a program interview with dramaturg
Nick Thornton
, Myers was inspired to write
I Do Today
after she "turned 40...got tenure...[and] started learning about all the Jewish stuff [she] missed as a kid." Myers' stand-in, ME (
Carin Silkaitis
) is a curly-haired, chatty Jewish woman whose parents each got married multiple times. ME herself has been married twice, and the second marriage to her male best friend has been sticking so far. As a bisexual woman, however, she feels like a failure - she's only had one long-term girlfriend, who in turn married the woman she left ME for. Using a giant chalkboard to chart out her relationships and those of her family, ME explores her less-than-traditionally-Jewish upbringing, her various stepparents and the Holy Grail of marriages, that of her grandparents.
Like its protagonist, Myers' script is a little all over the place, and could use another round of edits. At times, ME is perfectly charming and hilarious; other times, her "aren't I quirky and original?" cadence is too much. The flashbacks and conversations between ME and exes, family members and imaginary friends are some of the play's best moments, and Silkaitis is adept at transforming into other characters. Silkaitis herself has a natural, friendly rapport with the audience, completely comfortable with enacting difficult moments and then sitting on the edge of the stage, grinning as she recounts a happy memory.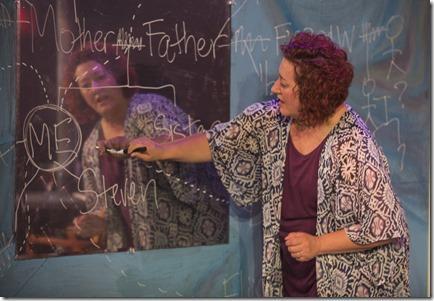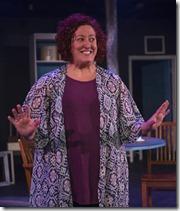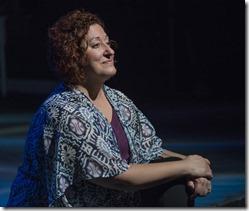 Director Jacob Harvey, in his Chicago debut, keeps the action moving and guides Silkaitis through easy and quick transitions. Whether it was a writer, actor or director decision, having ME document her family's relationships (and her own) through a haphazardly drawn family tree is a fun device that keeps the audience engaged and gives them a substantial glimpse into ME's mind and love life. Scenic designer Liz Havenga creates a warm, homey feel on the Greenhouse Theater Upstairs Studio Stage, with just enough clutter for ME to appear scattered, yet human, and above all, welcoming.
Penned by a less astute playwright, could have read like a state fair caricature, all exaggerated lines with no real substance. Instead, its tone is only mildly cartoonish, with plenty of nuance to even out the fluff. is a loving and lighthearted collaboration of playwright, director and actor, and Other Theatre Company artistic director Silkaitis is utterly at home in the role of the outrageous yet sympathetic main character.
continues through October 9th at Greenhouse Theater Center, 2257 N. Lincoln (map), with performances Thursdays and Fridays at 7:30pm, Saturdays 2pm & 7:30pm, Sundays 2pm. Tickets are $34-$48, and are available by phone (773-404-7336) or online through Vendini.com (check for half-price tickets at Goldstar.com ). More information at GreenhouseTheater.org. (Running time: 85 minutes, no intermission)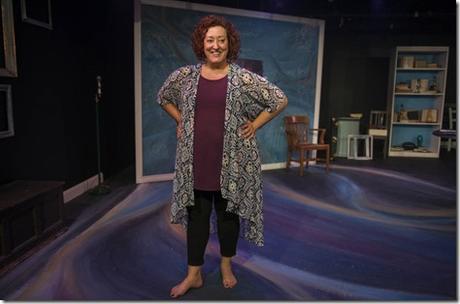 behind the scenes
Jacob Harvey (director), Nick Thornton (assistant director, dramaturg), Liz Havenga (scenic design), Matthew Carney (lighting design), Ashley Pettit (OTC production stage manager), Emily Lowney (stage manager), Michael Johannsen (technical director), Ron Rude (GTC production manager), Carol Fox and Associates (public relations and marketing), Peggy Fink (graphic designer), Michael Brosilow (photos)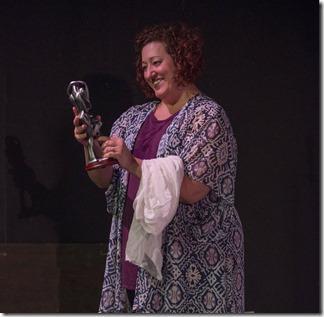 Tags: 16-0906, Ali Goodman, Ashley Pettit, Carin Silkaitis, Carol Fox and Associates, Chicago Theater, Emily Lowney, Greenhouse Theater, Jacob Harvey, Lauren Whalen, Liz Havenga, Matthew Carney, Michael Brosilow, Michael Johannsen, Nick Thornton, Peggy Fink, post, Ron Rude, Sarah Myers, Solo Celebration, The Other Theatre Company
Category: 2016 Reviews, Greenhouse Theater, Greenhouse Theater Center, Lauren Whalen, One-Man Show, Other Theatre Co.