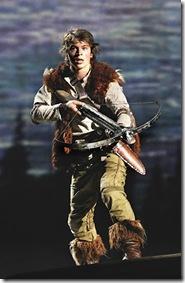 How to Train Your Dragon
   Live Spectacular! 
Adapted and Directed by Nigel Jamieson 
at United Center, 1901 W. Madison (map)
thru July 29  |  tickets: $26-$141   |  more info
  
Check for half-price tickets 
  
  
   Read entire review
  
---
You won't need 3D glasses to get these dragons to come to life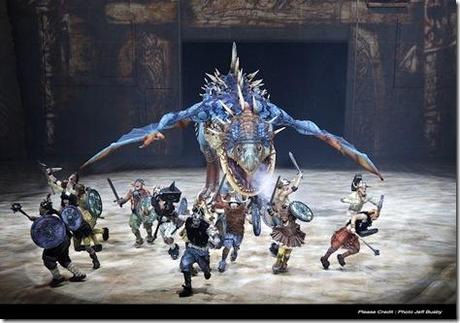 SB2N Entertainment and DreamWorks presents
How to Train Your Dragon
Review by Clint May 
As a child, one of my favorite books was "Richard Brown and the Dragon." Richard rises above the knights of his age, using his intellect and penchant for invention to slay all the dragons in the land and win the princess' heart. Being a less-than-athletic, bookish child, I was inspired by a tale with the moral that it's okay to be smart in a society that sometimes shuns intellect. Just over 50 years from the penning of that tale, Dreamworks released another tale of brains-over-brawn with a modern twist in the form of 2010's Oscar-nominated "How to Train Your Dragon". An awkward protagonist with more wits than muscle sets out to slay a dragon but learns that his mortal enemy is nothing like what he expected. The only thing that dies is the idea that it's better to kill your enemies than try to communicate with them. That's a pretty radical message when you think about it, particularly for a story aimed at children.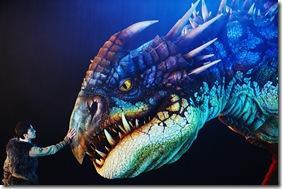 Dreamworks has capitalized on the success of Dragon and teamed up with
The Creature Technology Company
(creators of the popular "Walking with Dinosaurs" arena show) to bring their characters to life and append "Live Spectacular" to the title. Twenty-three animatronic dragons, a set made almost purely of projections/lasers and a huge cast of characters create a circus-like atmosphere to tell the tale of the little Viking that brought the gift of change to his people –
How to Train Your Dragon Live Spectacular!
On the hardscrabble island of Berk in 333 CE, life is pleasantly tough to eke out for the Vikings who have chosen to call it home. The weather's awful, it's hard to grow anything, and there are near-daily attacks from dragons (17 generations worth, at least). Hiccup (Rarmian Newton), the unfortunately named son of the clan chieftain Stoick the Vast (Robert Morgan), is a 'vast' disappointment to his legendary father. While the other children are off helping their parents defend the village, Hiccup is told to stay home. There he dreams of glory and slaying a dragon using his wits, and perhaps capturing the most elusive of dragons—the Night Fury. During a "standard" attack, he gets the chance to deploy his newly invented net cannon and snares the elusive beast. Finding it wounded in the forest, his heart fails him at the kill strike and he instead releases it. An unlikely friendship blooms between the two as Hiccup secrets away to feed fish to his new friend "Toothless", using his Da Vinci-like inventing skills to repair a broken tailwing and attach a saddle apparatus. With Toothless as his teacher, Hiccup learns the inner secrets of the dragons and uses it to become a sort of "dragon whisperer." This earns him unexpected fame during the dragon-slaying lessons overseen by the blacksmith Gobber  (Will Watkins)—their version of a schoolhouse is an arena with live dragons, and in this case, LIVE dragons—while his father is questing in search of the dragon's nest.
Eventually of course, the secret of Hiccup's knowledge is revealed when his love interest Astrid (Sarah McCreanor) follows him to his hidden meeting place. A pas de deux ensues as Hiccup shows Astrid the gentler side of dragons and takes her for an extraordinary flight. They inadvertently discover the dragon's nest and the terrible secret of all dragon's constant need for food. When his father returns and discovers Hiccup's perceived betrayal, he launches an ill-thought attack on the nest that will require Hiccup to convince his classmates to overcome their trepidations and save the day with more than a little help from their dragon enemies. The day is saved, and the dragons go from misunderstood to integral parts of the Viking way of life.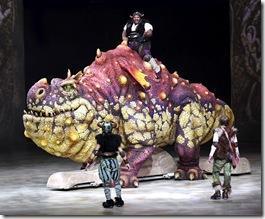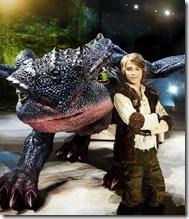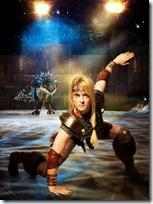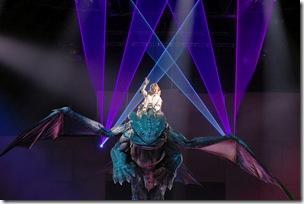 It's a heartwarming moral for the post-Obama world and hearkens back to Lincoln reconciling with the South after the Civil War when he said "I destroy my enemies when I make them my friends." But let's be honest: the onus for getting that theme across is the job of the movie. When sitting in an arena promising real-life dragons, the only question is "do those dragons deliver?" The answer is: definitely. Using the technology they developed for dinosaurs, Creature Technology Group has obviously had a lot of fun bringing a variety of dragons of all sizes and types to animatronic life. A combination of human puppeteers and robotics interact with their Viking counterparts in both battle and friendship in choreographed harmony.
Part moviecraft and part stagecraft, Dragon uses a multitude of old and new tricks to delight the eye. Despite having state-of-the-art projectors, they still take some time out for some old-fashioned shadow puppets to elucidate the various dragon types. One visual trompe-l'oeil involving the young Vikings riding their dragon steeds into battle involves miniature versions of the dragons and riders flying over the arena, creating a convincing illusion of distance and scale against the massive Red Dragon. Combine that with dancing, acrobatics and one scene of Hiccup running vertically through a virtual environment made of projections and you have a show that will keep the kid's in a near-constant state of wonder while parents will marvel at the ingenuity and care of the production (and perhaps, feel a little of that child-like delight vicariously).
Definitely watch the movie before going in—a little does get lost in this translation. It's hard to be subtle in an arena where every line must be delivered at a volume capable of being heard over the chattering of children (no, don't expect them to sit still and be silent for this, and they should be allowed to exclaim in delight). Characterizations are broader and less nuanced because these are performers more than actors, and the focus is all on waiting for the next dragon to make a grand debut. At a little over two-hours, it may be a lot to ask of some more restless children, but judging by the children around me—and this is one audience that does not hide its reactions in real time—they were riveted by the site of these walking creatures of myth. Any time they aren't on stage, the action drags because really nothing can compete with them, and a little trimming wouldn't hurt, even if the story is already scaled back to its minimum. I wondered if a wholly new side story should have been developed that was shorter, punchier and gave us nothing but what we came to see..
I'm a kid at heart, and this show had me grinning like a goofball with near giddy joy at the sight of life-size dragons flying, walking and generally cavorting about the arena. Though I missed some of the adult-sophisticated humor of the movie that appealed to the grown-up in me, there's no denying that How to Train Your Dragon is a visual feast and a technical marvel. In the middle of the second act, a young child seated in front of me was sailing his toy Toothless through the air in fervent imitation. Another generation is going to grow up loving dragons: not as an object to be slain but a new friend to be made.
Rating: ★★★
How to Train Your Dragon Live Spectacular continues through July 29th at United Center, 1901 W. Madison (map), with performances Wednesday-Friday at 7pm, Saturday at 11am, 3pm and 7pm, and Sunday at 1pm and 5pm.  Tickets are $26-$141, and are available online at the Dragon website (check for half-price tickets at Goldstar.com). More info at DreamworksDragonsLive.com.  (Running time: 2 hours 10 minutes, includes an intermission)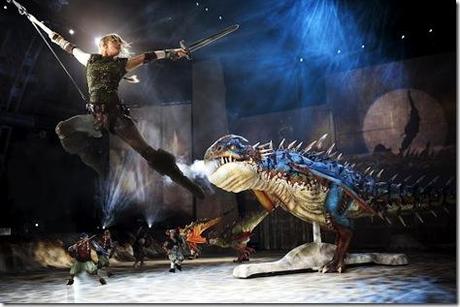 Photos by Jeff Busby, Lisa Tomasetti, Todd Kaplan 
---
artists
cast
Rarmian Newton (Hiccup); Sarah McCreanor (Astrid); Robert Morgan (Stoick); Will Watkins (Gobber); Godefroy Ryckewaert (Snotlout); Virackhaly Ngeth (Ruffnut); Frace Luke Mercado (Tuffnut); Dexter Mayfield (Fishlegs); Robbie White (Dogsbreath); Julien Briau (Pong); Emilie Caillon (Gristle); Iskaandar R. Sharazuddin (Stick); Brady Kitchingham (Alvin); Keely Brundage (Gala, Mother); Sofiane Belkebir (Grock); Moe Alafrangy (Teen); Edmund Wood, Simon Storey, Jeremy Hancock (Vikings); Gavin Sainsbury (Head of Puppetry); Daniel Flood, Michael Latini, Amanda Maddock, Brian Parker (Voodoo Puppeteer)
behind the scenes
Nigel Jamieson (director, adaptor); Sonny Tilders (creature design); Peter England (production design); Dan Porta (costume, production design); Gavin Robins (movement direction, associate director); Philip Lethlean (lighting designer); Peter Hylenski (sound designer); John Powell, Jonsi (music); Basil Hogios (additional arrangements); Max Lambert (musical supervisor); Cressida Cowell (author); Lisa Tomasetti, Todd Kaplan, Jeff Busby (photography)
12-0739