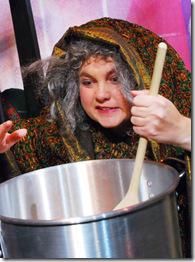 How to Survive a Fairytale 
Written by James Grote  
Directed by Shole Milos
at Lifeline Theatre, 6912 N. Glenwood (map)
thru Feb 26  |  tickets: $15   |  more info
  
Check for half-price tickets 
Check out the production's study guide  
  
   Read entire review
  
---
A delightful tale for all ages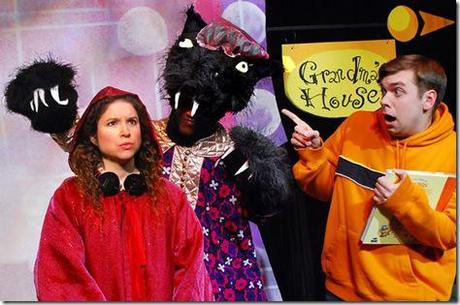 Lifeline Theatre presents
How to Survive a Fairytale
Review by K.D. Hopkins
I am of the opinion that children are a lot smarter than we presume. I always questioned the logic of stories like "Goldilocks and the Three Bears" or "Jack and The Beanstalk". Those Goldilocks and Jack always seemed to be troublemakers with no respect for grown folks. You never ate at a stranger's house much less with a family of bears! Lifeline Theatre's production of How to Survive a Fairy Tale tells the story from more of a real world perspective with a knowing wink to the adult audience.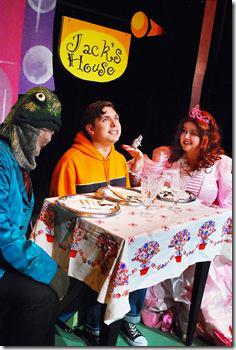 We are introduced to Jack and his parents, who just happen to be a Princess and a Frog.
Nathaniel Niemi
is thoroughly charming and appealing as Jack. It seems perfectly normal that his mom wears a tiara and pink tulle and that his dad has a big green scaly head. Jack's parents keep him away from fairy tales to protect him from the truth about the world.
Heather Currie
, playing Jack's Mom, Grandma, Mama Bear, and several other characters, is side-splittingly funny, using her body and voice for full comic effect. It is worth the price of the ticket to see her as Red Riding Hood's Grandma in red Dr. Denton skivvies and a night cap. The chase that ensues with the Huntsman, Red, Jack, and the Big Bad Wolf is beautifully timed and punctuated by a pitch perfect damsel in distress scream from Currie.
Playwright James Grote takes neorealist approach to the characters' portrayals – but with some modern touches. Grandma has the 'rheumatiz' and watches 'The Real Princesses of the Enchanted Forest' in an arch nod to the public fascination with so called reality television. A sound bite of Snow White dissing Cinderella is heard in the background. It is a nice shout out to 'Real Housewives' fans (me included). In fact, the play gives a satirical elbow in the side to how female characters have always been written and continue to be portrayed. Amanda Link takes on the Herculean task of bringing some childhood favorites to vivid and almost surreal life. Her Goldilocks, Red, and Gretel are a double-entendre delight. Goldilocks is a ditzy Scarlett O'Hara who runs the gamut from fiddle-dee-dee to a snoring nap on Baby Bear's bed. One of the biggest laughs comes from Jack questioning the sanitary consequences of using the same spoon to snarf down Baby's porridge.
Link's Red is a blithe mixture of naiveté and modern smarty pants. The kids in the audience really enjoyed Red's response to Grandma's suddenly wolfish breath. The interplay between Link and Jacquis Neal is priceless as Hansel and Gretel. The candy stealing moppets are right out of a Jolie/Farrow adoption brood. Link dons a milk maid wig and Neal is a Black Hans in lederhosen. Neal is also a perfectly grouchy Bridge Troll who is really misunderstood and actually has a name – Gerblet.
In another fairytale turn, Jack realizes that the Billy Goats Gruff were the trouble makers and not the fluffy innocents of lore. The Gruffs are portrayed as a bit tarter than the petting zoo variety. Gerblet is just trying to live in peace in the shelter of the bridge, and the goat hooves are like thunder overhead. They stomp over the bridge and tap dance and jeer at Gerblet. The goats are like thugs destroying a crabby man's lawn. It is a good lesson about respecting others and co-existence as well as standing one's ground. Jack points out that the stories don't have to end with lurid violence. This re-visioning doesn't pander to saccharine kumbayas but the scarier characters like the Troll and the child-eating Witch are rehabilitated quite nicely. It's the happily ever after of modern times.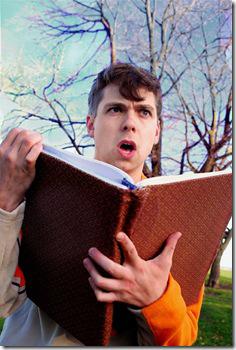 The wonderful cast also includes
Derek Czaplewski
as Jack's amphibious Dad, the Huntsman, and one of the Gruff Gang who ends up in the river from a well-aimed book of fairy tales.
Having reviewed many of Lifeline Theatre's productions over the years (see here, here, here, here and here), it's hard to imagine a company with richer production values and consistent attention to detail. With Fairytale, the set design is simple but still plays an integral part of the story with this exquisite ensemble. Costume designer Jana Anderson weaves sumptuous colors and textures to give this whimsical journey a fantasy look that is essential for a fairy tale. This story has enough of the moral edge of the really not-so-jolly stories. Fairy tales are often dark with really grisly violence. There are evil women with their heads literally put to the grindstone, self- dismemberment (Cinderella's stepsisters were a trip), and weird relationships (read anything by Hans Christian Anderson).
Nathaniel Niemi as narrator and common sense savvy kid is the perfect hero for this fairy tale. He is the best Jack of them all. Forget Be Nimble, Little Jack Horner and the plum, or that dork with the beanstalk. Jack and Gerblet have franchise potential. Take the kids or the adults to see this, and banish cabin fever for a while!
Rating: ★★★★
How to Survive a Fairytale continues through February 26th at Lifeline Theatre, 6912 N. Glenwood (map), with performances Saturdays at 1pm and Sundays at 11am and 1pm.  Tickets are $15, and are available by phone (773-761-4477) or online at ovationtix.com (check for half-price tickets at Goldstar.com). Recommended for kids 5 and up. Children under 2 are not permitted. More information at lifelinetheatre.com.  (Running time: 1 hour with no intermission)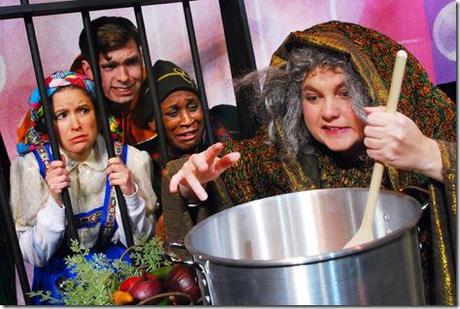 All photos by Suzanne Plunkett 
---