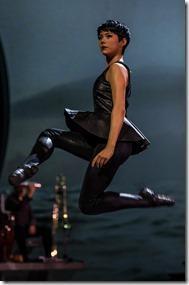 Heartbeat of Home 
Conceived and Directed by John McColgan 
by Brian Byrne (music), Joseph O'Connor (lyrics)
at Oriental Theatre, 24 W. Randolph (map)
thru March 16  |  tickets: $30-$85   |  more info
  
Check for half-price tickets 
  
  
   Read review 
  
---
Even overwrought technology can't squelch these dazzling dancers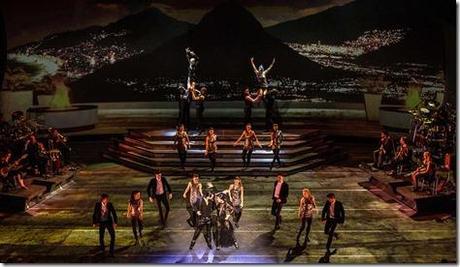 Broadway in Chicago presents
Heartbeat of Home
Review by Catey Sullivan 
You can't fault the spectacular dancing feats on display in Heartbreak of Home, the slick new production from the creators of Riverdance. The movement on stage – from tap to ballroom to hip hop – encompasses a dazzling, global swath of cultures. The performers are incandescent with grace, energy and jaw-dropping athleticism.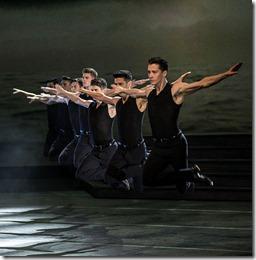 With all that lavishly enjoyable, brilliantly executed multi-cultural choreography on display, you'd think that the core creative team – producer
Moya Doherty
, director
John McColgan
- would have been content to simply let the dance speak for itself. You'd be wrong.
Heartbeat of Home is freighted with more jumbo-screen cinematography than an IMAX movie. There's stage-engulfing cinematic fireworks, lightning bolts, pelting thunder storms, amber waves of rippling grain, soaring eagles, a lengthy fly-over of what appears to be Grand Canyon territory, moonlit oceans, Drake Passage-worthy seascapes, beaming lighthouses and a whole lot of moonbeams competing with the dancers for your attention. Sadly, you might find yourself forgetting about the humans on stage altogether.
The second extremely problematic factor that stops Heartbeat of Home from being a wholly captivating experience comes in the form of pre-recorded vocals. Despite the charisma and richly expressive work of singer Lucia Evans, the show is packed with pre-packaged tunes. At one point, an entire London childrens' choir sings along on the video screens. Technically, the vocals are seamless. Close your eyes, and you'd be hard pressed to swear that the choir wasn't actually on stage. But odds are you're going to have your eyes open for Heartbeat of Home, and every time an electronic, bodiless lilt wafts over the flesh-and-blood performers, the effect is distracting.
)
To be effective, technology such as video and recording shouldn't make you start pondering technology such as video and recording while you're immersed in a production. With Heartbeat of Home, you might well find yourself doing just that, distanced from the show itself as you mentally replay the old "is-it-live-or-is-it-Memorex" commercial.
That said, the dancing choreographed by John Carey and John Bolger is flat-out amazing. Heartbeat of Home has a corps of 18 Irish stepdancers, led by the Ciara Sexton and Bobby Hodges. Sexton is as spry and fleet as a pixie, flying through the air with a precision and a grace that's breathtaking. Hodges is similarly stunning, flaunting matinee idol looks and a killer extension while making the most elaborate footwork seem utterly effortless.
While the Irish sensibility dominates Heartbeat of Home, the production is also defined by gifted dancers whose moves are rooted thousands of miles from the Emerald Isle. The sinewy, statuesque and drop-dead gorgeous Afro-Cuban specialist Teneisha Bonner steals the show whenever she's on stage, mesmerizing with her fluidity, flexibility and high-powered, dare-devil vigor.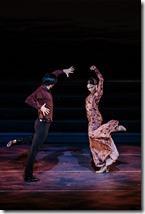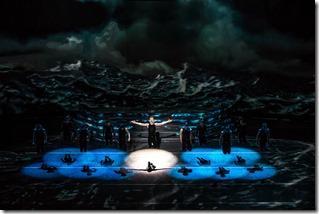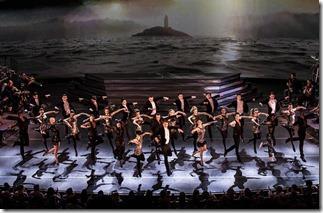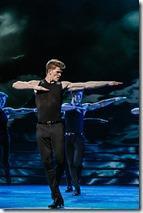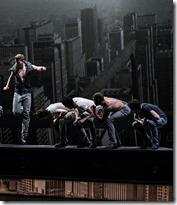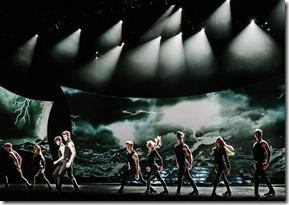 Also enthralling are Flamenco dancers Rocio Montoya and Stefano Domit. Montoya moves like a flame in the deeply sensual dance, while Domit smolders so intensely the heat almost seems palpable. With legs for days, Latin dancer Clare Craze brings the bombshell to ballroom, bolero and salsa, injecting an infectious joy into the movement.
The dancers are backed by a superb 10-piece onstage band, directed by drummer Guy Rickarby and featuring the haunting strains of Uilleann pipes (Lottie Cullen) and a fiery fiddler (Athena Tergis), who's bow practically sparks when it hits the strings. Composer Brian Byrne's music draws from the world over, and creates a richly varied audio palette covering the gamut from hip hop to Celtic ballads to uptempo swing beats.
There's more than enough human spectacle on stage to make Heartbeat of Home dazzle. The dancers and the musicians here are thrilling in every respect. Layering in all that electronic artifice? It's just overkill.
Rating: ★★★
Heartbeat of Home continues through March 16th at Oriental Theatre, 24 W. Randolph (map)..  Tickets are $30-$85, and are available by phone (800-775-2000) or online through Ticketmaster.com (check for half-price tickets at Goldstar.com). More information at HeartbeatOfHome.com.  (Running time: 2 hours 10 minutes, includes an intermission)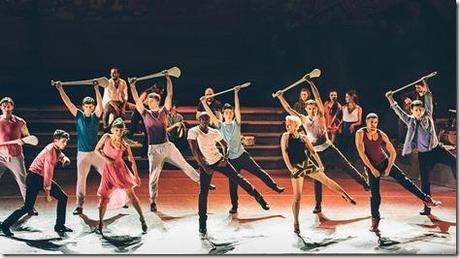 Photos by Jim Byrne
---
artists
cast
Ciara Sexton, Emma Warren, Olivia Griffin, Bobby Hodges, Ryan McCaffrey, Jason O'Neill (featured Irish dancers), Roisin Lyons, Ceili Moore, Gianna Petracic, Natasia Petracic, Shaunessy Sinnett, Erin Trevena, Blaine Donovan, Stephen Brennan, Tom Brosnan, William Bryant, Fred Nguyen, Callum Spencer (Irish dance troupe), Andy O'Reilly (dance captain, Irish dance troupe), Clare Craze, Angelo Gioffrè, Curtis Angus, Vanessa Guevara (Latin dancers), Rocio Montoya, Stefano Domit (Flamenco dancers), Teneisha Bonner, Kieran Donovan, Renako McDonald (Afro-Cuban dancers)
musicians
Lucia Evans (female vocalist), Guy Rickarby (kit drummer, musical director),  Lottie Cullen (pipes), Paul Booth, Derek O'Connor (keys, saxophone), Paul Frost (trombone), Robbie Fitzgerald (guitar), Robbie Harris (percussion, vocals), Ryan Quigley (brass), Tanya O'Callaghan (bass), Athena Tergis (fiddle)
behind the scenes
John McColgan (conceiver, director), Moya Doherty (producer), Brian Byrne (composer), Joseph O'Connor (concept development, lyrics), David Bolger (choreography, musical staging), John Carey (Irish Dance choreography), Alan Farquharson (set design), David Torpey (set projection design), Peter Canning (lighting design), Ciaran Byrne (sound design), Monica Ennis, Niamh O'Connor (costume stylists), Padraic Moyles (assistant director), Jim Byrne (photos)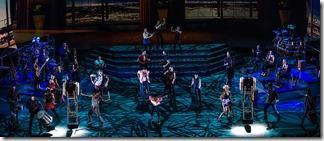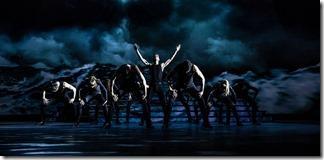 14-0306