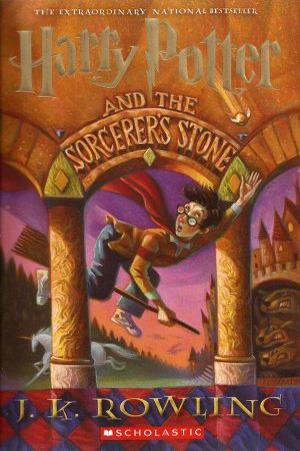 Genre: MG Fantasy
Published: November 1, 2003 by Scholastic Press (first published 1997)
Series: #1 (Harry Potter)
Length: 310 pages
Source: bought (at Target)
"Harry Potter has never played a sport while flying on a broomstick. He's never worn a Cloak of Invisibility, befriended a giant, or helped hatch a dragon. All Harry knows is a miserable life with the Dursleys, his horrible aunt and uncle, and their abominable son, Dudley. Harry's room is a tiny cupboard under the stairs, and he hasn't had a birthday party in ten years.
But all that is about to change when a mysterious letter arrives by owl messenger: a letter with an invitation to a wonderful place he never dreamed existed. There he finds not only friends, aerial sports, and magic around every corner, but a great destiny that's been waiting for him… if Harry can survive the encounter."

I got two words for this book: THE FEELS. Harry Potter is one of those books that will take you on a journey without you having to leave your seat. Not once did I get bored while reading this book. I loved all the characters (even the antagonists) especially Harry Potter. In the movie I kind of disliked him, but in the book he is much smarter and keen which made me glad. I love how Rowling was able to put so much depth in all of her characters! They each had their own personalities and flaws which made them more relatable. What I also loved about this book is the world of Hogwarts. I now understand why everyone wishes this place was real. I just love the whole idea of having a school of witchcraft and wizardry! J.K. Rowling did a fantastic job of making the place alive and entertaining.
Besides the characters and the world building, I love all the plot twists! Although I have seen the movie, I don't remember much (thankfully) so my jaw literally drops every time there is a plot twist. Overall this book was just perfect and I can't wait to read the rest of the books in the series. I recommend this to everyone whether you are a child, a teenager, or an adult. If you are looking for mysteries, adventures, friendships, or a vacation from Earth, read Harry Potter now, you muggles!