Finally a shoe freshener, that is not only so simple to use, but also really effective.
Happi Feet is a shoe freshener to keep your shoes smelling pleasant and to eliminate any bad odours. They have clever technology that contains
 deodorisers that work to reduce or remove the horrid odours in our shoes, you know that odour I mean, that pongy smell that can build over time, and the freshener will replace it with a nice light fragrance.  
They are designed as one size to fit all, so you can use them in adult and children's shoe/trainers - they fit nicely into my boys shoes (damp smelling trainers, that Lewis got wet the other day).  They come in a resealable 'Keep fresh bag' packet, so once used, you can pop them back in the packet and seal up for the next time you need to use them, and they lasts up to 6 weeks.
They offer 3 in 1 benefits: 
1. Stylish - they are funky, fun design.
2. Fragranced - they smell fresh and clean scent.
3. Deodorizing.

The Happi feet pack we received for this review was the Caribbean Beach Breeze fragrance, a light and refreshing smell, which had a nice subtle hint of coconut. They do look like insoles, but they are not, all you have to do is pop them into your shoes when you are not wearing them and leave them there to do the magic.
Or as suggested on the Happi Feet website, when you are not using them in a shoe, hang one or both in your shoe cupboard and let it work by re-freshening your cupboard and eliminate any odours - if you shoe cupboard is anything like mine, it can stink sometimes, especially with damp football boots, or if the boys have chucked some wet trainers in without telling me.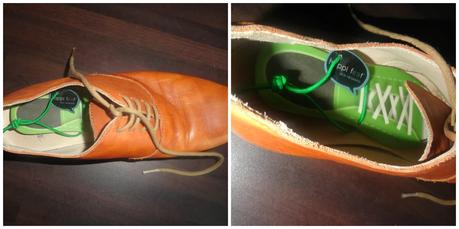 Costing just £2.60 each, with different funky and fun styles available check out the Happi Feet website for more details. 
Disclaimer: I was sent one pack of Happi Feet shoe fresheners for the purpose of this review. All opinions are my own.