As the festive Chinese New Year draws upon us, everything turns a vague shade of red – from clothings in stores to makeup items even.  I've never been a fan of wearing red to visit relatives (it's essentially a bullseye for them to hone in on me and ask those well-meaning but vaguely intrusive questions of "Why are you so fat?" and so on and so forth), but I actually do like red on a daily basis. When a girlfriend asked me to select a color for my Christmas lippie present, I decided to try out this shade mainly because I haven't had anything so intensely red before.
Guerlain KissKiss Shaping Cream Lip Color – SGD$49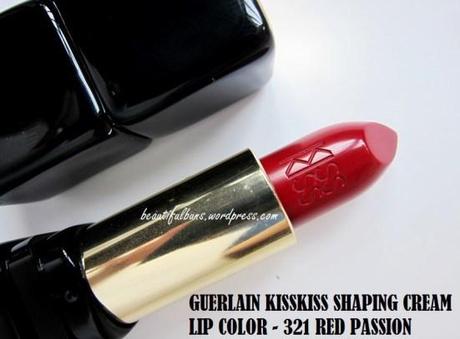 In Shade 321 Red Passion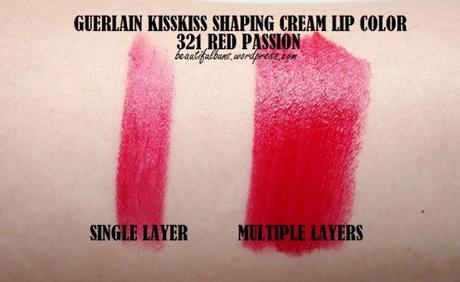 I say…
The Packaging: I kinda preferred the other all-gold packaging which made it seem that more luxe and attractive (despite it being a huge fingerprint magnet). This new packaging is an all-black (somewhat) metallic casing with a gold-tipped top and an embossed Guerlain emblem. The rectangular tube helps prevent it from rolling off the table, and has a click-on cap with the usual twist-up lipstick dispenser.
The Scent: There's a rather faint slight powdery scent that's rather familiar – kinda like a lipstick smell (I know it sounds ludicrous, but go sniff it and you'll know what I mean).
The Texture / Colour: Rich, smooth, creamy and doesn't drag on the lips. The gloss level is high and the lipstick is hydrating, and helps cover about 99.9% of the chapped/flakey bits – I'm so glad this does away with the need for a lip balm. When it wears off, it doesn't leave much of a rosy tinge, which I'm fine with (since it makes reapplying a lot easier due to the "new fresh" lippie canvas).  The color pigments are really intense – just a light layer is enough to deliver a deep rich blue-tinged cool red. The color itself emits an elegant sophistication – kinda like the classic rich red lippies of leading Hollywood ladies.
The Verdict: When I first got the lippie, I did get a little surprise since the color of the lipstick itself was so deep and rich. Thankfully, it comes out as an intense rose-red. Because of the colour, you must exercise more care when applying to prevent it from bleeding/smudging. I do love the texture and the shine levels though – would totally use this for a night-time gala-style event to create that classy look. Now I'm pretty keen to find out how the other lighter shades fare (since the darker shades usually help with the chapped lips more).
Beauty tip: You can use some concealer around the outline of the lips to help define the lip shape/Cupid's bow and prevent the lippie from smudging (I carry around Shiseido's Sheer Eye Zone Corrector for both the undereye dark circles as well as to apply around the lips).