Review | Guardian's Aloe Vera Hair Mask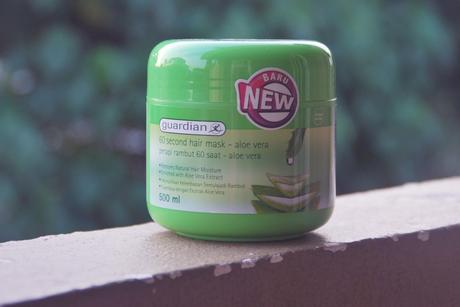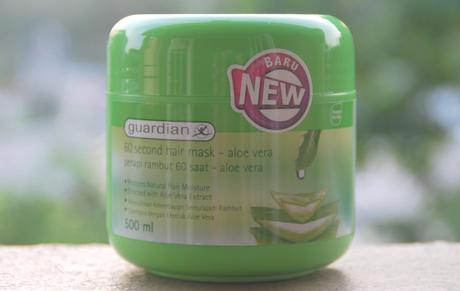 I wouldn't mind using any drugstore's house brand. I think they're as good as any other famous brands. By the way, this hair mask I'm reviewing here, is my third jar I've bought so far. I finished my second jar after I came back from my diving trip. Ever since I dyed my hair, my hair has been dried and damaged badly. I wasn't taking care of my hair, anyway. I know! Don't get mad. I'm just the type of person who is so lazy at taking care of her hair. Knowing how badly damaged my hair is (and getting told off by hairdressers), I decided to purchase a good hair mask. I can't afford the expensive ones suggested by the hairdressers. I never knew this hair mask was good for my hair. ;)
I saw this one in Guardian and it was on sale. The normal price for this 500ml hair mask is RM20 but I usually get them on sale for RM11. Great value. You get plenty of product for the price. I ONLY buy them when they're on sale. ;)I love this hair mask. This hair mask conditions my hair well without making my hair greasy or weighed down. This hair mask really has done a lot to help rebuild my hair and help to conquer my dry hair and damage. It does help to moisturise.
Tried this when the store was sold out of my standard (and also excellent) Pantene Beautiful Lengths Replenishing Mask. This conditioner is fantastic. It smells so good, it's the densest conditioner I've ever tried, and it really conditions well without making hair greasy or weighed down. The jar is convenient and you get plenty of product for the price. I use this once or twice a week to keep my ends in great shape. Definitely recommend!
I apply a great amount more than a dime size or what ever is recommended and like to use this as a deep conditioner with a shower cap over my hair and leave it for 10 to 15 minutes and rinse it out later. I took this hair mask with me on holiday to Perhentian Island and used this hair mask as a conditioner instead. I must say, my hair gets easily tangled plus sea water won't help detangling my hair. I was happy I took this hair mask along with me on my holiday.
I've also tried their Honey Lemon hair mask. The Honey Lemon hair mask was suppose to help remove dandruff. It did a great job. I was also having a problem with dandruff. So basically I've gone through 3 jars of Guardian's hair mask.
♥ ♥