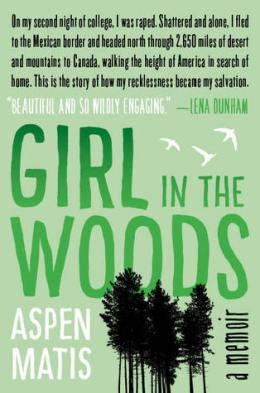 Girl in the Woods: A Memoir by Aspen Matis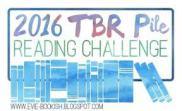 WHAT IT'S ABOUT
This counts towards the Bookish Lifestyle's 2016 TBR Pile Reading Challenge.
William Morrow (ebook), 2015240 Pages
Girl in the Woods is Aspen Matis's exhilarating true-life adventure of hiking from Mexico to Canada-a coming of age story, a survival story, and a triumphant story of overcoming emotional devastation. On her second night of college, Aspen was raped by a fellow student. Overprotected by her parents who discouraged her from telling of the attack, Aspen was confused and ashamed. Dealing with a problem that has sadly become all too common on college campuses around the country, she stumbled through her first semester-a challenging time made even harder by the coldness of her college's "conflict mediation" process. Her desperation growing, she made a bold decision: She would seek healing in the freedom of the wild, on the 2,650-mile Pacific Crest Trail leading from Mexico to Canada.
In this inspiring memoir, Aspen chronicles her journey, a five-month trek that was ambitious, dangerous, and transformative. A nineteen-year-old girl alone and lost, she conquered desolate mountain passes and met rattlesnakes, bears, and fellow desert pilgrims. Exhausted after each thirty-mile day, at times on the verge of starvation, Aspen was forced to confront her numbness, coming to terms with the sexual assault and her parents' disappointing reaction. On the trail and on her own, she found that survival is predicated on persistent self-reliance. She found her strength. After a thousand miles of solitude, she found a man who helped her learn to love and trust again-and heal.
Told with elegance and suspense, Girl in the Woods is a beautifully rendered story of eroding emotional and physical boundaries to reveal the truths that lie beyond the edges of the map.

JUNE 18, UNKNOWN PLACE, THE NORTHERN HIGH SIERRA, MILE 1170
emerged from trees to a field of dense snow sheened with ice. I walked out onto it, feeling exposed, stepping carefully across the uneven sun-cupped surface of last year's snow, an ocean of shallow bowls, slippery and round. I tried to step only on the pockmarks' glossy rims. The holes' bottoms were soft snow, melting out. Step there and you might fall through.
Girl in the Woods touched me deeply. I laughed and cried as I read this book.
I was shocked by the author's rape on her second day at college, by the school silencing her and by her family cold, horrible indifference especially her mother. If I called my mother and told her someone had raped me she'd have wept and told my father who'd have hunted down the rapist and broken both their legs. This isn't a memoir about rape though. It's a memoir of finding yourself when your place in the world has become alien. I loved reading about the hike. The author is incredibly brave to hike the PCT. Anyone who attempts it is a hard-ass as far as I'm concerned. I'd never have the balls to do such a thing. I loved reading about the trail and the people and the rituals. I loved the way the author grows and matures. I was shocked by her upbringing, by the fact her mother dressed her until she was sixteen and how much she was smothered and repressed. I'm an only child and thought my mother smothered me but after reading this book I realised she never did. During the hike, Aspen makes a lot of mistakes and uses terrible judgement which causes her to come down with MRSA and be kidnapped by a weirdo among other things. I didn't think she was an idiot or spoilt or reckless - she'd never done something as big as the hike before and the impression I got was that her smothered upbringing didn't leave her with the best social skills. I'd probably have even worse judgement and would have died somewhere along the way. The only thing that bothered me was the way her parents supported her during the hike - they gave her a credit card and sent care packages at just about every waypoint. She was lucky and didn't seem to realise how lucky she was. I doubt anyone else got as much support. I felt she cheated a little. I also understand this was her parent's way to showing her what they couldn't say in words.
Girl in the Woods is a great book. I loved it.