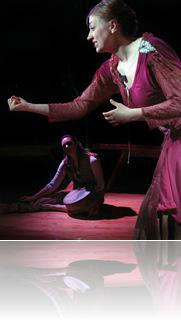 From The Circle: Remembering
   Earth Through Folktales
Created by
the cast
, Jack Novak
Directed by Jack Novak
at
The Den Theatre
, 1333 N. Milwaukee
(map)
thru Nov 13  |  tickets: $10-$25   | 
more info
Check for half-price tickets 
  
  
   Read entire review
  
---
A beautiful lesson about nature, human nature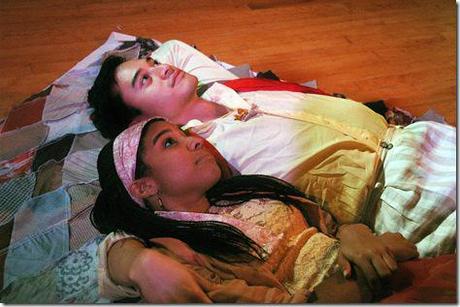 Filament Theatre presents
From the Circle: Remember Earth Through Folktales
Review by K.D. Hopkins
The Filament Theatre's production of From The Circle: Remembering Earth Through Folktales is a back to basics production on every level and in the very best way. The Filament Ensemble has created an initiative to leave a smaller footprint on the resources of the Earth employing the 'Cradle to Cradle' paradigm. This was developed by an architect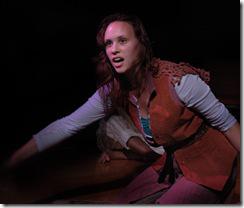 and a chemist to evaluate materials and their impact on the Earth's resources.
Everything on the stage in this production is recycled, reclaimed or reused with minimal impact on the environment. It is a laudable and noteworthy achievement for any endeavor, and it is fitting that it comes from the arts world. The set and props in From The Circle are minimalist and yet not stark. The wood and stone enhance the actors and the stories. In fact, the benches that the audience sits upon are made from reclaimed wood. I felt that I was really in a village hearing these stories of Creation from the griot of some long forgotten village.
The cast consists of four amazing actors, Audrey Bertaux-Skeirik , Lindsey Dorcus, Tiffany Williams, and Phillip de Guzman, who sing as well as tell stories. The stories that they tell from the four directions of the Earth are compelling and deeply emotional no matter one's own personal origin. The ensemble works together seamlessly and the pacing is excellent.  They project sincerity and beauty, coming off as having just met but having a deep and powerful connection – which is the point of From The Circle. Every human being is connected and we are all from the same light and soil. Along with the strong acting, the ensemble gives beautiful vocal performances, a blend of gospel with a touch of Eastern atonality that is carried off brilliantly.
One of my favorite tales of this play illustrates that point in telling 'Why The Raven's Wings Are Black'. It is an archetypal story that is familiar in every culture. A barren woman gives birth to a strange child and that child endows the Earth with the gifts of light before ascending into the sky. Sound familiar?  I also enjoyed Ms. Williams lovely and beautifully restrained telling of the horrors of slavery.
My only criticisms of this production is that it should be marketed for children as well (the stories are fascinating and the lovely cast would be very appealing to a young audience), especially since it would be a wonderful thing to introduce the 'Cradle to Cradle' concept to younger children when it would be more likely to take root and grow with a new generation.
This play is a beautiful lesson about nature and human nature. Check it out!
Rating: ★★★½
From The Circle continues through November 13th at The Den Theatre studio space, 1333 N. Milwaukee (map), with performances Fridays-Saturdays at 8pm, and Sundays at 2pm.  Tickets are $10-$25, and are available at the door or through Filament's website. More information at FilamentTheatre.org.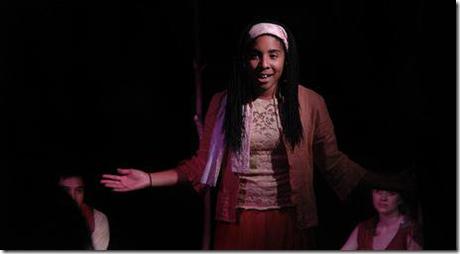 ---
artists
cast