I really don't know what's come over me these days – I'm perpetually hungry. Maybe since it's almost Spring, so the sluggish bear inside me is coming out of hibernation and gradually awakening and preparing for the new year. I'm normally not a strong buffet person (taking into account my seafood allergy as well as tiny stomach which is such a stark contrast to the big big belly), but I think I could pretty much justify my entry price into Four Season's Mezze Dinner Buffet at their restaurant One-Ninety if I were to head there tonight. BRING ON THE BUFFET, BAYBEH!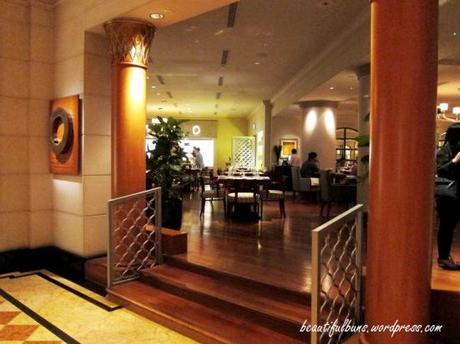 A very ambient, cosy atmosphere  at One-Ninety, which is located on the ground floor of Four Seasons Hotel Singapore
Now the Mezze Dinner Buffet is priced at SGD$58+++ per pax, and you'll get your choice of one main as well as access to the huge buffet spread of appetisers and desserts. Here's what you'll get at the buffet spread: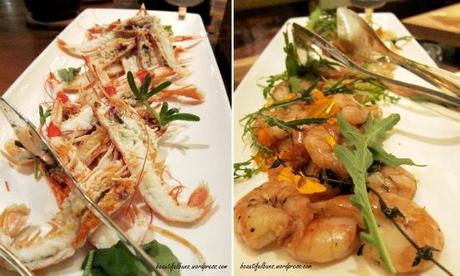 very fresh-looking seafood in the form of shrimp and prawns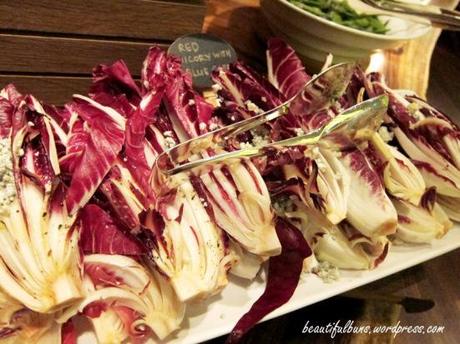 A rather unique bed of red lead chicory with blue cheese to help whet the appetite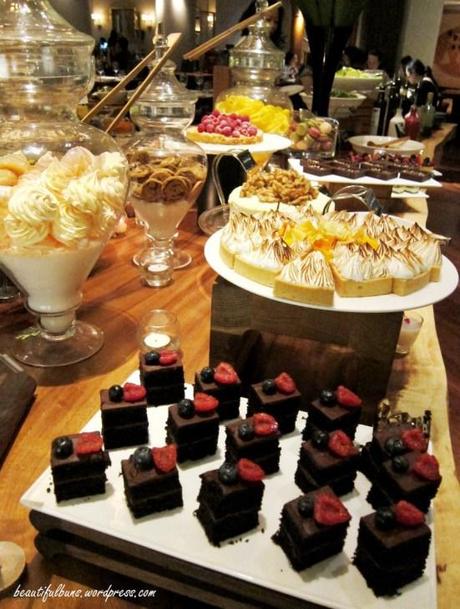 And a plethora of desserts :D There are so many that I was mentally prepared to not finish my main in order to save space for these. But then again, everyone knows that there's always a second stomach for desserts, right right?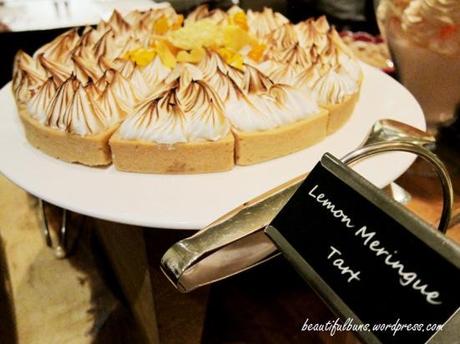 There's lemon meringue tart…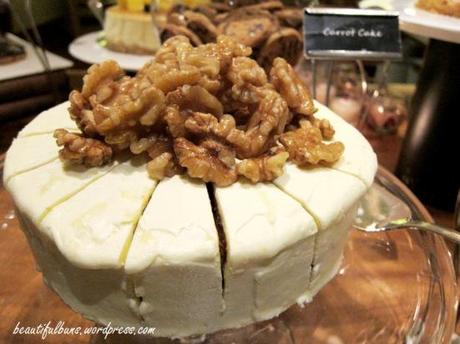 … carrot cake…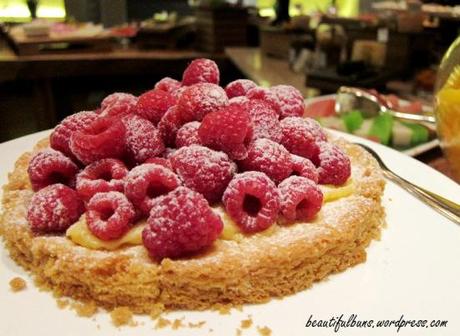 …raspberry tart…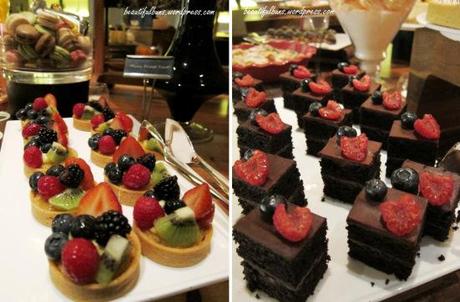 …mixed fruit tarts and chocolate mousse cakes/brownies. I'm in sugar heaven!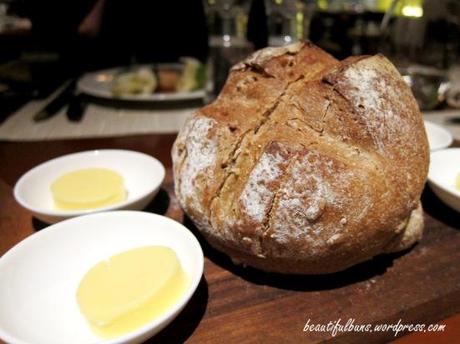 Enough mucking around – it's time to eat the main! This may not look much, but it's one of the yummiest breads I've ever eaten! This Table Bread came nicely warm, and crisp on the outside, but fluffy cotton soft on the inside (psst, yes, the name is that uncool, but it's handbaked in their apple wood brick oven). It came with olive oil and unsalted butter (but a trick that I learned from Larry the Makeup artist is to add salt myself to make it more savoury). Yummmm. I could sit there and pig out on 4 of these, and get 4 to take away in the table napkin (like how the ancient time martial arts heroes in Chinese folklore stories would do while they roamed the country picking random fights with people lol)
The Mezze dinner buffet comes with a selection of one Main from the following entrees:
Steak Frites 120-day Grain-fed Onglet 180g
Ahi Tuna Steak Sustainable Tuna Served Medium Rare
Spring Chicken Free-range Cajun-spiced
Mediterranean Sea Bass Fillet with Skin on
Wild "Mooloolaba" Ocean King Prawns Simply Grilled, Drizzled With Chilli Oil and Char-grilled Calamari
Slow-roasted Japanese Pumpkin Orange Scented Yoghurt, Pomegranate, Pistachio
Red Label Organic Salmon "Tranche" Air-flown from Scotland (Supplemental Charge)
Ranger Valley Wagyu 400-day Grain-fed Australiam Rump 200g (Supplemental Charge)
Black Angus Prime 200-day Grain-fed Tenderloin 200g (Supplemental Charge)
Baby Lamb Chops Imported From New Zealand
Being the carnivore that I am, I of course went straight for the Wagyu muahahaha.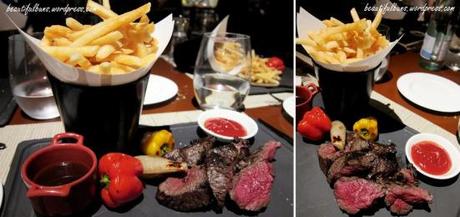 Marks for presentation – this already looks as good as I know it's gonna taste nom nom.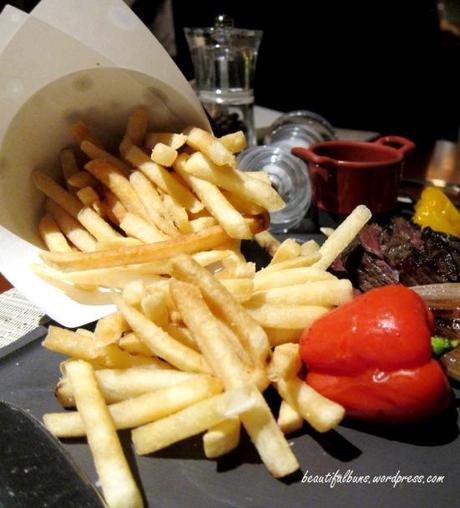 Besides my undying love for all things related to beauty and makeup, I also have a little hidden talent – I pride myself as being a connoisseur of potatoes – I lurve my starches and carbs and I can barely go a week without stuffing my face on some (which also explains the big belly, but oh well). The fries here are one of the best I've ever eaten – crisp on the outside and soft on the inside. LOVE.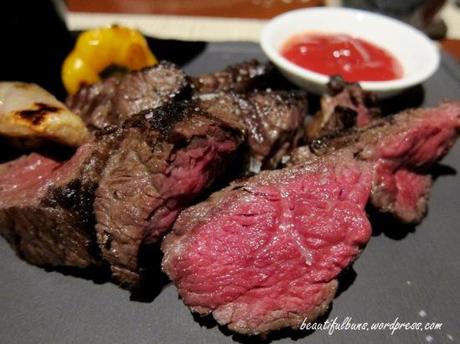 And of course, the main star of the night – perfectly cooked Wagyu beef that's a brick-red on the inside, soft and tender without any unsightly blood oozing, as well as a super balanced sear on all sides of the meat without charring or overcooking. The knife just slices right through the meat so easily, and was so easy to eat (I hate chewing continuously on meats such as the jowls and the skin).
By this time, I was so stuffed and the belly was popping out to say "hullooo how'd you do"? – despite my best efforts, I did run out of tummy space and couldn't eat everything on the dessert buffet table (mission failed, damn). But this only means another excuse to head down for round two, and to try other mains nom nom nom.
Mezze Dinner Buffet @ One-Ninety Wood-fired Steaks and Seafood, SGD$58+++/pax

Four Seasons Hotel Singapore

190 Orchard Boulevard Singapore 248646

(alight at Orchard MRT, walk towards Wheelock Place, and walk along the exterior to the junction – you'll be able to look up and see Four Seasons Hotel's building with its name alongside)

Tel: 6734-1110

For more information, visit their website here.