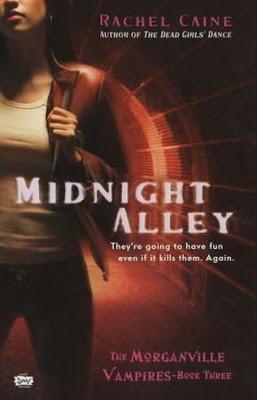 A Series that Keeps Getting Better.
5 Stars.
As the third book in the Morganville Vampire's series, this is my favorite book so far.
I liked the way I was reminded of little hints from the first two books when something was revealed. Like "the trap-door spider". You can really see how the author thought about this series as a whole when she was writing.
Part of what I really liked about this book is the way all the characters develop. Shane is extra moody in this book as he deals with the fact that his best friend, Michael is now a vampire. As the story continues he grows up in a lot of ways. Claire continues to grow up as well. We see her retaliate against Monica's evilness by ruining her party and she really starts to figure out who she is.
Also I really liked that I got to hear a little more about Monica's background. I had a hard time understanding why she was so evil in the first two books and we learn a little more about why she is that way in this one. She never exactly had the best options or opportunities in her life, even though it seems like she has everything on the surface.
I love Myrnin. He was like the Mad Hatter from Alice in Wonderland, completely crazy and yet sweet at times, completely unpredictable and frighteningly dangerous. He wanted to learn so badly that he became a vampire so he could learn forever. There's just something kind of tragic about his character that makes him fascinating, and even though he can be really scary sometimes you still want to root for him.
Jason however was a bit of a mystery to me. On the outside it seems that he's a straight out cold blooded killer, vampire wannabe, who's lost more than a few marbles. He appears dirty and dangerous, but there's something mysterious about him as well. I feel like he's hiding something.
Like the first two books, Midnight Alley was packed with action and adventure. Claire ends up in danger, Shane gets stabbed, and I was so scared for Sam. We see more layers to Amelie, and it seems that despite her cool calm nature she's panicking and becoming desperate. Getting to know more about the doorways was interesting and this series developed new depth with discovering that the vampires are dying of some kind of disease.
This book was wonderful from beginning to end, with the exception of the traditional Morganville Vampire cliffhanger ending. I enjoy the fast paced nature of these books, but those cliffhangers make it almost feel like they're TV episodes instead of books, and I'm not sure how I feel about that. Nonetheless I can't stop reading.
Read my review of

Glass Houses (Morganville Vampires Book 1)
Read my review of The Dead Girls Dance (Morganville Vampires Book 2)