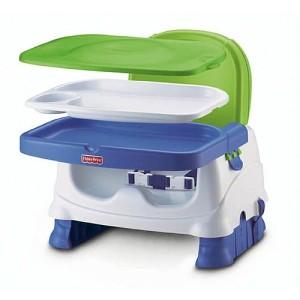 We know that all parents have that moment when they wonder how in the world, a one footer of a baby can have so much of stuff. Prams and strollers and cribs and highchairs and bibs and bottles and travelpods and swings and bath tubs with bath chairs and waves after waves of toys and apparels! One might just drown for good. Deep breathing parents! Help is at hand. We at Curiousmumma are here to dig deep into the endless piles of baby products and review them for you. Choose wisely for products which have multiple uses and suits your needs and don't end up spending fortunes. Today we will review Fisher Price Healthy Care Booster Chair
Well when it comes to Booster seats under Fisher Price brand, there are two types- one is with a food tray and other is just a booster seat minus the food tray. While choosing between the two, one needs to keep in mind the age of the baby and usage. If you have a small baby who has just started sitting up, we would suggest go for the one with a food tray. Also if you'll be using it outside frequently like restaurants and malls etc the one with the food tray makes more sense as adjusting to a food table's hight according to the booster chair's height might be a hassle.
Here are the pointers for Fisher Price Healthy care WITH food tray.
Packaging:
Like all Fisher Price baby products, it comes in a compact package with even the smallest of the parts nicely packed. It is easier to assemble as compared to other baby gears like rockers and strollers.
Pricing:
Fisher Price Healthy care is priced at 4807/- . Another model is available for 3829/- The difference between the two models is the snap on lid available with the Healthy care model, which keeps the food tray clean between two uses. One small suggestion- while buying any baby care product, keep your eyes and ears open for various deals and offers that stores or websites announce. Things like Loyalty discounts, special shopping hours etc. help you save some buck.
Why to buy:
It is compact- The dimensions being 14'' X10''X8.5'' and weight 2.4 kgs only, it is a very compact baby gear. The backrest gets folded making it easier to carry around.
Easy to clean- The chair can be easily removed. Making it easier to clean under the seat. The food tray and the snap on lid are easily detachable and are completely dishwasher safe. Making the cleaning process much easier. The seat has no crevices so no food gets lodged.
Travel Friendly- As compared to a high chair, it is easier to carry a booster seat to restaurants, malls or on a travel. As it fits onto any chair, one need not worry about compatibility.
Reasonably priced- At around 4000/- you get a product which you can use from the time your baby can sit up till the time he/she is a toddler. Value for money we would say.
Adjustable tray- the tray can be adjusted (distance between the backrest and tray) according to your child's needs.
Safety- Has three point harness with two harnesses for securing it to a chair
Why to Avoid:
Does not recline- Unlike High chair which has multiple reclining settings, booster chair does not recline making it difficult for babies who are not that steady while sitting yet ready for solid food.
Might not be Height compatible- when out and about, we have chairs and tables with different height ratios. Sometime the child may be seated too low from the rest of the family.
Less leg space- for a lanky toddler, the space between the tray and the seat might not be a very comfortable one.
Our Verdict:
While doing our research for a good booster seat, we noticed that the parents are divided over a high chair and a booster seat. Some swear by the virtues of a high chair and others say that the booster seat is a much better option. Go read our review for Highchair here, so you can decide between the two. In our opinion, if you are short on space, travel frequently and have a fixed budget, go for a booster chair. It is complete value for money with its portability and sturdiness. Also, lasts for good 3-4 growing years of a child.
Curiousmumma thrives on feedbacks and interactions. Tell us in the comments section, which booster chair you chose for your baby and how your experience was.