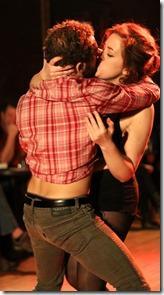 BDSM stands for "Bard's Damn Sexiest Moments"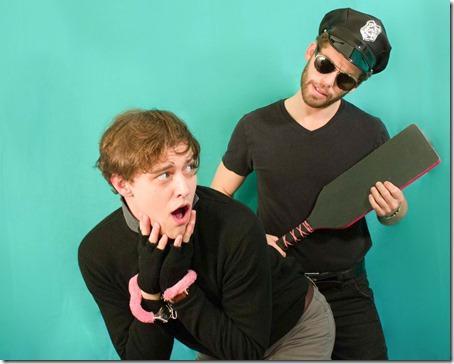 No stranger to the salacious, Shakespeare's plays and sonnets are riddled with the ribald, with some estimates at 1,100 sexual equivoques. What's most surprising-in a good way-about (re)discover theatre's third-year remount of Fifty Shades of Shakespeare is that they continue to eschew his most overtly sexual puns and allusions in favor of classic scenes tuned to the erotic. Remember, this is an author who wrote a sonnet to his turgidity and had Mercutio advise Romeo to go for a lady who will let him in the backdoor. It would have been all too easy to languish in the more puerile or blatant musings of Avon's favored son () Fifty Shades is a more high-minded treatment with burlesque leanings that plays with sexual identity in tones ranging from the whimsical to the harrowing to the tender.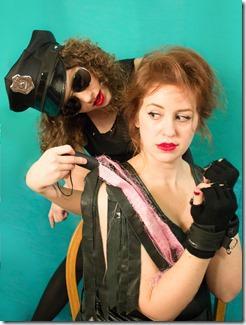 Each year has seen a new space for the (re)discoverians and tweaks to the thematic schema. This year finds them in
Fizz Bar
's expansive upstairs bar lounge with twenty-three characters derived from ten plays. Audience members select at random which of the quartet of two men (
Jesse Hinton
and
Zachary Lee Schley
) and two women (
Kelly Schmidt
and
Shaina Schrooten
) will play what parts, ensuring that each night's performance will be unique. Each scene has a contextualizing title, from "More the Man," with Lady MacBeth admonishing her husband to screw his courage to the sticking place, to "Scorn," with Hermia's bafflement at Lysander's sudden change of heart. Macbeth "will be satisfied" in "Satisfied" with some Ecstasy imbibing, orgiastic witches. Random role-playing selections from "Cat and Dog", "Catholic School" and "Robbers" give the most overtly S&M connotations to
Measure for Measure
's Isabella and Angelo in their tension-filled interrogation. Interestingly, nothing is done to blunt the force of poor Desdemona's fate at Othello's hand in "The Cause"-viciously strangled, not smothered, for supposed infidelity.
Interspersed, the actors improvise various punny jokes inspired by audience callouts and even include a dance number. One lucky audience member gets a midwinter night's dream as an additional character. Romeo and Juliet's courtship provides a regular check-in point in "Call Me But Love," "So Thrive My Soul" and "Goodnight."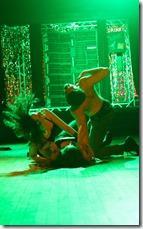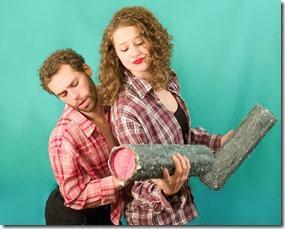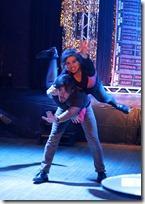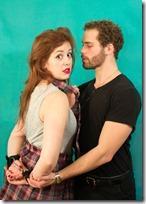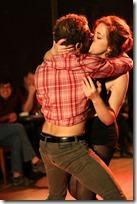 (re)discover's ensemble has a hip, unforced chemistry that makes their gender fluidity nearly invisible-though never lacking in the vivacious-which is part of the point of the mix-up. Gratefully, they aren't doing grotesque impersonations of opposing genders when called upon to do so, though there is a tongue-in-cheek elan to nearly everything in their short 70 minutes. Well coached by Jack Wallace, their handle on the nuance of the dialogue is more impressive than one might expect, especially given that they have little time to get into the correct space for each character. moves into the director's chair from her first year role as costume designer and delivers a scintillating treat for theatre goers looking for something offbeat yet classy. One thing that would enhance the proceedings is yet more context, particularly for the more obscure scenes. Something as simple as a projection of an illustration would help to parse each pairing and aid those less well-versed in Shakespeare.
This is a company that really enjoys both playing with Shakespeare (Farewell My Friend: The Romance of Romeo and Juliet) and throwing gender roles out the window (Lysistrata). Upsetting the norm is part of the mission. Fifty Shades is a delightful romp that purely embodies these ideals. To (re)coin a line from the bard's most gender-bending work, if [this] be the food of love, play on!
Fifty Shades of Shakespeare continues through February 28th at Fizz Bar, 3220 N. Lincoln (map), with performances Fridays, Saturdays and Sundays at 8pm. Tickets are $15-$22, and are available online through BrownPaperTickets.com (check for half-price tickets at Goldstar.com ). More info at rediscovertheatre.com. (Running time: 70 minutes including intermission)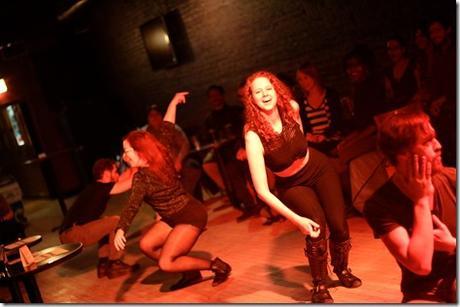 behind the scenes
(director, costume design), Paul Hovey (stage manager), Abby Gillette (assistant stage manager), Jack Wallace (text coach), Molly Donahue (fight director, assistant director), Andrew Lund (choreographer), Laura Wiley (lighting design), Tristan Brandon (props design), (sound design), (photos)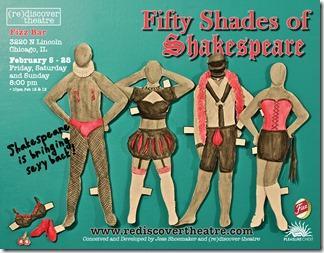 Tags: (re)discover theatre, 16-0206, Abby Gillette, Andrew Lund, Chicago Theater, Clint May, Cody Jolly, Fizz Bar, Jack Wallace, Janet Howe, Jess Shoemaker, Jesse Hinton, Jessica Shoemaker, Kelly Schmidt, Laura Wiley, Matt Wills, Molly Donahue, Paul Hovey, post, Shaina Schrooten, Tristan Brandon, William Shakespeare, Zachary Lee Schley
Category: (re)discover theatre, 2016 Reviews, Clint May, Fizz Bar, William Shakespeare