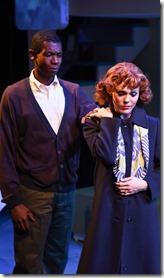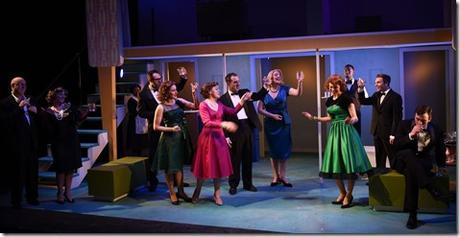 ' producers spoke of seeing the original movie and realizing instantly that it had a musical soul. Turns out they were right, and the musical was an improvement on the movie in the same way that Hairspray was. Such successes in adaptation are few and far between, and it seems as though many musicals are shoehorning intellectual properties into media that don't cry out for their existence. 2013's Far from Heaven , adapted from the critically acclaimed 2002 movie of the same name, written/directed by Todd Haynes, was such an attempt. It was much anticipated in its Off Broadway debut, and sold out before critics had time to lambast it. Even with director Rob Lindley's passionate direction, Porchlight's production suffers from the inherent problem-this wasn't a source that demanded reinterpretation. Gilding the lily just flattens the petals.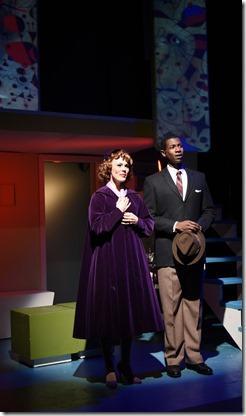 For Cathy (
Summer Naomi Smart
), life is Stepfordian bliss in a Hartford fall in the late fifties ("Autumn in Connecticut"). She, her two children and husband Frank (
Brandon Springman
) are the First Family of a Zenith-like company called Magnatech ("Mrs. Magnatech"). Life is all cocktail parties, local gossip, fundraisers and salacious discussions of conjugal carnality over daiquiris ("Marital Bliss").
Beneath the graceful façade, cracks have begun to show. Frank-already an absentee father-is caught "loitering" in a bad part of town ("If It Hadn't Been") and Cathy is all too aware that her friends are having more regular visits to the bedroom with their husbands. During an interview with the local gossip rag, she notices a strange black man in her backyard. It's Raymond (Evan Tyrone Martin), the son of her now-deceased gardener. He's a sensitive soul ("Sun and Shade") with a magnetic personality who also happens to be widowed.
Young son David (Nate Becker/Aaron Stone) worries about atom bombs from above, little realizing this nuclear family is about to have a nuclear bomb dropped on it. A late night visit to the office gives Cathy the surprise of her life when she catches Frank kissing another man ("Secrets"). This being the fifties, she recovers her composure under the promise of reorientation therapy and insists Frank see a psychiatrist, a plan on which Frank readily agrees to get rid of his 'despicable' urges.
As her carefully curated life slowly disintegrates, she finds herself pulled to Raymond as her husband pushes her away. As Frank struggles with the love that dare not speak its name, Cathy finds herself embroiled in an all too spoken drama when she's seen going out with a-gasp!-'negro'. Best friend Eleanor (Bri Sudia) is another Magnatech wife who wants so badly to gain Cathy's confidence ("Cathy, I'm Your Friend") and doesn't understand her ability to confide in a near stranger in her place. Cathy is furiously treading water amidst the waves of bigotry and false fronts, becoming increasingly aware of the hollowness beneath threatening to pull her under.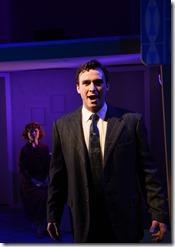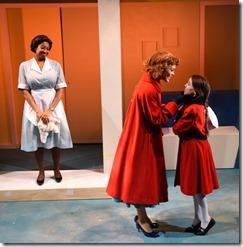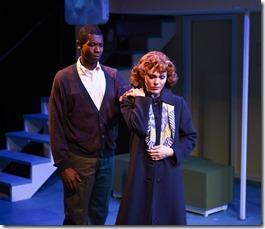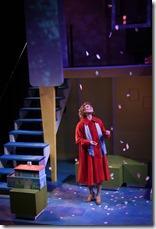 Screenwriter Haynes was making a self aware homage to the melodrama master of the fifties, Douglas Sirk. Specifically, 1955's "All That Heaven Allows," starring Rock Hudson, which debuted the same year that the magazine "Confidential" threatened to publish an exposé about his homosexuality. In this context, it makes it appear that Haynes was meta-commenting on Hudson's closet through the character of Frank. This is Cathy's story, however, and this theatrical production struggles to externalize what is by and large the internal struggles of a passive woman. Only near the end in the bitter "Tuesdays/Thursdays" are we allowed to hear what movie audiences could clearly see inscribed into Julianne Moore's brilliant performance.
If Haynes was going for a sly subterfuge of fifties phoniness with high style, the musical version makes cheesily blatant what the movie made subtlety. That's partly the nature of musicals themselves, and partly the frequently banal-to-wincing lyrics by Michael Korie, e.g. " "The worse it hurts, the more a person grows / as heaven only knows." Oof. A few numbers-"Miró" and "A Picture in Your Mind" buck the trend, but it's not enough in the two hour runtime. Richard Greenberg's book is so doggedly faithful to Haynes' original dialogue and plot beats that it stifles any creative abandon that might have enlivened the entirety.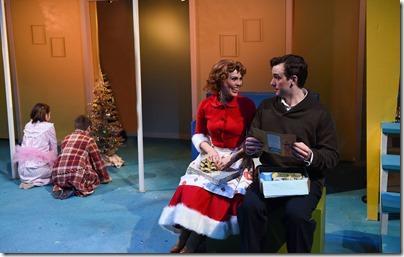 These wooden elements are frequently masked by Scott Frankel's fifties-inspired score with many big tuneful ballads to challenge the vocals. Smart has the classic, crystal clear voice to tackle them and make some clunky rhymes sound angelic, not to mention dimples that project her rictus grins into the stratosphere. She conveys vulnerability and barely-contained desire with nearly everything she does. The men who orbit her are fine singers, but just have less to do in service to the plot machinations to the point that it makes one wonder what the production would look like from their point of view. Each gets at least one number to sing out their frustrations, with Martin's pointed "The Only One," bemoaning racial divides, and Springman's "I Never Knew," in which he can finally acknowledge he'll only be happy with another man.
's design team is above reproach. Contrary to the much-derided dreariness of the 2013 premiere, Grant Sabin's set is a metaphor of childhood innocence. An opening scene establishes that Cathy lives in a world found in little girl's playful dreams, and the set evokes pastel colored blocks informed with simple geometry and transformative set pieces that rebuild into various elements. William Kirkham's lighting combines with it ingeniously to add additional thematic overtones. That kind of playfulness and so-close-to-camp-it's-delightful aesthetic could have informed the adaptation to its betterment. I'm typically ambivalent towards the use of projections in theatre, but Michael Stanfill's designs are handled deftly-not the centerpiece, more a restrained flourish. Each character is dressed impeccably under Bill Morey's sartorial direction, with details that code each character with Mad Men-cum-Dior level insight.
Haynes recently released his complementary film Carol, detailing lesbian love in the same era, and again to great critical acclaim. Maybe leave that one in movie form.
Far from Heaven continues through March 13th at Stage 773, 1225 W. Belmont (map), with performances Thursdays 7:30pm, Fridays 8pm, Saturdays 4pm & 8pm, Sundays 2pm. Tickets are $35-$48, and are available by phone (773-327-5252) or online through Stage773.org (check for half-price tickets at Goldstar.com ). More information at PorchlightMusicTheatre.org. (Running time: 2 hours, includes an intermission)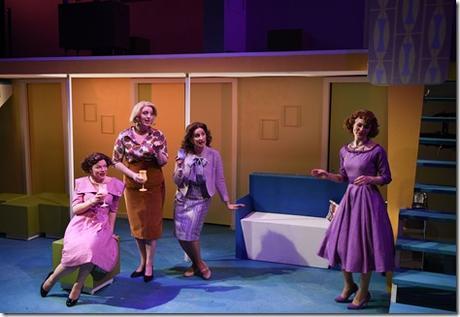 behind the scenes
Rob Lindley (director), Churck Larkin (music director), William Carlos Angulo (choreography), Grant Sabin (scenic design), (costume design), William Kirkham (lighting design), Michael Stanfill (projections design), Mealah Heidenreich (props design), Robert Hornbostel (sound designer), Kevin Barthell (wig design), Sara Gammage (stage manager), Aaron Shapiro (production manager), Brandon Dahlquist (photos)
Tags: 16-0218, Aaron Shapiro, Aaron Stone, Amanda Giles, Amanda Horvath, Angela Alise, Ann Sheridan Smith, Bill Morey, Brandon Dahlquist, Brandon Springman, Bri Sudia, Brian Zane, Candace C. Edwards, Chicago musical theater, Chicago Theater, Churck Larkin, Clint May, Dori Erwin Collins, Douglas Sirk, Evan Tyrone Martin, Grant Sabin, Jerry Mills, Jonathan Schwart, Jos N. Banks, Kevin Barthell, Mary-Margaret Roberts, Mealah Heidenreich, Michael Stanfill, Nate Becker, Nick Hyland, Patrick Byrnes, Peyton Shaffer, Porchlight Music Theatre, post, Princess Isis Z Lang, Rob Lindley, Robert Hornbostel, Rosalind Hurwitz, Sara Gammage, Sidra Henderson, Stage 773, Summer Naomi Smart, Taylor Okey, Todd Haynes, Tommy William Thurston, Tori Whaples, William Carlos Angulo, William Kirkham