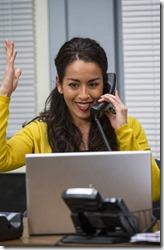 Inspired by playwright's own experiences,
'Fade' is thought-provoking and darkly funny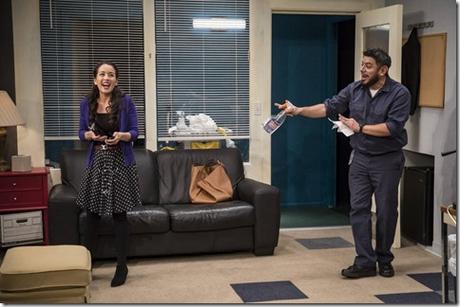 Review by Lauren Whalen
It's not enough to have actors of color onstage. Especially in the age of Trump's America, audiences don't just need diverse faces - we need diverse stories and experiences in front of us. We need actors of color, as well as directors, designers and writers. Fortunately, Chicago has at least three fantastic, recent productions that fulfill this need. Goodman Theatre's Yasmina's Necklace explored two different Muslim families and their adult children's growing romance, while Eclipse Theatre's Breath, Boomspans over a decade in the life of a black female gangster with a passion for fireworks. And Victory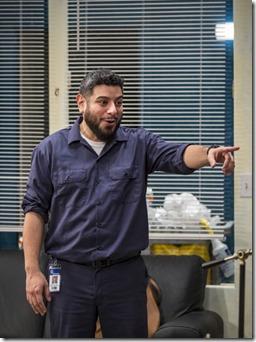 Gardens' latest,
Fade
, a co-production with Teatro Vista, features the relationship of two very different Latinx individuals who happen to work in the same building.
Fade
is funny and authentic, the newest work of ensemble playwright
Tanya Saracho
, featuring sharp dialogue and two dynamic performances.
Playwright Saracho also writes for television, and has worked on "How to Get Away With Murder ", "Looking" and "Girls". Often, she has been the only Mexican woman in a writers' room mostly populated by white men - a known trend that's only just now changing, and very slowly to boot. Inspired by Saracho's experiences, opens with Lucia (Sari Sanchez), a Mexican novelist and recent LA transplant, struggling with a link on her computer. She's struggling with a lot: her move from Chicago, her second, overdue novel, and her new job where colleagues refer to her as "mamacita" and "the diversity hire." Enter Abel (Eddie Martinez), a Mexican-American janitor who works late at night. As he and Lucia form a friendship, truths are revealed and lines are blurred as Lucia works to find her place in the TV world.
Saracho's script strikes the perfect balance between compelling theater and really good TV. encompasses all of her strengths as a writer, with witty dialogue, realistic situations and very human characters. Lucia and Abel are very similar in some ways, very different in others. She is educated and privileged, while he has survived extremely rough situations, and Saracho explores both backgrounds in a way that's the opposite of preachy. Both Lucia and Abel have overcome various obstacles and face additional obstacles every day, but their coping mechanisms can vary wildly. Director Sandra Marquez deftly interprets the material and never skimps on humor, though the pacing drags toward the end (the production is advertised as 90 minutes, but ended up clocking at 100).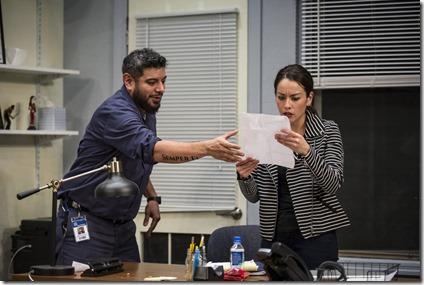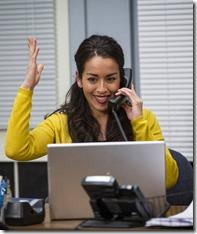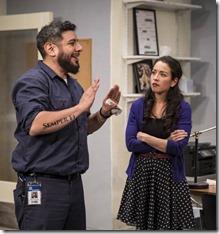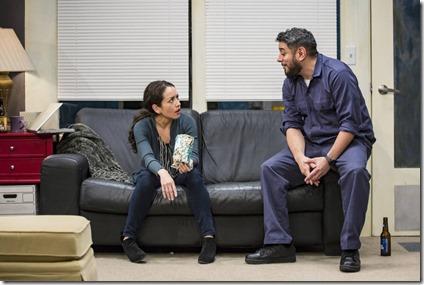 can be difficult, production- and tech-wise, as a one-act that spans several weeks, but where both characters are onstage for the majority of the show. Thankfully, the team behind possesses a wondrous attention to detail, and work incredibly well together. Costume designer Christine Pascual skillfully mixes and matches dresses, leggings and cardigans for Lucia (she has a somewhat easier time with Abel, who wears a uniform). Regina García's set design and Jesse Klug's lighting brilliantly approximate a Los Angeles office, with thoughtfully placed props (designed by Mealah Heidenreichand Alec Long). Production stage manager Tina M. Jachholds it all together, keeping everything running so efficiently it borders on magic. Both actors are fantastic: though Sanchez is a little exaggerated, she does an excellent job with a character that can come across as very unsympathetic. As the underdog, Martinez has an easier time of it, but he brings extra nuance and pathos to Abel.
Fade is a show Chicago should see, for its thoughtful and often-hilarious look at a relentlessly competitive industry, and for the people who work in it. Strong in every sense of the word, the production is also affordable and is running for another month. Go see it.
continues through December 23rd at Victory Gardens' Richard Christiansen Theater, 2433 N. Lincoln (map), with performances Tuesdays-Fridays at 7:30pm, Saturdays 3pm & 7:30pm, Sundays 3pm. Tickets are $15-$56, and are available by phone (773-871-3000) or through PrintTixUSA.com (check for availability of ). More information at VictoryGardens.org. (Running time: 1 hour 40 minutes, no intermission. Recommended for ages 13 and up.)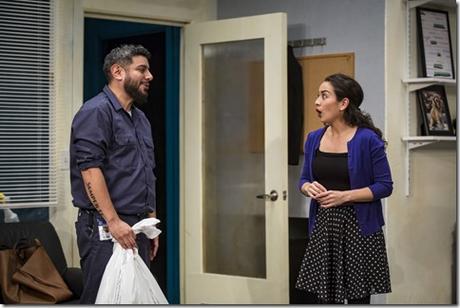 behind the scenes
Sandra Marquez (director), Regina García (set design), Christine Pascual (costume design), (lighting design), Victoria Deiorio (sound design), Mealah Heidenreich , (props design), Isaac Gomez (dramaturgy), Aaron Shapiro (production manager), (production stage manager), Hannah Tova Wolff (asst. director), Alyssa Kerr (asst. sound design), Michael J. Hengels (wardrobe, production assistant), Peter Rademacher (technical director), Tom Albright (master electrician), (photos)
Tags: 17-1119, Aaron Shapiro, Alec Long, Alyssa Kerr, Biograph Theater, Chicago Theater, Christine Pascual, Eddie Martinez, Hannah Tova Wolff, Isaac Gomez, Jesse Klug, Lauren Whalen, Liz Lauren, Mealah Heidenreich, Michael J. Hengels, Peter Rademacher, post, Regina Garcia, Sandra Marquez, Sari Sanchez, Tanya Saracho, Teatro Vista, Tina M. Jach, Tom Albright, Victoria DeIorio, Victory Gardens Theater
Category: 2017 Reviews, Lauren Whalen, Richard Christiansen Theatre, Tanya Saracho, Teatro Vista, Victory Gardens