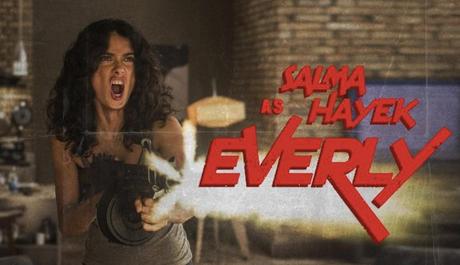 If you like action movies with female protagonists, like Angelina Jolie's SALT, and Scarlett Johansson's LUCY, then you're definitely going to like the action-packed EVERLY. Salma Hayek takes the lead in this film as a badass woman who's forced to survive a hellish experience.
Thanks to all the superhero movies released throughout the year, EVERLY went unnoticed in 2014, and even though the movie has been stamped with very low ratings on IMDb and Rotten Tomatoes, as a fanboy of bloody disgusting action movies, I can gladly confess that I enjoyed every minute of this movie.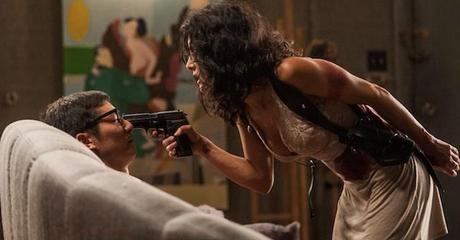 SPOILERS AHEAD!!
Directed by Joe Lynch (Wrong Turn 2, Knights of Badassdom), EVERLY is a low-budget film that takes place in an apartment building, where Everly (Salma Hayek) is being held up by the henchmen of an obsessive ex boyfriend who also happen to be a powerful mob boss in the town. After being raped and tormented by mobsters, in her own apartment, Everly finally makes up her mind to give them all she's got by killing each and every one of them in the room. But only then she realize that it's only the beginning of the end.
Everly is an ordinary woman, she has no idea how to handle a gun, but she learns pretty quickly. After taking down the mobsters in her apartment, she realizes that she has no way to escape. Her only hope is to protect her child and her mother. But the angry mob boss doesn't make it any easier. He puts a bounty on Everly's head and sends one assassin after another to take her down.
The Good Stuff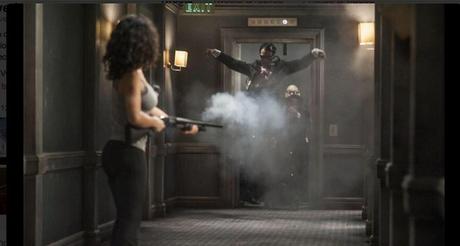 EVERLY sets a great example to show how low-budget film should me made. Even though the entire movie is set inside this one apartment room, the gritty, gut wrenching action makes the film much more enjoyable.
You'll see a plenty of bloody gun fights, as well as some weird face-melting terrors. Needless to say, EVERLY will keep you on the edge of your seat until the very end.
The Bad Stuff
Sure, there are some cringe-worthy moments in the film. But hey, nothing's perfect. And given the low-budget status of the film, you can't blame it for a few lame lines in dialogues. So, instead of whining over the little things, I focused on enjoying the film.
To Watch or Not?
EVERLY is all about bloody disgusting action. If you're not into that kind of movies, you probably won't enjoy this as much as I did. Overall, the movie was really entertaining and Salma Hayek's impressive acting came as a bonus to make the film even better. It's a must-see!
RATING