And it's the end of the week! It's a particularly good Friday for me today, cos I'll be having a staycation yayyyyyy. Anyhoos, since I'm gonna be spending my time indoors and not having to contend with the madding crowd, I've decided to leave the face paint at home – even this one that I've been loving so far. Now it's part of the special Etude House x Kerrie Hess Dreaming Swan collection, and yes I do know it's slightly belated, but still, a beauty junkie's gotta do what a beauty junkie has to do – no no, not shop the house down, I mean sharing the beauty product love! :D
 Etude House Kerrie Hess Dreaming Swan Shine Volumer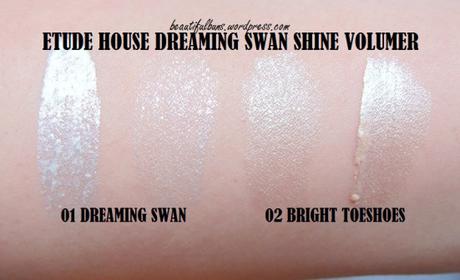 Shade 01 Dreaming Swan: Pearly shimmery white | Shade 02 Bright Toeshoes: Pearly light peach-pink.
Note that I didn't get Shade 03 cos it's more gold-sheened and it doesn't go quite well for my skintone.

I say…
The Packaging: The illustrations are undoubtedly gorgeous – now on to the actual product packaging. It's a plastic tube with a soft sponge tip application that's attached to a twist-on cap. (sorry, will update with photos soon!)
The Application: Now this is not just for the undereye aegyo sal or to brighten up the eye area with a little sparkle – it can be used for the collarbone and decolletage area to draw emphasis. The sponge tip is great when you're applying it to the body – just dab a couple of spot and use your fingertip to blend it in. I have a slight issue with using it to apply to my undereye area though – It's slightly too large and I find myself having to dab (very gingerly) ONCE. Any more than that and I'll have eyeballs that could rival a disco ball. After that one dab, I use my ring finger to gently blend it in (sometimes, I even have to use a Qtip to remove any excess).
The Verdict: Application issues aside, this is a very pretty sparkly and shimmery product that isn't too Twilight-shine. It stays on the entire day and doesn't flake off that terribly (unless you apply a thick coat). If blended in properly, it goes on naturally whether it's under your eyes or on your collarbone :) I notice that Etude House is really strong for such products, so even if you're unable to get your hands on this collection, you can try out their other sparkly-shimmer products – they should give you a similar finish and effect. Check out this collection's Cheek blushes as well :)