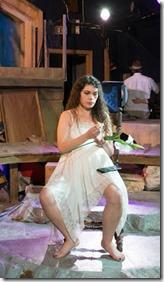 Star performances yield one hell of a fun show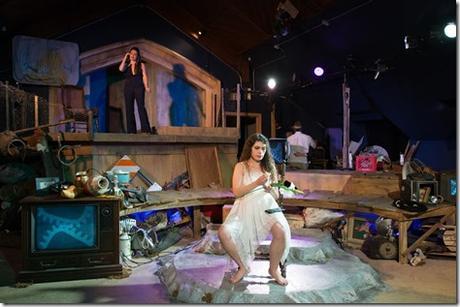 Hell is a junkyard... with voicemail.
For whatever reason, theatre depicting some manifestation of hell tends to work quite well. Estrella Cruz [the junkyard queen] parodies the myth of Persephone, which relates one of the oldest known concepts of the underworld. A playful tone and modernized setting juxtapose against this ancient macabre legend to cultivate an engaging theatrical experience.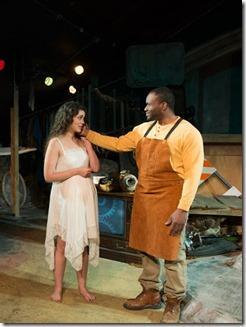 Aurelia Cruz (
Tamika Lecheé Morales
) is The Inventor, supplying the world with the goods people need to survive (like tooth whiteners). Her naive daughter Estrella (
Allyce Torres
) works as a model/spokeswoman for her mother's products... until she gets snatched away to the underworld by one of Satan's minions in the guise of actress Bette Davis (
Kelly Opalko
). Satan, AKA Pablo the Junker (
Robert N. Isaac
), feeds her an especially aphrodisiacal pomegranate that helps spur her to sleep with him. Estrella then begins a rapid pregnancy in which she converses with her unborn child (
Noe Jara
), yet Pablo remains steadfastly disinterested about the entire affair.
The central relationship between the emotionless Pablo and the remarkably poised Estrella proves interesting despite the lack of hysterics. Considering the script doesn't give much reason for Estrella to fall for the Prince of Darkness, the two actors pull off that dynamic reasonably well with underlying tenderness throughout their scenes. The supporting cast doesn't disappoint, either. With sparse lines at her disposal, Opalko intrigues as a constant supernatural presence throughout the production. Morales provides varying notes as a powerful woman with a vulnerable side. Johnny Garcia's brief appearance as Estrella's would-be rescuer injects a different tone to the proceedings. And Jara's shrill interpretation of the unborn child - of whom we only see a mouth on five television monitors strewn about the stage - chills.
Those CRT TV monitors are part of Nicholas Schwartz's brilliant set design that transforms the stage into the set of "Sanford and Son" and uses levels to delineate between the land of the living and the underworld. They also get utilized for infomercials and scene titles throughout the show. Jerica Hucke's eye-catching costuming rounds out the strong technical side of the production.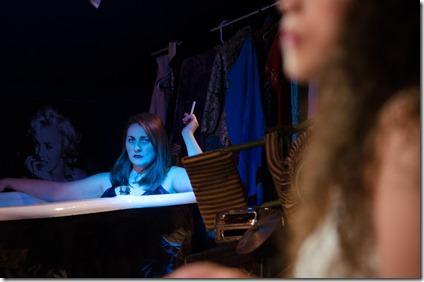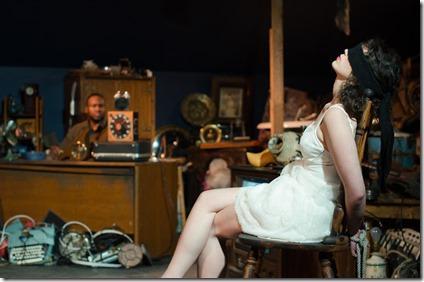 This modern interpretation of an ancient myth allows for enhanced relevancy for a contemporary audience. Ideas such as slut-shaming, socialism, and Stockholm Syndrome get explored in a more fun and less confrontational way. The characters' motivations aren't always clear, but their behavior is always interesting.
Parody works best when strong nods are given to the original work, but when the adaptation doesn't feel too constrained by its basis. Estrella Cruz balances the two qualities admirably and, in doing so, presents a fun and unusual story. At times the tone isn't navigated well enough to allow the important moments to land, getting overshadowed by the play's humor. Because of this, the ending isn't as powerful as it otherwise could be. Nevertheless, this production has a lot to offer, and its refreshing to witness a theatre company hold fast to its mission statement and core values as well as Halcyon does.
Estrella Cruz [the junkyard queen] continues through February 27th at Christ Evangelical Lutheran Church, 3253 W. Wilson (map), with performances Thursdays-Saturdays at 8pm, Sundays 6pm. Tickets are $0-$20, and are available online through Tixato.com (check for half-price tickets at Goldstar.com ). More information at HalcyonTheatre.org. (Running time: 90 minutes, no intermission)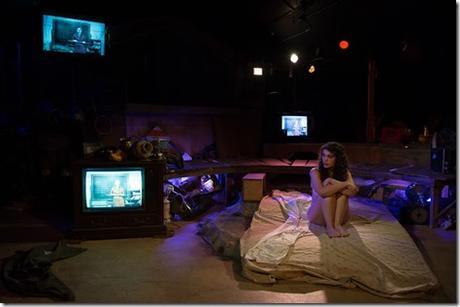 behind the scenes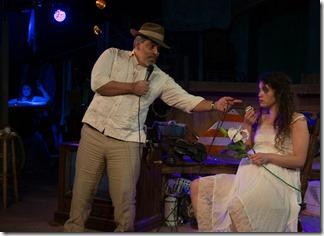 Tags: 16-0144, Allyce Torres, Brian Bradford, Cat Davis, Charise Castro Smith, Chicago Theater, Dre Robinson, Ellie Terrell, Halcyon Theatre, Ian Scarlato, Jerica Hucke, Johnny Garcia, Keith Glab, Kelly Opalko, Mari Deoleo, Michael Chancellor, Nicholas James Schwartz, Nicholas Schwartz, Noe Jara, Paul Deziel, Persephone, post, Robert N. Isaac, Smooch Medina, Tamika Lecheé Morales, Tom McGrath, Tony Adams, Victoria Apodaca
Category: 2016 Reviews, Halcyon Theatre, Keith Glab