The ombre lip trend may be dying down, but my heart still skips a beat whenever I see a gradient product (that, and Chris Evans' biceps flexing in Capt'n America -drools- hurls my panties at him). Insane fangirling moment aside, this product is one that can also emulate that natural flush that comes to my cheeks in that heated moment hurhurhur.
Estee Lauder Pure Color Envy Sculpting Blush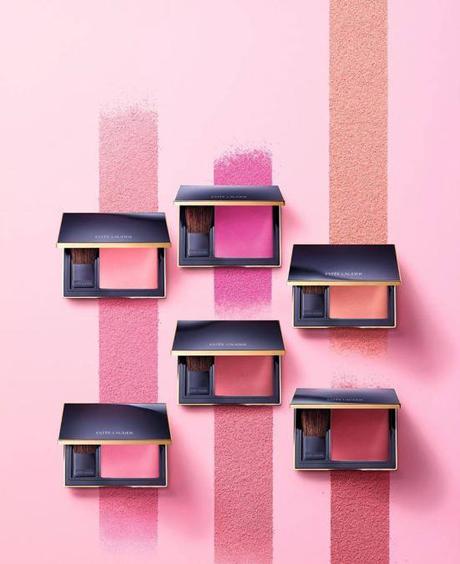 Now this normally comes in non-gradient colours, but there are two shades that are gradient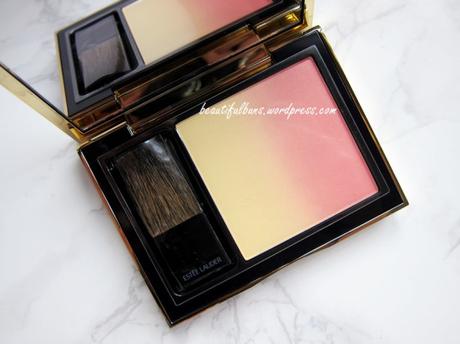 In shade Witty Peach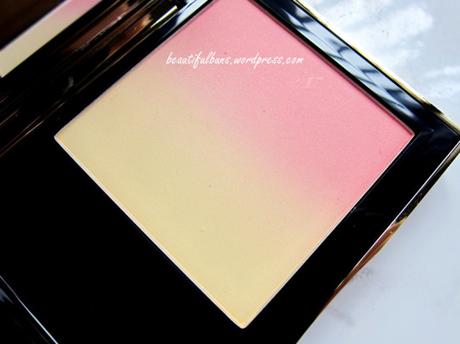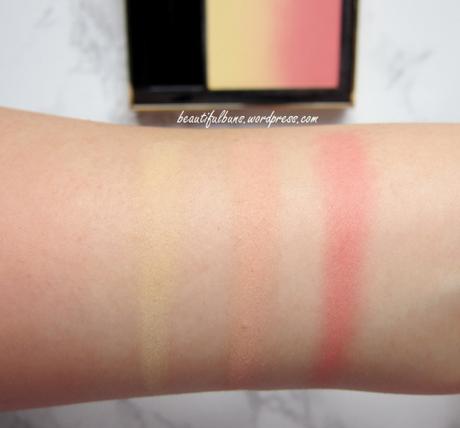 L-R:
Individual swatch (yellow), blended swatch (yellow + pink), individual swatch (pink)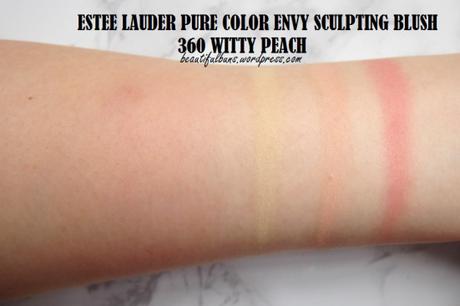 Left
: The entire blush used as a whole.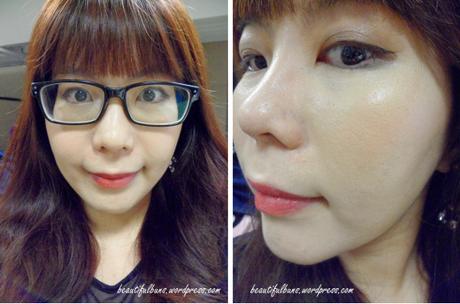 Face:
Etude House Big Cover Concealer BB
,
Eyeshadow
:
Nudestix in Twilight
,
Lips
:
Aritaum Water Sliding Tint
I say…
The Packaging: A compact that's considerably larger than other blushers (will update with the measurements soon), but I guess this means that there's more blush product. It comes with an inbuilt mirror and mini brush, which is sufficiently soft enough to use when you're on the go / overseas, but I personally prefer to use the usual large blush brush so that I can pick up
The Scent: None.
The Texture: Very finely-milled powder grains that are picked up easily with a large powder brush (and there's barely any fall out). It goes on smoothly onto the skin, although it has a slight tendency to sink into enlarged pores (since it's so small), so try not to be heavy-handed in application. The color payoff is medium – you'll probably need 1-2 coats to get a natural flush, but on the bright side, it means that you won't end up with cheeks that resemble that puppet from Saw if you overdo the application/are a makeup noob.
The Verdict:  Now I had initially thought I could use the lighter yellow shade as a highlighter of sorts, but judging by the color (and plus it's matte with a lack of shimmer), it wouldn't be the most suitable, especially for us yellow-skinned Asians. That aside, it is a very pretty blush color that's buildable and very fine in texture. A good investment for those who aren't into frenetic and constant beauty shopping (yes I admit that's me), and prefer to have one blush for the entire year. Or even if you're a beauty junkie, this would be a good-quality item to have in your stash. Heh.