It's not secret that I love lipsticks – it's also no secret that I'm a makeup hoarder, so I've decided to no longer sit on products (and creepily caress them from time to time). Instead, I will try my best to review them as soon as possible (well, as soon as I can bear to deface its brand-new facade heh). I bought this lippie from Korea during my recent trip there with The History Of Whoo (yes yes, blog entry to also come soon!), and see, it's been only 2 weeks and I've already decided to start using it :D
Espoir Lipstick No Wear S – Pleasure Treasure (KRW19,000)

Espoir Lipstick No Wear S – Pleasure Treasure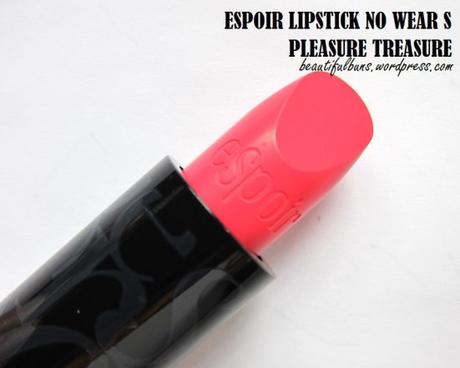 Pleasure Treasure is a GORGEOUS hot pink + coral shade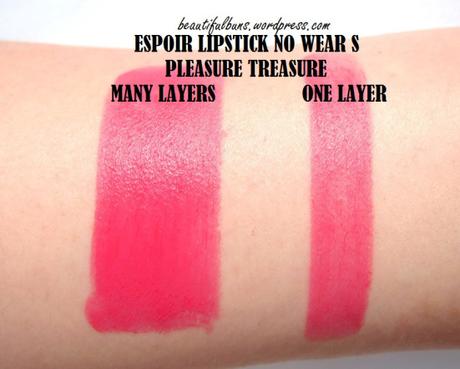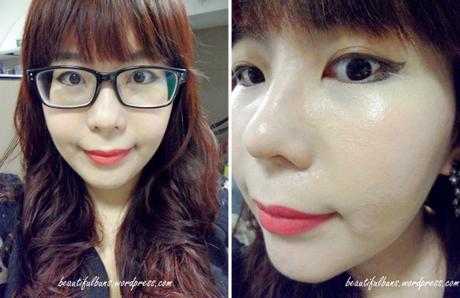 Face
:
The History of Whoo Essential Foundation
,
Cheeks
:
Aritaum Sugarball Cushion Blusher
,
Lips
: Espoir Lipstick No Wear S in Pleasure Treasure (freshly applied)
I say…
The Packaging: It's a matte-finish tube measuring about 7.5cm tall (cap included), and the cover is a magnetic one. It's mostly plastic so it isn't too heavy to carry around. The base is slightly curved in at the edges, so it is slightly less stable than your usual lipsticks.
The Scent: There's a very faint fruity scent, almost berry-like, which I love, but it's not a strong lingering scent.
The Application: Now this is the No Wear S collection, with S representing Semi Matte (aka creamy color with a slight matte-gloss finish). It glides on relatively smoothly onto well-moisturised lips – note that if you're having flaky dry lips, do not apply this lip color cos it will accentuate the flakes and lines even more so. Make sure to either apply alLip mask, lip scrub or some lip balm beforehand. The color is intense and the color payoff is rich – the hot pink-coral is absolutely gorgeous! No wonder this is the top-selling color instore (according to the staff who recommended this color to me). After it fades, it leaves a beautiful rosy pink tint but it can be slightly drying and leave lip flakes too.
The Verdict: I'm on the fence about this one. On one hand, the color applies smoothly, is absolutely gorgeous, and leaves a just-bitten tint even after fading off. On the other hand, there's that issue about me having super dry lips and the hassle of having to apply lip balm every time I want to apply this. I'll also find myself checking the mirror more often when I apply this lipstick, just to make sure that it hasn't dried out, sunken into the lines of the lips and leaving icky flakes all over my lips (and it does happen!). I'll then have to frantically dig for some tissue to wipe them off – and if not, I'll have to do a lip scrub to "reset" the condition of the lips.  Hmmm…