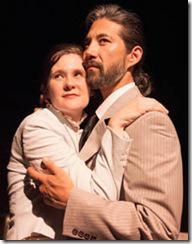 Encores: After the Theatre
   and Other Stories  
Adapted from stories by Anton Chekhov  
Directed by Joyce Piven 
Noyes Cultural Center, Evanston (map)
thru May 20  |  tickets: $25   |  more info
  
Check for half-price tickets  
  
   Read entire review
  
---
Intriguing hour of Chekhov adaptations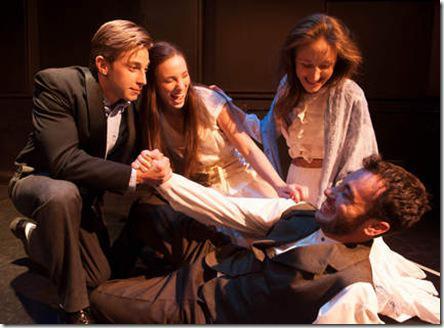 Piven Theatre Workshop presents
Encores: After the Theatre and Other Stories
Review by K.D. Hopkins
This production from the venerable Piven Theatre Workshop is a triumvirate of short stories by Anton Chekov adapted into short one-act plays. Chekov was as well known for his short stories as he was for his oft-produced plays. The Piven adaptations of these stories are a mixed bag. It starts off not so great, but ends with a brilliant and touching performance by veterans Joanne Underwood and Daniel Smith.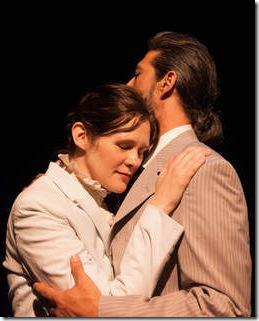 The first story,
Polly Noonan
's adaption of
After The Theatre
, features some of the Piven advanced youth ensemble. It is a short and engaging story of a young girl reenacting the show that she has just seen, with herself in the role of the heroine.
Aly Sklare
, playing Nadya. Sklare, has a youthful enthusiasm but she does not pull off the illusion of a 19th century Russian aristocrat.
Michael Moran
, as Gruzdev and Tom Schneider, has the youthful zest and the skilled subtlety to project the youthful swains in Nadya's imaginations. Rounding out the cast is
Susan Applebaum
as Mamma. Applebaum is both endearing and funny in this relatively small role. I found myself wanting to see her more upstage and closer to Sklare. Her maternal 'bubbie' energy would possibly be a worthy balance to Sklare's performance, making it a more cohesive ensemble piece.
The second short is The Trick, adapted by Stephen Fedo and featuring Piven newcomers Nathaniel Williams as Anton, and Gillian Hemme as Nadya. It is a poignant tale of missing the mark and losing at one's own game. Anton teases Nadya into taking a sled run so that he can tell her he loves her. Nadya wonders if she heard the words from Anton or was it the wind. Hemme simmers with the flush of awakened libido. This scene had the feel of a cold Russian winter; the simple set awash in blue and white sets off a beautiful performance with great synergy between Williams and Hemme. The Trick possesses authentic emotional heft and a sense of timelessness that aligns more with Chekov's plays.
The final act is titled Lady With A Pet Dog, adapted by Sarah Ruhl. It's the best of the three. Joanne Underwood plays Anna Sergeyevna, a repressed wife of a dull bureaucrat. Underwood is luminescent in the role, and her emotional range flows beautifully. Daniel Smith, as Dmitri Dmitrich Gurov, wins my hands down vote for smoldering sexuality. Dmitri is a married man with a daughter, but is also carrying on an affair with Anna. It is against all of the rules in polite society for this type of arrangement.  It's commendable, then, that these performances have none of the melodrama so common to forbidden love stories.
Smith and Underwood have engaging scenes with other ensemble members. Olivia Cygan plays the role of Gurov's daughter. The interaction between Cygan and Smith has the look and feel of a painting. Susan Applebaum makes a return appearance in this scene as Gurov's enduring wife. Tom Schneider plays the role of Anna's dullard spouse. There is very subtle energy between Schneider and Underwood: Anna's resentment is palpable yet restrained as Schneider's character leaves her alone in public.  The backstage tryst between Anna and Dmitri is fevered and erotic. It is a wonderful rendition of the Chekovian aristocracy revealing rustic passions and breaking the rules in spite of dire societal consequences.
Overall, Encore: After The Theatre and Other Stories is an intriguing, if uneven, hour of theater. Chekov's stories have obvious potential for theatrical adaptation and it is a part of the Piven mission to produce transformative literary works. Chekov's stories are truly slice of life happenings during the instability of pre-revolution Russia. There was instability and, yes, terrorism against the aristocracy portrayed in Chekov's writing. Piven Theatre Workshop does an admirable job.
Rating: ★★½
Encores: After the Theatre and Other Stories continues through May 20th at the Noyes Cultural Center, 927 Noyes Street, Evanston (map), with performances Thursdays and Fridays 7:30pm, Saturdays 2:30 and 7:30pm, Sundays 2:30pm.  Tickets are $25, and are available by phone (847-866-8049) or online at PrintTixUSA.com (check for half-price tickets at Goldstar.com). More info at PivenTheatre.org. (Running time: 65 minutes)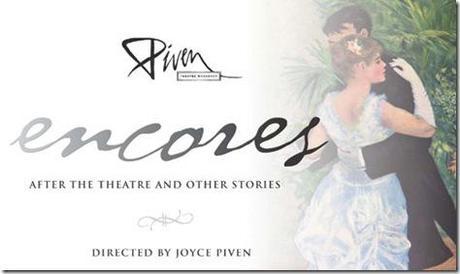 ---