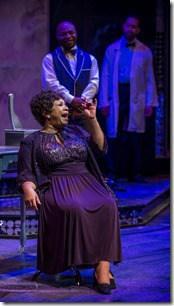 Dynamite Divas
Written by Jackie Taylor 
Black Ensemble Theater, 4450 N. Clark (map)
thru Jan 24  |  tix: $55-$65  |  more info
  
Check for half-price tickets  
  
---
Explosive music, sputtering scenes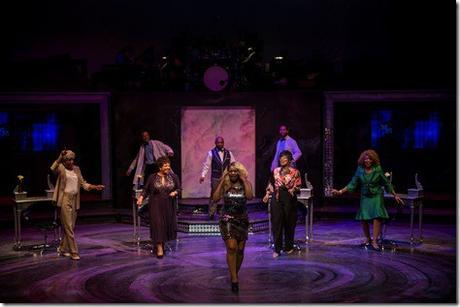 Black Ensemble Theater presents
Dynamite Divas: A Tribute to Women of Soul
Review by John Olson
True to this show's title, the divas it celebrates were truly dynamite, and so are the singer/actresses playing them. The focus is on Roberta Flack, Gladys Knight, Nancy Wilson and Aretha Franklin, but significant nods are made to a number of others from Bessie Smith and Billie Holliday all the way up to Beyoncé. We're treated to some truly sensational performances of songs you'd expect like "Respect," "Midnight Train to Georgia," "You're the Best Thing That Ever Happened to Me" and "Killing Me Softly" along with some delightfully unexpected choices like Wilson's "Face It Girl," or Flack's "Reverend Lee," not to mention the mainstream hits "You've Got a Friend" and "Bridge Over Troubled Water." The stuff that wraps around these songs and makes this concept an original jukebox musical more than a review kind of sputters, though.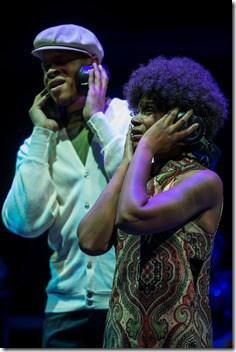 The premise of Black Ensemble Theater founder
Jackie Taylor
's book is that a mysterious and insanely rich inventor named Mr. Maurice has – for some reason to be revealed – assembled, at enormous cost, four of the greatest living rhythm and blues/jazz/soul divas to perform a live worldwide telecast. As Flack, Wilson, Knight and Franklin arrive in the studio (a glistening silver-colored set designed by
Denise Karczewski
), they are seated in beauty-salon styled chairs and exchange stories with each other and Mr. Maurice as they prepare for the telecast with reminiscences that include some of their greatest hits.
Rashada Dawan
as Gladys Knight rips into "I've Got to Use My Imagination" and
Rhonda Preston
as Nancy Wilson does the jazzy "How Glad I Am" with both of these actresses doing justice to the divas they salute and offering convincing and respectful imitations.
Melanie McCullough
has a voice with no particular resemblance to Flack's velvet tones, but she's an appealing singer nonetheless. And, there's no imitating Aretha Franklin, but
Shari Addison
raises the roof with her powerful covers of the greatest and lesser known successes of the Queen of Soul.
The greatest number of songs in the show are tunes that were originally recorded by Knight, Flack, Wilson and Franklin. The choice of those four provides a range of styles that serves the show well – the cool, jazzy sophistication of Wilson, Flack's smooth voice and tender ballads, the soulful pop crossover appeal of Knight and the sheer power of Franklin and her anthems. Taylor's script has a clever device that allows her to honor many other historic divas as well. Inventor Mr. Maurice (director/choreographer Rueben D. Echoles) has created a device called the "Assimilator," which brings back the departed divas of the past as if they were still alive and singing. It transports the likes of Billie Holliday, Nina Simone and Dinah Washington from the beyond to the stage, where they sing "God Bless the Child," Mississippi Goddam" and "This Bitter Earth." There's also a visit from an alive Beyoncé, miffed at her exclusion from the program, but willing to do a high energy rendition of "Love on Top." There's also a sexy pas de deux in the second act and I was happy to see some real dance – as opposed to the sort of "Soul Train" line dancing elsewhere in this show and other BET productions I've seen.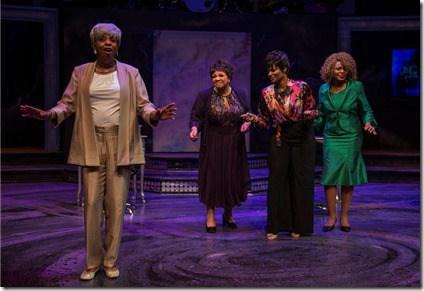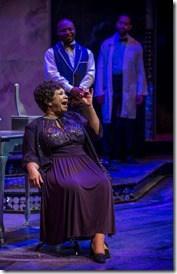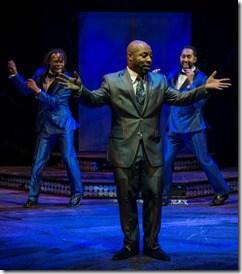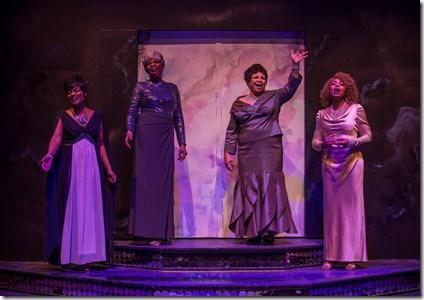 Taylor's script has its moments – she creates a haughty but still likable Franklin that delivers some honest laughs, especially with her exchanges with Beyoncé for allegedly slighting her at an awards show. Her business with Mr. Maurice, though, just isn't as funny as its intended to be. Director Echoles has a nice stage presence, but he's far from creating a comic character that would justify the stage time he's given. And the whole business about his elaborate plot to stage this worldwide broadcast is too complicated and busy – and takes time we'd rather spend listening to these singers and these songs. Too bad Mr. Maurice hasn't invented a device to fast-forward through live theater – we could skip over the dialogue that doesn't land and just enjoy the music of these dynamite divas.
Rating: ★★★
Dynamite Divas continues through January 24th at Black Ensemble Theater, 4450 N. Clark (map), with performances Thursdays 7:30pm, Fridays 8pm, Saturdays 3pm and 8pm, Sundays 3pm.  Tickets are $55-$65, and are available by phone (773-769-4451) or online at p.com (check for half-price tickets at Goldstar.com). More information at BlackEnsembleTheater.org.  (Running time: 2 hours 30 minutes, includes an intermission)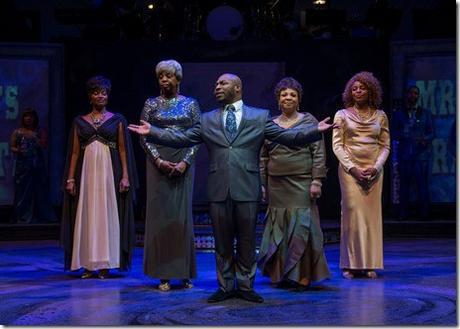 Photos by Michael Brosilow 
---
artists
cast
Rueben D. Echoles (Mr. Maurice), Shari Addison (Aretha Franklin), Rhonda Preston (Nancy Wilson), Rashada Dawan (Gladys Knight), Melanie McCullough (Roberta Flack), Donald Craig Manuel (Hubert), Kyle Smith (Young Blood), Kylah Frye, Jessica Seals, Cherise Thomas, Daniel O'Brian Phillips, Tricia Trible, Shavon Hannah, Averis Anderson (ensemble)
band
Robert Reddrick (musical director, drums), Mark Miller (bass), Gary Baker (guitar), Justin Dillard (piano), Paul Howard (trumpet), Dudley Owens (saxophone), Bill McFarland (trombone)
behind the scenes
Rueben D. Echoles (director, choreographer, costume & wig design), Jackie Taylor (writer, producer), Robert Reddrick (music director), Denise Karczewski (lighting and set designer), Caswell James (technical director), Aaron Quick (sound & projection design), CoCo Ree Lemry (scenic artist), Deanna Reed-Foster (assistant director), Daryl Brooks (stage manager, production manager), Bekki Lambrecht (stage manager, asst. set designer), Lamar Ezell (assistant stage manager), Malcolm Thompson (spotlight operator, asst. lighting design), Newton Wellington (asst. technical director), Alexia Rutherford (asst. costume designer), Evelyn Danner (wardrobe supervisor), Xenon Zeigler (sound engineer, asst. projection design), Cherise Thomas (vocal arranger), Michael Brosilow (photos)
15-1233