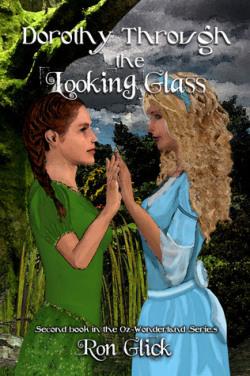 Dorothy through the Looking Glass (Oz-Wonderland #2) by Ron GlickAuthor Website
Amazon (UK)
Amazon.com
I was given a free copy by the author in exchange for an honest review.
Createspace (ebook), 2013156 Pages
The Wizard's journey to Wonderland has exposed a shared history between that faery land and Oz - but the meaning behind the connection is still largely a mystery. Dorothy and Alice have come together to save Wonderland, but can they do anything before the Wicked Witches succeed in taking over Oz? With the looming conflict already threatening two worlds, the path ahead leads Dorothy to a third: a mysterious unnamed world that exists on the other side of a mirror in the university at Oxford - where reality itself has been set backwards, and Dorothy finds that entering this particular faery land may end up being a one-way trip. Meanwhile, Alice must come to grips with what Wonderland did to her all those years ago.

Written with a faithful eye to the original Baum and Carroll classics, Dorothy Through the Looking Glass continues the epic adventure that brings together both classic heroines from Oz and Wonderland in a new modern story.
This was a peculiar place. Far too peculiar for Toto's preferences. He much preferred order and normal things, like how they were back home in the place his companion, Dorothy called Kansas.
Dorothy through the Looking Glass picks up where the first book left off. There is a lot more plot in this book as we learn more about the history of Oz and Wonderland and the links between them. I really enjoyed this. I love the little snippets of information the author includes information from the Oz books (for example, Nick Chopper's history and Mombi's story). The author does a great job of bringing the worlds of Oz and Wonderland and some beloved characters (Toto, Cheshire Cat and the White Rabbit) to life. I also liked the way the completely original elements were developed such as Alice being able to grow and shrink using her mind, Dorothy visiting the world beyond the looking glass and the witch's stories.