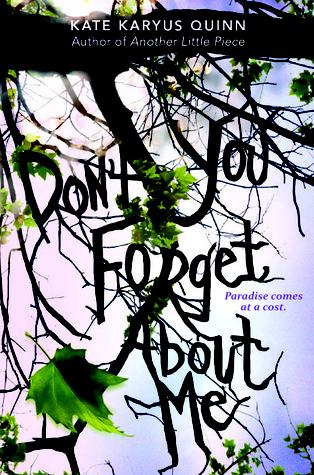 Genre: YA Fantasy
Published: June 10, 2014 by HarperTeen
Length: 336 pages
Source: HarperTeen (ARC)
"Welcome to Gardnerville.
A place where no one gets sick. And no one ever dies.
Except…
There's a price to pay for paradise. Every fourth year, the strange power that fuels the town exacts its payment by infecting teens with deadly urges. In a normal year in Gardnerville, teens might stop talking to their best friends. In a fourth year, they'd kill them.
Four years ago, Skylar's sister, Piper, was locked away after leading sixteen of her classmates to a watery grave. Since then, Skylar has lived in a numb haze, struggling to forget her past and dull the pain of losing her sister. But the secrets and memories Piper left behind keep taunting Skylar—whispering that the only way to get her sister back is to stop Gardnerville's murderous cycle once and for all."

If you didn't know, I go into reading books BLIND. Meaning, I do NOT read the summaries before reading books. After reading the book, that's when I read the summary…and let me tell you, I did not get the information that's on the summary in the book. After reading Don't You Forget About Me, I still did not understand what the "fourth year" was until I read the summary, and that's really bad! The book should be the one that has the explanation of the world building, not the summary. For me, this book was just a hot mess. The world building was really bad because it was very confusing and lacked details. I think I could have enjoyed this book if the author put in more explanation of why Gardnerville, where the story takes place, is like that. Also, the main character, Skylar, is unreliable because of the pills she takes which just makes everything more confusing.
What I do like though is the sort of mind blowing ending. It kind of cleared things up a bit about the world and Piper but it was still lacking. I also like how the chapter titles are songs. I think it would be really cool to be listening to the song while reading that chapter (if you don't get distracted easily).
Overall I just strongly disliked this book. I was itching for the book to end so I can pick up and read a new book (I hate not finishing a book I've started which is why I pushed through Don't You Forget About Me). I did not care for the characters at all in this book because they just seemed flat to me. I also did not like how the story jumped from present day and then past. It wasn't necessary in my opinion. The romance was also bad. This book is just very different. I think readers will either love it or hate it. I don't recommend this book at all but if you do decide to pick this up just remember it's not a fluffy read and get ready for a lot of confusion because of the weird puzzles the MC is trying to solve.