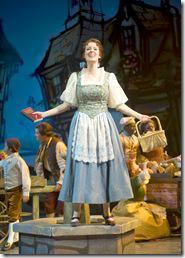 Beauty and the Beast 
Alan Menken (music), Linda Woolverton (book),
   Tim Rice and Howard Ashman (lyrics),
Directed, Choreographed by Rachel Rockwell
at Chicago Shakespeare on Navy Pier (map)
thru Aug 26  |  tickets: $18-$25   |  more info
  
Check for half-price tickets 
  
  
   Read entire review
  
---
From first bonjour to final bow, 'Beast' is a summer must-see!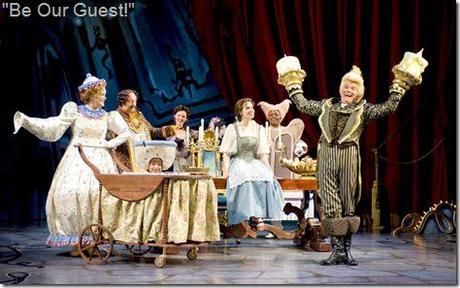 Chicago Shakespeare Theater presents
Beauty and the Beast
Review by Lauren Whalen 
Disney's Beauty and the Beast, Howard Ashman's parting gift to a generation of wide-eyed musically inclined kids, has aged well since its 1991 debut in movie theatres. These children's children can now enjoy a live, condensed version of the successful stage adaptation. Chicago Shakespeare Theater's production boasts stunning sets and costumes, loving performances and a pleasantly rendered message that true beauty comes from within.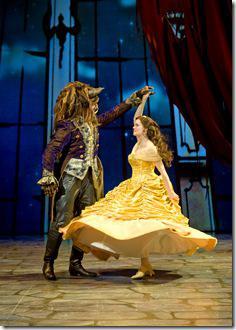 Over the years, some of the Disney movie's innocent joy has given way to harsh criticism. After all, gorgeous and bookish Belle only falls for the cursed Beast after he's essentially taken her hostage in his ruined castle. The phrase "Stockholm syndrome" has been bandied about in more than one analysis of the film and subsequent stage production. Still, there's a lot to love about
Beauty and the Beast
: Belle's fiery spirit and love of reading set her apart from helpless cartoon heroines, and the Beast grows kinder and less selfish by following her examples. And who doesn't relish the
joie de vivre
of the Beast's servants turned household objects as they turn a simple dinner into a celebration as only the French can?
Jeff-nominated director and choreographer Rachel Rockwell accentuates the positive: her Beauty and the Beast is short but sweet, and truly enjoyable for little ones and adults alike. Scott Davis' sets seamlessly incorporate physical pieces with animated backdrops (masterful projections by Mike Tutaj) that pay tribute to the Disney movie while adding a new twist. (I lusted after that library, then and now.) Belle's iconic gold gown elicits gasps from the audience, and the Beast's face and paws intimidate thanks to Theresa Ham's gorgeous costume design. And Doug Peck leads a small but mighty orchestra that brings to life Ashman, Alan Menken and Tim Rice's memorable score better than canned music ever could.
Rockwell's cast of veteran Chicago actors are ebullient in their energy and dedication to storytelling. Each performer accomplishes the difficult feat of getting down to a child's level without patronizing – and kids can tell. As Belle, Emily Rohm is equal parts sweetness and spark: her loyalty to an eccentric father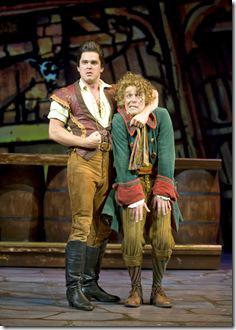 is tangible, her voice pure and clear.
William Travis Taylor
, fresh from his
star turn as Lancelot
in Light Opera Works'
Camelot
, gives the Beast a believable journey and a tangible humanity: quite an accomplishment, considering the actor's face is covered for most of the show.
Bernie Yvon
,
Mary Ernster
and
David Lively 
channel their Disney predecessors without sacrificing their own originality as the Beast's dedicated staff, making the most of their doomed existences as household objects.
Emilie Lynn
shines as a saucy feather duster and
Joelle LaMarre
gives a feisty wardrobe an operatic charm. As the dastardly Gaston and his loyal sidekick Lefou,
Jake Klinkhammer 
and
Andrew Lupp 
are a perfect comedic pair.
Beauty's armor contains a few chinks: though he's delightful as a little boy, John Francis Babbo just looks uncomfortable as teacup Chip (to be fair, acting with one's head surrounded by a large prop would be a challenge for any performer). Klinkhammer is a bit short for the big and strong Gaston, and the ensemble numbers feel a bit scant and weak – three or four more voices and bodies could have easily remedied this problem. And Taylor's bravura singing voice is underused due to the production's cut of the Beast's solo "If I Can't Love Her". Despite these minor quibbles, Beauty and the Beast is a wonderful way for families to beat the heat this summer. From the first bonjour to the final bow, Chicago Shakespeare Theater has a vibrant, feel-good hit in its hands.
Rating: ★★★½
Beauty and the Beast continues through August 26th at Chicago Shakespeare Theater at Navy Pier, 800 E. Grand (map).  Tickets are $18-$25, and are available by phone (312-595-5600) or through CST's website (check for half-price tickets at Goldstar.com). More information, and a complete performance schedule, available at ChicagoShakes.com.  (Running time: 75 minutes with no intermission)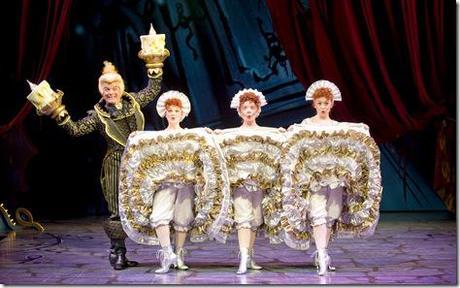 Photos by Michael Brosilow 
---
artists
cast
William Travis Taylor (Prince, Beast); Laura Savage (Enchantress, silly girl); Emily Rohm (Belle); Rebecca Pink, Maggie Portman (silly girls); Andrew Lupp (Lefou); Jake Klinkhammer (Gaston); Roger Mueller (Maurice); David Lively (Cogsworth); Bernie Yvon (Lumiere); Emilie Lynn (Babette); Mary Ernster (Mrs. Potts); John Francis Babbo (Chip); Joelle Lamarre (Madame de la Grande Bouche); Sean Blake (Monsieur D'Arque); Liam Quealy (ensemble, understudy), Christin Boulette, Jordan Brown, Kristine Burdi, Daniel Coonley, Kelli Harrington, Tommy Lucas, Alex McCrary, Spencer Rosin (understudies)
musicians