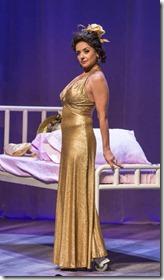 A highly entertaining hybrid world of telenovela and reality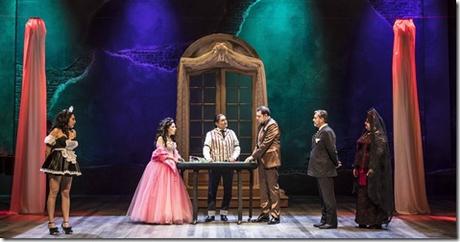 Review by Catey Sullivan
With Destiny of Desire , playwright Karen Zacariasmight have invented a new theatrical genre. The unabashedly histrionic Goodman production is part Greek tragedy, part frantic sex farce and entirely steeped in the aesthetic of Latin American telenovelas. It's bursting with melodrama so heightened it makes "Dynasty" look subtle by comparison. The genius of the preposterously tangled tale of love, lust, betrayal and convoluted family dynamics is that all of it is grounded in truth.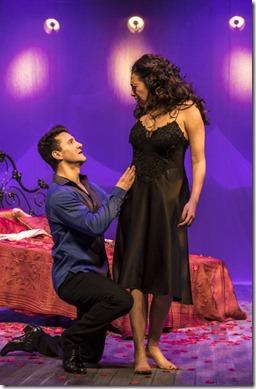 As you might expect with a title like "Destiny of Desire," every last emotion on stage soars hilariously over the top. Yet amid the dark and stormy nights, the heaving bosoms and the banshee-worthy shrieks of anguish and passion, you'll find relatable characters in surprisingly recognizable situations. The del Rio and the Castillo families might be coping with events that are drenched in soap drama, but there's never a moment when you won't empathize their outsized troubles.
Soap operas, of course, have a long and beloved history as a populist art form. When "All My Children" went off the air in 2013 you could practically hear the howls of sorrow reverberating across the country. Spanish-language telenovelas are even bigger than the likes of "AMC." Per the BBC, an estimated 2 billion people - a third of the entire human race - tune in to their stories daily. Unlike the Stateside soaps which run for decades, telenovelas generally wrap up in a comparatively compact 200 episodes or less. Their reach is vast: "Ugly Betty" and "Jane the Virgin" have roots in telenovelas. "Devious Maids" also owes a stylistic, narrative debt to them.
Directed by Jose Luis Valenzuela, Destiny of Desire plays like a telenovela on steroids. Instead of 200 episodes, Zacarias delivers the entire shebang - including numerous musical numbers - in under two-and-a-half hours.
Zacarias also weaves pointed socio-political commentary throughout. When an innocent young maiden is left wailing and marooned in the desert, there's an abrupt break in the action for a fourth-wall breaking annotation: Every day, on average, one person is found dead in the desert between Mexico and the United States. As a winsome beauty lies dying for want of a new heart, Zacarias interrupts again: Every day, 22 people die waiting for transplants. And after an extended passage in Spanish, we get this: Mexico is the largest Spanish speaking country in the world. The second largest is the United States.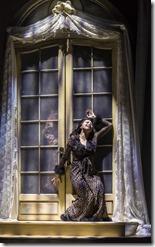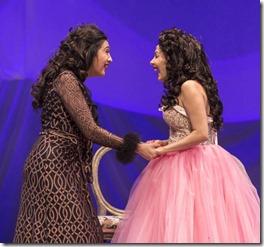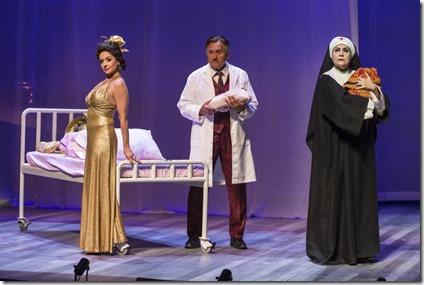 These funny/sobering/enlightening asides give Destiny of Desire an undeniable urgency. The plot might be as ridiculously unlikely as a blizzard of rose petals falling on two impossibly beautiful lovers (who might also be siblings) the moment they climax. But the drama is as topical and relevant as today's headlines.
The worlds of soap and reality mesh in part because Zacarias has structured the script with a level of Brechtian remove. When we're watching the rising/falling fortunes of the del Rios and Castillos, we're actually watching a telenovela being filmed: Destiny of Desire is set on a soundstage in Chicago. That sound stage represents the fictional Mexican desert city of Bellarica, locale of swanky casinos and hotels. So the audience is watching actors in Chicago portraying Chicago actors portraying characters in a Chicago sound stage that is portraying Bellarica. Still with me? If not, don't worry.
The world of Bellarica is immersive, yet there are clues everywhere that we're watching a story-within-a-story. In Francois-Pierre Couture's set, sliding doors indicate changing locations and where "offstage" actors can often be seen hanging out by the pianist (Rosino Serrano) whose accompaniment helps whip the emotional landscape into a frenzy. There's nothing within Couture's set that says "Chicago" - in fact it seems like a replica of the "abandoned Orange County soundstage" setting of the play's previous Los Angeles production. But that's a relatively small matter, because that story-within-the-story is a corker.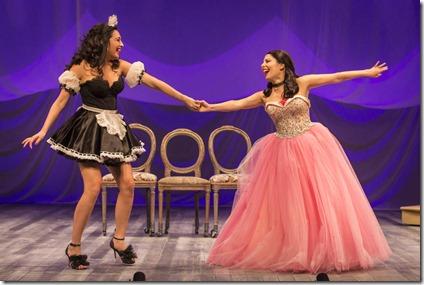 The destinies and desires of the superrich del Rios and the noble but impoverished Castillos are (but of course), inextricably linked. That linkage is a maze filled with nefarious doctors, babies switched at birth, nuns with secret identities and strapping young men who may or may not be bumping uglies with multiple members of their immediate family. The mix of sex and scandal is fabulous, from start to finish.
The ensemble is also fabulous. Playing against type, Chicago's Ricardo Gutierrez (the sole local in the cast) plays against type as a villain whose dastardly heart is matched by the awfulness of his haircut. Gutierrez usually radiates nice-guy charm on stage, and it's delightful seeing him sink his teeth into a genuine bastard of a role.
The rest of the ensemble comes from the L.A. production, and they've polished their performances to a high gloss. Esperanza America and Ella Saldana Northstand out as best friends whose circumstances are vastly different but whose lives are connected far more than they realize. Ruth Livier's Fabiola Castillo is a wickedly wonderful villainess in the vein of Soraya Montenegro de la Vaga Montelban (or Erika Cain.) Elisa Bocanegrabrings a salt-of-the-earth-mother decency to Fabiola's long-suffering maid, Hortencia del Rio. Eduardo Enrikez' swoony tenor and appropriately chiseled handsome-man charisma make the Castillo's firstborn memorable for all the right reasons.
At one point, Zacarias boils down all the endlessly knotted intricacies of each character's desires and destinies into a single quote that's been attributed over the years to Marla Maples, Emily Dickinson and Selena Gomez: "The heart wants what the heart wants." Indeed. You don't have to be consumed by a telenovela to realize that universal truth. But in Zacarias' hybrid world of telenovela and reality, the realization is mighty entertaining.
Destiny of Desire continues through Date at Goodman Theatre, 170 N. Dearborn (map), with performances Tuesdays/Wednesdays at 7:30pm, Thursdays 2pm & 7:30pm, Fridays 8pm, Saturdays 2pm & 8pm, Sundays 2pm. Tickets are $20-$75, and are available by phone (312-443-3800) or online through their website (check for half-price tickets at Goldstar.com ). More information at GoodmanTheatre.org. (Running time: 2 hours 25 minutes, includes an intermission)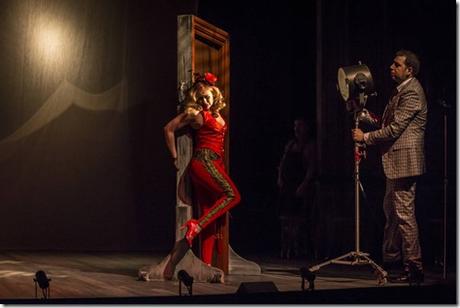 Photos by Liz Lauren
Esperanza America (Pilar Esperanza Castillo, nurse), Elisa Bocanegra (Hortencia del Rio), Eduardo Enrikez (Sebastian Jose Castillo, paramedic, cop), Evelina Fernandez (Sister Sonia), Fidel Gomez (Dr. Diego Mendoza, cop, paramedic), Castulo Guerra (Armando Castillo), Ricardo Gutierrez (Dr. Jorge Ramiro Mendoza, casino dealer, cop), Ruth Livier (Fabiola Castillo), Mauricio Mendoza (Ernesto del Rio), Ella Saldana North (Victoria Maria del Rio, nurse), Rosino Serrano (Augustin Lara Jr., pianist), Ramon Camin, Stephanie Diaz, Desiree Gonzalez, Kevin Melendez, Gustavo Mellado, Monica Orozco, Adrian Ruiz (understudies.)
behind the scenes
Jose Luis Valenzuela (director), Francois-Pierre Couture (set design), Julie Weiss (costume design), Pablo Santiago (lighting design), John Zalewski (sound design), Rosino Serrano (original music, music director), Robert Barry Fleming (choreography), Tanya Palmer, Andy Knight (dramaturges), Alden Vasquez, Jonathan Nook (stage managers), Monica Payne (assistant director), Greg Hofmann (assistant lighting director), Elena Romanowski (assistant choreographer), Liz Lauren (photos)
Tags: 17-0333, Adrian Ruiz, Alden Vasquez, Andy Knight, Castulo Guerra, Catey Sullivan, Chicago Theater, Desiree Gonzalez, Eduardo Enrikez, Elena Romanowski, Elisa Bocanegra, Ella Saldana North, Esperanza America, Evelina Fernandez, Fidel Gomez, Francois-Pierre Couture, Goodman Theatre, Greg Hofmann, Gustavo Mellado, John Zalewski, Jonathan Nook, Jose Luis Valenzuela, Julie Weiss, Karen Zacarias, Kevin Melendez, Liz Lauren, Mauricio Mendoza, Monica Orozco, Monica Payne, Pablo Santiago, post, Ramon Camin, Ricardo Gutierrez, Robert Barry Fleming, Rosino Serrano, Ruth Livier, Stephanie Diaz, Tanya Palmer