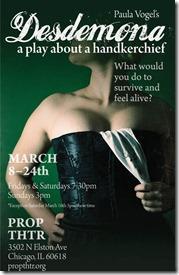 Desdemona:
A Play about a Handkerchief 
Written by Paula Vogel  
Directed by Ian Daniel McLaren
at Prop Thtr, 3502 N. Elston (map)
thru March 24  |  tickets: $10-$15   |  more info
  
Check for half-price tickets 
  
  
   Read entire review
  
---
Sea Change combats a sea of troubles in their debut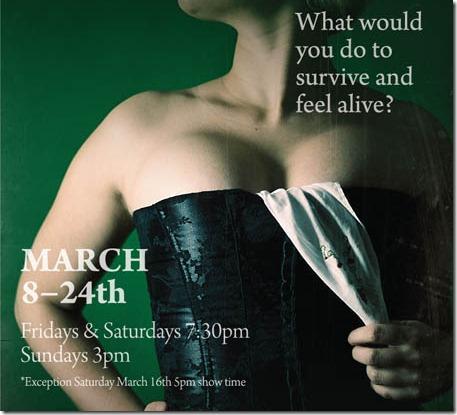 Sea Change Theatre presents
Desdemona: A Play about a Handkerchief
Review by Keith Glab
Like Tom Stoppard's Rosencrantz and Guildenstern Are Dead, Paula Vogel's Desdemona: A Play about a Handkerchief follows a Shakespearean tragedy from the perspective of some of the minor characters. Vogel does not stay particularly true to the original characters that Shakespeare wrote for Othello, however, with Emilia and Desdemona deliberately portrayed in a role reversal.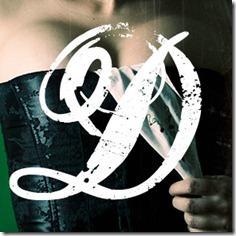 In Vogel's re-imagining, it is Desdemona, not Emilia, who reasons, "the world's a large thing for so small a vice" on the subject of infidelity. As it turns out, Desdemona has slept with just about every man in Othello's camp except Michael Cassio, and she even fills in for Bianca at the whore house once a week. Emilia, meanwhile, is so pious that the mere mention of extramarital relations sends her into a bevy of Hail Marys. But whereas in
Othello
Emilia only condones infidelity in special circumstances, here Desdemona cheats essentially out of boredom. Her plan to escape her husband's (apparently warranted) jealous rage is to leave Cyprus with the Ambassador and marry the dim-witted Roderigo. Vogel has made her into a weaker character, defined by and reliant upon other men rather than herself.
Vogel does better with Emilia, a woman trapped in an unhappy marriage and in a menial job, looking for any way to advance her or her husband's position in order to one day be a wealthy widow. She is mocked by both Desdemona and Bianca, and becomes a truly sympathetic character despite her acquisition of Desdemona's handkerchief instigating the events of the play. Though ostensibly a depraved prostitute, Bianca is given some depth, as she has true affection for Cassio and, at times, Desdemona.
This production represents the inaugural effort from Sea Change Theatre, a troupe comprised of graduates from the Black Box Studio's Meisner-based training program. The three actresses deliver the emotional honesty you would expect from Meisner students, but stutter with some of the technical aspects of their performances. Vogel's script calls for these three Mediterranean characters to be played with different accents that fulfill character stereotypes: Desdemona (Jill Oliver) speaks with a British RP dialect, Emilia (Maria Margaglione) is Irish, and Bianca (Amber Hargroder) delivers her lines with a Cockney slang. Hargroder's efforts are the most consistent and authentic, but so much so that she can be difficult to understand at times. Independent of her accent, Margaglione also gets tongue-tied quite a bit.
The 70-minute play gets expressed in "30 cinematic takes," though it would probably work better in the 15-20 range. There is a blackout every couple of minutes along with a film reel sound effect. This often serves to advance time, but at other points the device just disrupts the flow of the piece. The result is a disjointed feel, and the fact that these actresses can maintain their emotional connections despite this impresses. Their comedic timing, on the other hand, is way off, perhaps due in part to the mini-episodic presentation. The humor in the script ranges from bawdy sex humor to clever dramatic irony, but much of it falls flat in this production.
If there's a way to make Desdemona poignant and relevant enough to warrant bastardizing a Shakespearean masterpiece, this company did not find it. But Sea Change Theatre lands enough interesting moments in this ambitious undertaking to make the show worth a view and the company worth monitoring.
Rating: ★★½
Desdemona: A Play about a Handkerchief continues through March 24th at Prop Thtr, 3502 N. Elston (map), with performances Fridays/Saturdays at 7:30pm, Sundays 3pm.  Tickets are $10-$15, and are available by phone (757-303-5271) or online through BrownPaperTickets.com (check for half-price tickets at Goldstar.com). More information at PropThtr.org.  (Running time: 70 minutes, no intermission)

---
artists
cast
Jill Oliver (Desdemona), Amber Hargroder (Bianca), Maria Margaglione (Emilia)
behind the scenes
Ian Daniel McLaren (director); Sarah Giamichael (production manager); Shaun Renfro (set design); David Holcombe (lighting, sound design); Lorenzo Toia (board operator)
13-0319