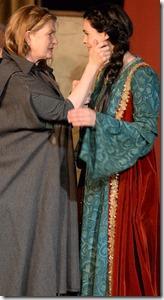 There's a reason why 'Deirdre' hasn't been done in 100 years
'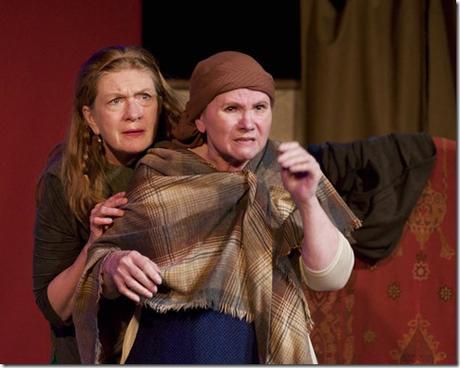 Review by Lauren Whalen
According to the press release, Deirdre of the Sorrows hasn't been seen in Chicago since 1917. Less than an hour in, I began to see why. Playwright John Millington Syngeis primarily known for The Playboy of the Western World, and penned this second play before his death in 1909. Deirdre of the Sorrows is based on legends of a heroine in ancient Ireland, whose drive to live on her own terms led to paying the ultimate price. Forbidden love, war and deception are all present in the story, but it's hard to tell under the labored dialects and plodding script. Sometimes plays stay buried for a reason, and it's time for Deirdre of the Sorrows to return to the vault.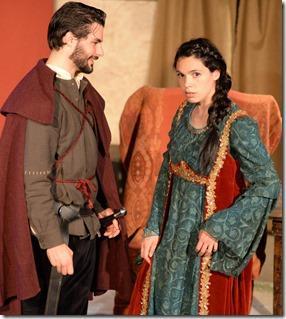 The titular character, played by the luminous
Natalie Joyce
, has a beauty so incredible she was betrothed to the King of Ulster at birth. Once she is of age, however, Deirdre rejects marriage to the much older Conchubor (
Tim Kidwell
). Instead, she chooses Naisi (
Alex Pappas
), a handsome and passionate young soldier and son of Usna, despite knowing of a prophecy that she will be his doom. Seven years later, Deirdre and Naisi are living a happy and quiet life on the remote island of Alban, until Conchubor offers peace - if Deirdre and Naisi return. Soon, violence and chaos ensue.
Or so we are told. Synge's script is mostly filled with long, meandering conversations, and even the melodramatic aspects aren't very interesting. Despite a relatively short running time, the play plods along with the occasional spout of overacting (particularly from Andrew Marikisas Conchubor's spy Owen). If you're waiting for compelling actions and emotions, you'll be waiting a very long time. Though director Kay Martinovichpossesses a doctorate in Irish drama and a clear love for the play, her staging is clumsy and her timing very off. It's obvious that the cast relied heavily on dialect coach Catherine Gillespie, and while Irish accents are certainly challenging, here they are executed at the expense of the play. Only Joyce and Mark Pracht (as Conchubor's right-hand man Fergus) sound natural when speaking.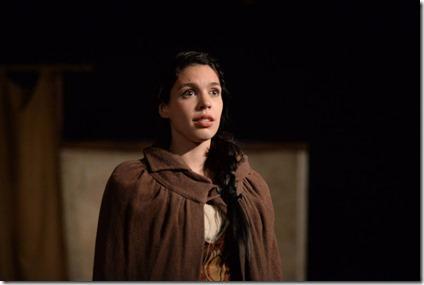 has some redeeming features: Rachel Sypniewski's costume design is luminous and lovely, and Curtis Powell's sound design is sadly beautiful and very appropriate for the tragic tale. Morgan McCabe weathers tough emotional moments with grace, as Deirdre's guardian Lavarcham, and marssie Mencotti brings much-needed comic relief as the Old Woman. Joyce, making her City Lit debut, is both sweet and fiery, a definite talent whom I hope to see more of in the future. Despite these strengths, however, Deirdre of the Sorrows just doesn't click. What might have been an exciting and dramatic parable of prophecy and young love is instead a two-hour sojourn that feels twice as long. Novelist Alan Walsh wrote about the legend of Deirdre for The Irish Times - among his books is "Sour," which sets the Deirdre tale in present-day Ireland. If only City Lit had adapted this story for the stage instead, I might not have left feeling so unfulfilled.
Deirdre of the Sorrows continues through October 15th at City Lit Theater, 1020 W. Bryn Mawr (map), with performances Fridays and Saturdays at 7:30pm, Sundays 3pm. Tickets are $32 (seniors: $27, students/military: $12), online through BrownPaperTickets.com (check for availability of ). More information at CityLit.org. (Running time: 1 hour 45 minutes, includes an intermission)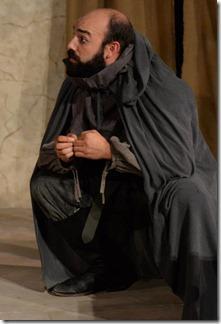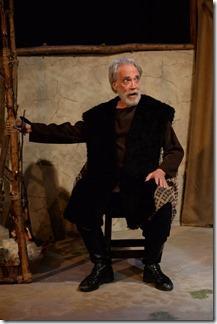 Photos by Steve Graue
behind the scenes
Kay Martinovich (director), Hazel Marie Flowers-McCabe (stage manager), Terry McCabe (artistic director, producer), Carrie Hardin (production manager), Liz Cooper (lighting design), Cate Gillespie (dialect coach), Mazi Jurgenson (props design), (set design), Curtis Powell (sound design), Rachel Sypniewski (costume design), Steve Graue (photos)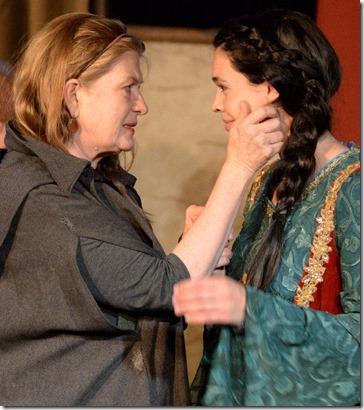 Tags: 17-0917, Alan Walsh, Alex Pappas, Andrew Marikis, Brian Sprague, Carrie Hardin, Cate Gillespie, Catherine Gillespie, Chicago Theater, City Lit Theater, Curtis Dunn, Curtis Powell, Hazel Marie Flowers-McCabe, John Millington Synge, Kay Martinovich, Lauren Whalen, Liz Cooper, Mark Pracht, Marssie Mencotti, Mazi Jurgenson, Mick LaRocca, Morgan McCabe, Natalie Joyce, post, Rachel Sypniewski, Steve Graue, Terry McCabe, Tim Kidwell, Yeaji Kim
Category: 2017 Reviews, City Lit Theatre, Drama, Lauren Whalen