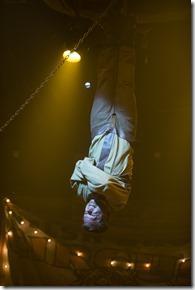 Death and Harry Houdini 
Written and Directed by Nathan Allen
Magic by Dennis Watkins  
at Chopin Theatre, 1543 W. Division (map)
thru Aug 11  |  tickets: $40   |  more info
  
Check for half-price tickets 
  
  
   Read entire review
  
---
Wild, weird and wonderful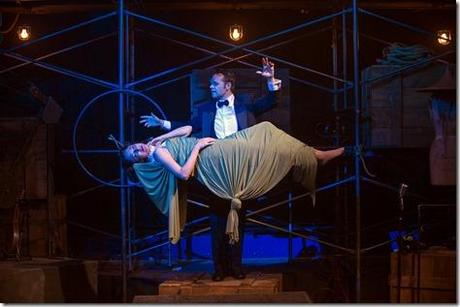 The House Theatre presents
Death and Harry Houdini
Review by Lauren Whalen 
I always think I don't like magic, until I see Dennis Watkins. Whether he's shuffling cards or locking himself in a water tank, it's with the air of a distinguished gentleman with a sense of wit and perpetual grace. A person could fall in love with that magic. Perhaps many have. Watkins continues to captivate audiences in his one-man show The Magic Parlour (every Friday at the Palmer House – my review), but returns to the House Theatre stage once again in Death and Harry Houdini. And as the title character, he's a lovable enigma.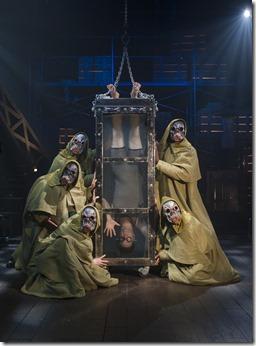 After young Houdini (born Erik Weiss) witnesses his father's demise, he seeks refuge in magic study from the secretive Dr. Lynn (
Shawn Pfautsch
) and enlists his younger brother Theo (also Pfautch) to assist him in increasingly risky escape tricks. Houdini faces challenges behind the curtain too, as he struggles to balance the two women in his life: dancer wife Bess (
Carolyn Defrin
) and domineering mother Cecilia (
Marika Mashburn
). Meanwhile, Death (
Tommy Rapley
) is a constant presence, looming over an otherwise-festive atmosphere and reminding Houdini what he is up against, and exactly how much he has to lose.
Death and Harry Houdini was the House Theatre's premiere production in 2001, setting the tone for the company's innovative, fanciful yet intelligent original productions. This incarnation boasts a mix of original and new cast members, plus two new magic acts. Playwright Nathan Allen seamlessly weaves fact (much of Houdini's dialog is taken from actual letters, speeches and contracts) and fiction (Cecilia's language is the creation of Allen and actress Mashburn) to spin a story that's astounding and sad, often in the same sleight of hand. Houdini is both an open book and an utter mystery: we see his inner struggles, but the perpetual question of "how does he do that?" remains unanswered. Death's script is a brilliant mishmash of magic and drama, with an utterly unforgettable climax of Houdini's infamous "water torture" escape.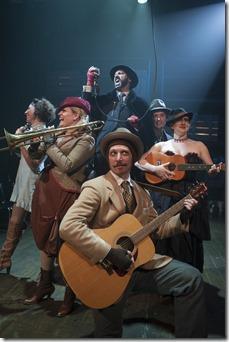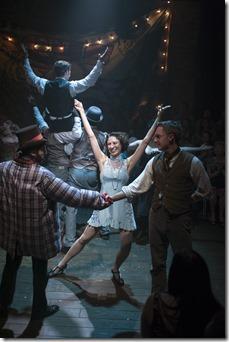 As always, the House's expert design team brings forth beauty in the tiniest of details. Collette Pollard's set design maximizes the Chopin Upstairs Theatre, incorporating scaffolding, hanging boxes and various wheeled pieces for a vaudeville circus feel. Lee Keenan's costumes are slightly steampunk, with several impressively frightening masks. Ben Wilhelm's lighting casts a cryptic shadow over the theater, and Kevin O'Donnell and Harrison Adams' sound is like the best kind of horror movie: subtle, with existential dread. Allen guides the action with a firm hand, keeping the pacing tight and sharp, while allowing spectators to experience engagement and wonder.
Death's cast is equally fantastic: nimble on their feet, tuneful in their voices, delivering every line with a gleeful gravity. Standouts include Defrin's long-suffering wife (who's also a killer tap dancer), Mashburn's comically heinous mother and Trista Smith as the giggling assistant to a copycat French magician. But the biggest draw to Death and Harry Houdini is Watkins, a latter-day escape artist miracle. Successful magic is both art and science, and in terms of both, Watkins should win the Nobel Prize. The House Theatre is one of Chicago's most groundbreaking companies, and their inaugural play serves as a living reminder that many risks are worth taking.
Rating: ★★★★
Death and Harry Houdini continues through August 11th at Chopin Theatre, 1543 W. Division  (map), with performances Thursdays and Fridays at 7:30pm, Saturdays and Sundays at 4pm and 8pm .  Tickets are $40, and are available by phone (773-769-3832) or online through PrintTixUSA.com (check for half-price tickets at Goldstar.com). More information at TheHouseTheatre.com.  (Running time: 2 hours 20 minutes, includes an intermission)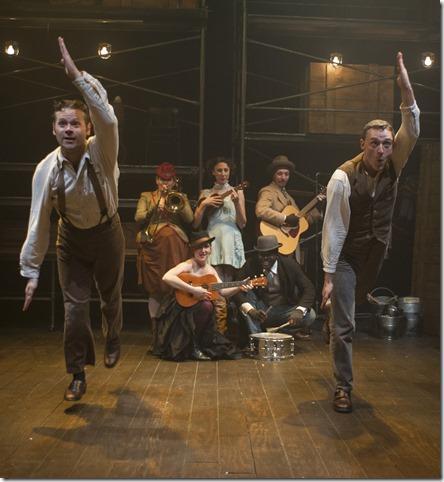 Photos by Michael Brosilow 
---
artists
cast
Abu Ansari (Mayer Weiss, ensemble), Johnny Arena (The Ringmaster), Carolyn Defrin (Bess Houdini), Marika Mashburn (Cecilia Weiss), Shawn Pfautsch (Theo, Dr. Lynn), Tommy Rapley (Death, Hilmar, ensemble), Trista Smith (Hilmar's Assistant, ensemble), Dennis Watkins (Harry Houdini)
behind the scenes
Nathan Allen (director, playwright), Dennis Watkins (magic design), Collette Pollard (scenic design), Lee Keenan (costume design), Ben Wilhelm (lighting design), Kevin O'Donnell (composer, co-sound design), Harrison Adams, Jeff Kelley (co-sound design), Brian Desgranges (stage manager), Sarah Hoeferlin (asst. stage manager), Bridgid Danahy (wardrobe supervisor), Will Dean (master electrician), Rachel Finn (props master), Michael Brosilow (photos)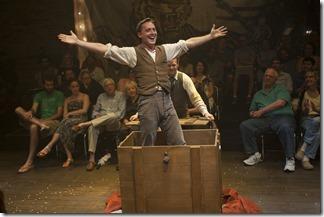 13-0650