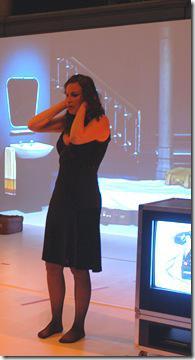 Date Me! 
Written by Schlosser, Naeem and Dohnke
Directed by Noémi Schlosser
at Theater Wit  |  thru Dec 18  |  more info
The Sound of Silence 
Written by Jean Cocteau
Directed by Noemi Schlosser, JP Gerrits  
at Theater Wit  |  thru Dec 17  |  more info
Check for half-price tickets 
  
  
   Read entire review
  
---
Dating and abandonment from a woman's point of view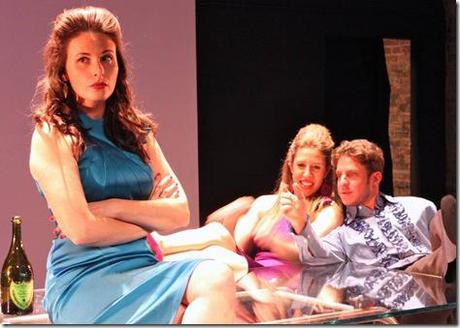 Salomee Speelt and ShPIeL Performing Identity present
Sound of Silence

and  

Marry Me!

Review by Lawrence Bommer
A fascinating import from Belgium, this Americanized double bill of sexually driven one-acts showcases the range and depth of Antwerp's collective Salomee Speelt, as interpreted by the newly formed Chicago troupe ShPieL-Performing Identity. Though performed separately, appreciated as a whole, they present two dramatically different feminine perspectives on the agony of unrequited love and the perils of the dating game: The first is potentially tragic and sobering with sorrow, the other intoxicated with booze and hormones as it depicts some equally unrequited sex.
Written by Jean Cocteau for the great Edith Piaf in 1940, The Sound of Silence refers to the insufferable, insolent indifference of Emile, a lover portrayed on a video backdrop by the Belgian performer Vitalski. Petulant and cruel, Emile ignores the nightclub singer (Noemi Schlosser in full-throated anguish and abandonment) who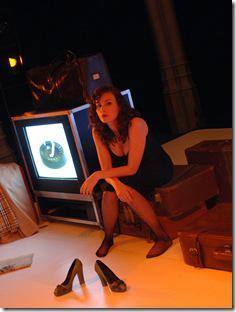 has been waiting for him for days if not hours in their hotel room. Emile (perfectly portrayed in two dimensions) reads his newspaper or grooms himself for another betrayal with his rich, unattractive and older mistress—all to the mounting despair of this torch singer in limbo.
Resembling an artistic installation (and in effect updating the action by 71 years), the "Sound" set consists of computer renderings of Emile's multiplying cigarette butts, caricatures of his mistress, and a too-passive picture of the telephone that he won't use to reassure her. Against these inanimate objects (she can count every step necessary to cross the lobby), Schlosser's defiant and pitiable lover reviles her rival the "tart," croons "Autumn Leaves" and "I'm Writing a Letter to Daddy," shifts her suitcase as if contemplating a getaway, then collapses into despair at the rejection that threatens to unhinge her. By the end, Schlosser, clad in a blood red gown, returns to her nightclub to sing a strange and sad ballad about gambling in Monte Carlo, the latest loss in her tailspinning life.
The Sound of Silence is strong stuff, a multi-media labor of hate that incarnates every "He done her wrong" grievance since pigs and men became indistinguishable. Schlosser nails her chanteuse's heartbreak as much as the "Little Sparrow" ever tore the stuffing out of "Milord."
Lightweight and ludicrous, Schlosser's two-woman romp Date Me! depicts a girls night out that turns into girls gone wild. (Schlosser proves how much the Low Countries can get low.) After the audience is done dancing on stage and swilling some Goose Island beer, the action focuses on two single best friends who get plowed at the wedding reception of Schlosser's sister. Dressed in a gown that seems as ready to burst as she is to booze, Schlosser is joined in her pity party by her best friend Michelle Adrienne Slonim—both actresses use their real names in this slice of lust.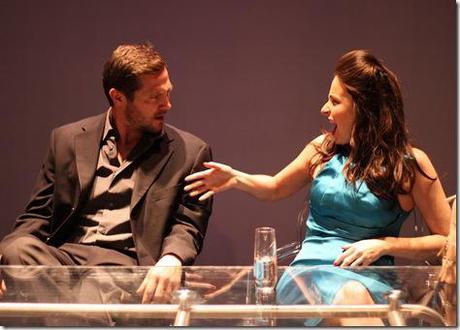 Bouncing from bottle to bottle, they exchange war stories about bad dates and "near sex experiences"—a Polish prick, a too-sensitive Belgian doctor, cellphone junkies, quickie dates, guys with girlfriends. "What's the matter with Chicago?" is their rhetorical question/constant lament. At the same time Michelle goes beyond ogling to actively attempt to seduce Schlosser's brother-in-law and the reception's d.j. (Brandon Galatz, caught in the crossfire, alternating with Josh Odor).
This is definitely "anything for a laugh" territory, including toilet paper dangling from a dress after one of numerous bathroom breaks. A lot of it plays like outtakes from HBO's "Taxicab Confessions" or a Kim Kardashian highlight reel. Schlosser and Slonim perfectly capture competing goodtime girls throwing everything to the wind: There's something almost exhilarating about their bawdy abandon. But all these estrogen-fueled hijinks can't conceal the lack of structure of this all-too-casual acting exercise.
The Sound of Silence ★★★   Date Me ★★