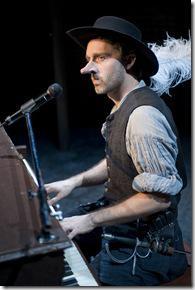 Cyrano
Adapted/Directed by Matt Hawkins
Music by Kevin O'Donnell
Lyrics by Shawn Pfautsch, Matt Hawkins
at Chopin Theatre, 1543 W. Division (map)
thru Oct 16  |   tickets: $25   |   more info
Check for half-price tickets  
  
   Read entire review
---
House Theatre's 'Cyrano' wins by a nose!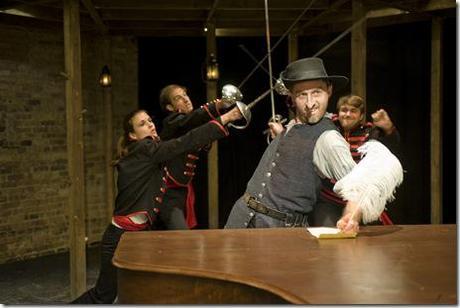 House Theatre presents
Cyrano 
Review by Katy Walsh 
'My enemies are coward, compromise and vanity.'  Why wouldn't a guy reveal his romantic feelings to his gal pal? Could it be as plain as the nose on his face?  The House Theatre of Chicago presents an original adaptation of Edmond Rostand's "Cyrano de Bergerac." Cyrano is the classic tale of a poet-swordsman and his big old schnoz.  Cyrano and Roxanne are friends.  He loves-loves-loves her.  She is oblivious.  Roxanne sees Christian.  It's love at first sight!  But is he just a pretty face?  Yep!  So, Cyrano steps in to help him seduce Roxanne.  She falls for him.  But who 'him'? This Cyrano doesn't need to worry… love is certain!
As a triple threat, adaptor, director and fight choreographer Matt Hawkins slays the audience with this action rom-com. Hawkins strips down the story.  He even uses a two level, stark stage with just a piano to keep it simple.  Without a lot of flowery oration, it's just a guy singing the blues.  And this guy, Shawn Pfautsch (Cyrano), has panache!  Pfautsch is outstanding as the clever-talking poet, arrogant swashbuckler, and love-sick romantic.  He mesmerizes in fantastic feats of swordsmanship.  (The electrifying fight scenes are worth the price of admission alone).  Later, he is adorably bashful trying to hide his nose behind a plume.  The object of HIS affection, Stacy Stoltz (Roxanne) bounces around the stage like a giddy schoolgirl.  Stoltz illuminates the innocence of new love.  Her repartee with a devoted Pfautsch charms for its awwwwwww-quality.  The object of HER affection, Glenn Stanton (Christian) plays dumb stud perfectly.  Stanton's dialogue is limited but when he talks it's hilarious.  Hawkins keeps the script tight with well-chosen words to convey meaning and humor.  Mike Smith (Ligniere) arrives in a scene with a hysterically nonchalant, 'How's war?'  Paring everyone else's conversation down, Hawkins showcases Pfautsch's wit… and it's winning by a nose.
Onto the naked stage, Costume Designer Jacqueline Firkins fills the space with vibrant visuals.  Nobility is dressed in exquisite, satin finery.  Each of the ensemble is colorfully individual.  In contrast, Firkins later dresses the ensemble in ninja-fighter outfits.  During the spectacular brandishing fight scenes, the indistinct sea of black adds to the urgency and thrill of the spectacle.  And it is a wondrous spectacle!  This Cyrano "nose" he is a winner!  Who cares about Roxanne?  The audiences will adore him!
Rating: ★★★★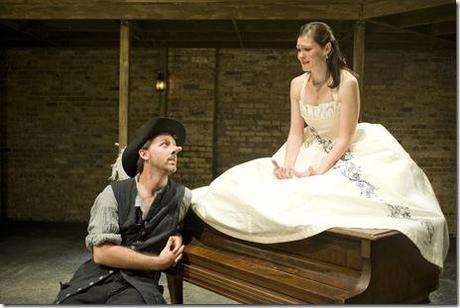 House Theatre's Cyrano continues through October 16th at Chopin Theatre, 1543 W. Division (map), with performances Thursdays thru Saturdays at 8pm and Sundays at 7pm. Tickets are $25, and can be purchased by phone (773-769-3832) or online at PrintTixUSA.com . More information at the TheHouseTheatre.com. (Running time: One hour and 45 minutes)
All photos by Michael Brosilow 
---
artists
cast
Shawn Pfautsch (Cyrano); Stacy Stoltz (Roxanne); Glenn Stanton (Christian); Mike Smith (Ligniere); Meredith Lyons, Jon Beal, Justin Verstraete
behind the scenes
Matt Hawkins (adaptor, director, fight choreographer, co-lyricist); Kevin O'Donnell (music); Shawn Pfautsch (co-lyricist); Jacqueline Firkins (costumes); Michael Brosilow (photos);