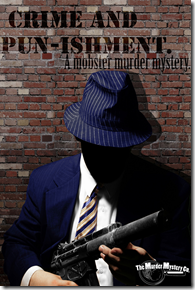 Crime and Pun-ishment 
Written by Scott Cramton  
Directed by Justin Issa
at Sopranos, 2901 N. Sheffield (map)
thru Feb 8  |  tickets: $60   |  more info
  
Check for half-price tickets 
  
  
   Read entire review
  
---
A hotsy-totsy, audience driven caper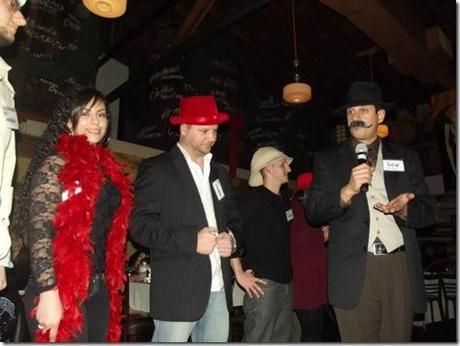 The Murder Mystery Company presents
Crime and Pun-ishment
Review by Keith Glab
All murder mystery dinner theater features audience interaction, but The Murder Mystery Company takes it to another level. In their current Chicago show, Crime and Pun-ishment, the audience is asked to arrive 30 minutes early dressed in 1920s garb. This allows them to get a drink, have their mug shots taken (available for purchase after the show), chat with the actors, read the rules, and receive their assignments.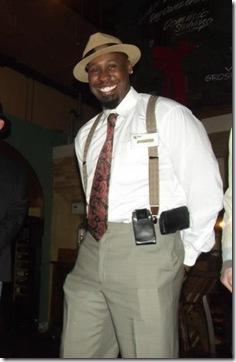 Every table forms a team that endeavors to unravel the mystery, which is common practice for this genre. Less common is that folks are urged to get up and mingle with the other tables during two investigation periods, as each table has information pertaining to the murder that the others don't. But the audience interaction envelope is really pushed when eight patrons are assigned roles as the primary suspects in the murder of Lou Zar (
Justin Issa
).
Each suspect receives a binder full of information with their character details and what their roles are in the events of the evening. It isn't super clear whether the other members of the table are allowed to look at this info or when precisely the conscripted actors are supposed to read ahead to the next section of their bios. Further complicating matters is that the tables are littered with other literature, from basic guidelines for the evening, to a glossary of 1920s slang, to food and drink menus. It's a dense bit of business to sift through when you've already had a couple of drinks and weren't expecting to perform that evening.
Issa conducts the action expertly, first as Lou Zar, the Don in charge of the establishment, then as private dick Peter Ness investigating Lou's death. He's able to lead the audience member suspects into saying the right things and evoking character traits even when they aren't sure of what they are supposed to do. Nicole Richwalsky maintains a very strong character throughout as Lou's not-too-bright and not-too-faithful wife, Amanda Lay. Tony Nowaske isn't quite as fast on his feet with the improvisation as Issa and Richwalsky are, but still has fun with his role as Lou's right-hand man (or is he more than he seems?). Stephanie Anderson's primary responsibility as Ace Reporter is to take pictures for the company's Facebook page, and as such is less instrumental to the action than several members of the audience are.
The suspects get rounded up a few times to give testimony, making the edict to interrogate folks at other tables optional rather than necessary to solving the crime. Moments when the characters interact work far better than these nuggets of exposition, though. The killer's identity and motive aren't obvious, but they do make logical sense once revealed, a rare and welcome combination in murder mystery theater. A certificate is presented to the table that does the best job of unraveling those mysteries. Awards also go to the best audience actor and the best-dressed audience members.
I had a blast portraying Gus the Milkman and enjoying the zaniness around me, but the performance could have been structured a bit more tightly, particularly with the audience participation playing such a large role. For folks who want a piece of the action, there's no better show to attend than Crime and Pun-ishment. For those who would prefer to sit back and be entertained while enjoying a leisurely meal, this may not be the best option.
Rating: ★★★
Crime and Pun-ishment continues through February 8th at Sopranos, 2901 N. Sheffield (map), with performances on select dates at 7:30pm. Tickets are $60 (which includes a light meal), and are available by phone (888-643-CLUE) or online through their website (check for half-price tickets at Goldstar.com). More information at Grimprov.com.  (Running time: 2 hours, includes a couple "investigation breaks")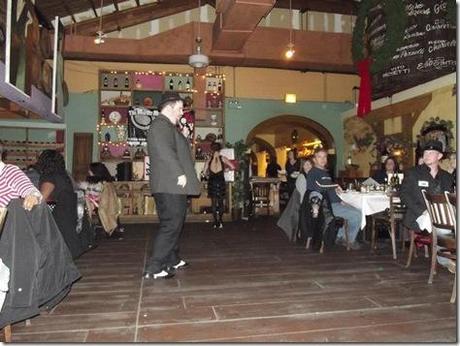 ---
artists
cast
Justin Issa (Lou Zar, Peter Ness), Nicole Richwalsky (Amanda Lay), Tony Nowaske (Dixon Cox), Stephanie Anderson (Ace Reporter)
12-1224