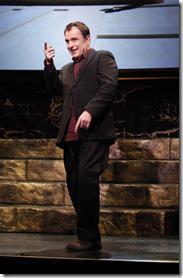 Colin Quinn: Long Story Short
Written and performed by Colin Quinn 
Directed by Jerry Seinfeld
Broadway Playhouse, 175 E. Chestnut (map)
thru Sept 10  |  tickets: $40-$65  |  more info
Check for half-price tickets  
  
  
   Read entire review
---
Clever musings on the history-repeats-itself phenomena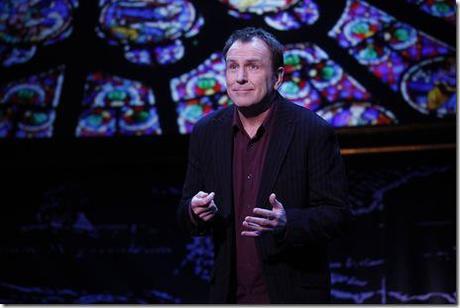 Broadway in Chicago presents
Colin Quinn: Long Story Short
Review by Katy Walsh 
The Greeks devised reality shows. The Romans originated the mafia.  The English invented contempt.  Progress?  Where? History just repeats!  Broadway in Chicago presents Colin Quinn: Long Story Short.  "Saturday Night Live" alum and comedian Colin Quinn brings his one man show to Chicago for a limited three week engagement.  It's Mr. Q's history of the world lesson. Quinn deconstructs the reigning empire of the time period and ties it into current American nonsensical ways.  Seeing the American rise to power from a 2000+ years perspective captivates for its brevity and  comparable manifestation.  Evolution & Assholes! We've seen it all before! Colin Quinn: Long Story Short is an entertaining musing on a-small-world-after-all phenomena.
This show fascinates me.  It's so clever.  I want to request the script to really ponder the bigger nuggets of historical truths. In the broad scope, Quinn narrates world domination through the ages.  He connects the national powers over the years.  For instance, because the Roman Empire is gluttonous, the Holy Roman Empire follows as the-children-of-alcoholics rulers.  Within each of these chunks of leadership deconstruction, Quinn performs modern bits.  'Romans loved slaves.  Friends love slaves!'  At a bar, someone says 'watch this coat. don't let me leave without it.'' The timeless translation is funny.  Quinn uses his own fast-talking Brooklyn accent along with various cultural dialects to punctuate the satire.  His English-French lovers' flirtation entertainingly pops up throughout the show. 
Quinn indiscriminately pokes fun of all cultural stereotypes.  In a shtick about driving nations home from a party, Quinn hilariously gossips after the country exits the vehicle.  It's mean-spirited but Quinn's overall point is 'assholes have evolved into assholes.'  Progress?  Where?  Quinn covers decades of material at an exhausting speed and still maintaining a laid-back-everyday-man persona.  At times, his words are lost in a muttering end of the story.  But still, a rapid-talking and sweaty Quinn is perfectly charming for an asshole!
I love Colin Quinn: Long Story Short.  It isn't a gut-busting stand-up routine.  It's a succinct, ingenious, global love fest.  Quinn brilliantly breaks down the barriers of cultural differences and brings the world together with one poignant notion:  'We're all assholes!'  Progress?  Here!  Colin Quinn is the perfect facilitator for the next round of peace talks.  
Rating: ★★★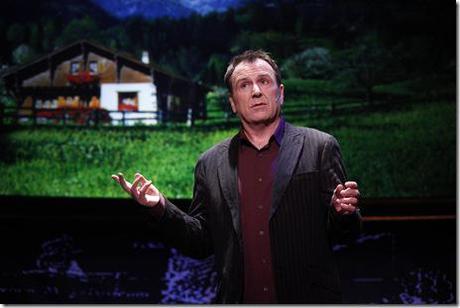 Broadway in Chicago's Colin Quinn: Long Story Short continues through September 10th at the Broadway Playhouse, 175 E. Chestnut (map), with performances Wednesdays and Thursdays at 7:30pm, Fridays and Saturdays at 7pm and 10pm, and Sundays at 3pm. Tickets are $40-$65, and can be purchased through Ticketmaster.com. More information at BroadwayInChicago.com or at the production's website. (Running time: 90 minutes with no intermission)
---
artists
cast
Colin Quinn
behind the scenes
Jerry Seinfeld (director); David Gallo (scenic, projections); Howell Binkley (lighting); Christopher "Kit" Bond (sound); Scott Elmegreen (original compositions); Daniel J. Kells (stage manager); Hall Brooks (creative consultant); Jamie Cesa (general manager); Eva Price, Richard Martini (producers);