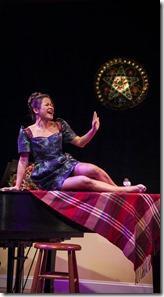 Take a trip to Christine's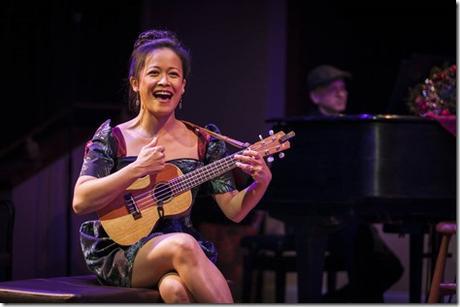 It's fortunate that the Christmas season comes hard on the heels of the election season to provide some respite for weary souls. And Silk Road Rising offers that respite in the diminutive and lively persona of Christine Bunuan, who guides you through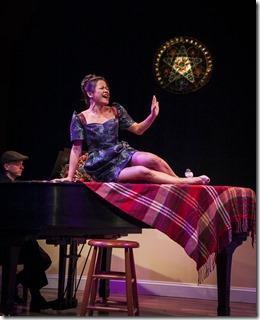 her world-premiere one-woman show, highlighting Christmas and her Filipino family Christmas customs. She accomplishes this using a series of 27 songs, some of a Christmas variety, "Joy to the World" and my favorite, "The Little Drummer Boy," others quite different. (As an example of this: she performs "The Impossible Dream," which she uses to blend into her personal story, doing so seamlessly.) Many of her offerings are standard Christmas melodies but she brings such a buoyancy to them - almost a Peter Pan pixie-like demeanor - that they still sound fresh. And this despite the fact that she was in a recovery mode from a slight head cold. (The Show Must Go On!)
In one portion of the show, she goes off on a mischievous tangent when with she talks about her husband, who's of Jewish background, blending with her Catholic background, and how they bring together the Christmas celebration with the observance of Hanukkah. Her song commemorating these dual holidays (or holy days) is complete with a Menorah (which stands for light, wisdom and Divine inspiration, three things we can use a lot of in these coming days).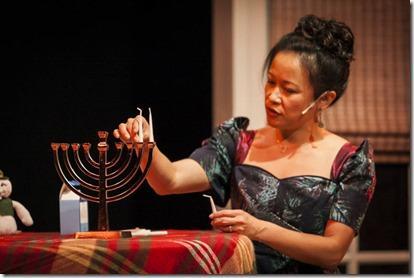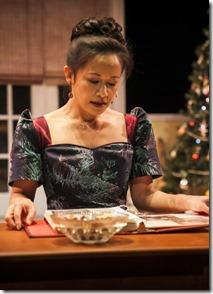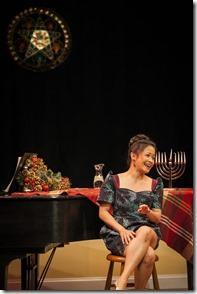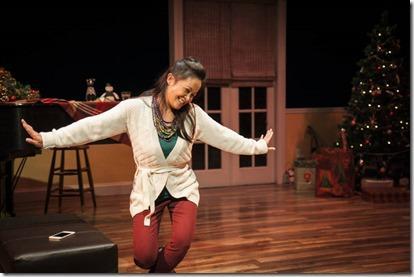 Since this 90 minute show has no intermission, and Christine has to do a costume change, director J.R. Sullivan has come up with a unique idea, and Christine has a lot of friends to make it all come off without a hitch. She introduces a friend, a guest artist, (and a different one each performance), to take the mike and serenade the audience while she whisks offstage to change. This particular evening we were gifted with a lovely songstress, Ann Smith, who gave us a haunting Judy Collins piece called "The Blizzard". Accompanying her, and providing all the musical support for Christine is Ryan Brewster, who not only backs up all the singers but also plays solo to set the stage as the audience comes in to take their seats. I was hoping he was mic'ed because he appeared to be engaging in some clever repartee, but we were not privileged to be a part of that. Our loss, I fear.
My feeling is this: should you just want to feel the Christmas Spirit, take a trip to Christine's, sit back and let her warmth and music cover you gently.
Christmas at Christine's continues through December 23rd at Silk Road Rising, 77 W. Washington (map), with performances Thursdays at 7:30pm, Fridays 8pm, Saturdays/Sundays at 4pm. Two additional shows December 20 & 21. Tickets are $20-$25, and are available by phone (312-857-1234 x201) or through OvationTix.com (check for half-price tickets at Goldstar.com ). More at SilkRoadChristmas.org. (Running time: 90 minutes, no intermission)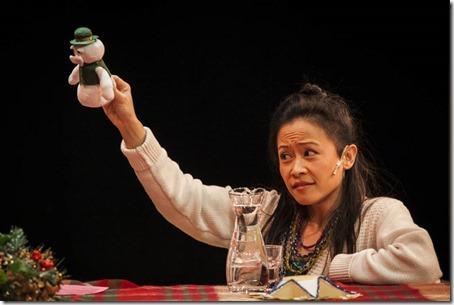 Photos by Crimson Cat Studios
behind the scenes
J.R. Sullivan (director), Ryan Brewster (music director), Helen Colleen Lattyak (stage manager), Alec Long (props master), (set design, projections design), Katie Vaughters (costume design), Kristof Janezic (lighting design, master electrician), Eric Backus (sound design), Kevin Rolfs (scenic design), Alan Weusthoff (technical director), Corey Pond (production manager), Crimson Cat Studios (photos)
Tags: 16-1206, Alan Weusthoff, Alec Long, Ann Smith, Chicago Temple, Chicago Theater, Christine Bunuan, Christmas theater, Corey Pond, Crimson Cat Studios, Duane Barnes, Eric Backus, Helen Colleen Lattyak, holiday show, J.R. Sullivan, Katie Vaughters, Kevin Rolfs, Kristof Janezic, Pierce Hall, post, Ryan Brewster, Slik Road Rising, Yeaji Kim
Category: 2016 Reviews, Chicago Temple (Pierce Hall), Duane Barnes, Holiday Show, New Work, One-Man Show, Silk Road Theatre Project, Video, World Premier, YouTube