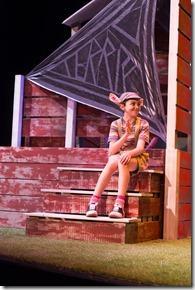 Charlotte's Web
Adapted by Joseph Robinette
Directed by Ernie Nolan
at Broadway Playhouse, 175 E. Chestnut (map)
thru Aug 17  |  tickets: $16-$24   |  more info
  
Check for half-price tickets 
  
  
   Read review
  
---
Faithful adaptation brings White's classic to exuberant life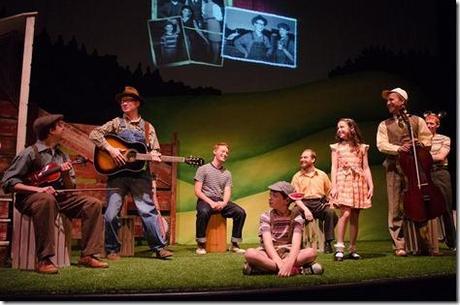 Emerald City Theatre i/a/w Broadway in Chicago presents
Charlotte's Web
Review by Joy Campbell
Any adaptation of a book so iconic and thoroughly and widely loved as E.B. White's Charlotte's Web is a daring undertaking indeed. Aside from the very satisfying 1973 animated version starring Debbie Reynolds as Charlotte, I have avoided seeing any other attempts to bring the book to the screen or stage. Such is my fierce love for the work and my aversion to risking disappointment at the hands of some free-wheeling interpretive heretic. So when I was assigned this show I confess I had some trepidation, but if Charlotte taught us anything, it's to be brave.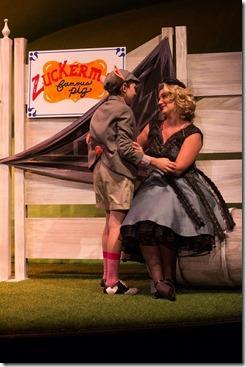 Charlotte, of course, was right. This production, by
Joseph Robinette
, is a loving, faithful adaptation of the classic story so delightful that adults will find themselves nostalgically back in Zuckerman's barn, and children will adore the beautifully re-created characters.
As Wilbur, 7th-grader Liam Dahlborn is perfect. His love for everything – the barn the animals, the sun, the smells – for life – is infectious, and his youthful emotionalism and energy perfectly convey Wilbur's passionate response to everything from slops to his discovery of his bacon-y fate. Dahlborn is a talented little actor who manages to be adorable without cloying, and whose precocity is revealed in an excellent sense of comic delivery. (Spoiler alert, if it's even possible to find someone who doesn't know this story) At his final parting from Charlotte, his crumpled face of woe will have you choking on the lump in your throat.
The barnyard animals are portrayed as White wrote them: the garrulous geese, the wise old sheep, and of course, Templeton, the rat we love to hate. Templeton is played to deliciously snarky perfection by Erik Strebig, whose physicality and personality dominate his scenes.
And of course, there's Charlotte. Tosha Fowler brings to Charlotte all the beauty, warmth, charm, and wisdom that have made her the most beloved spider in history. Her bond with Wilbur feels as real as the writing in her web.
The multi-talented supporting cast members double as musicians playing olde-tyme instruments that include washboard, fiddle, harmonica, and kazoo, lending a homey, authentic County Fair feel to the production. As big pig Uncle, Wilbur's rival at the fair, Jay Mast is hysterical as a motorcycle-jacket Brando-esque punk, a well-justified interpretive liberty.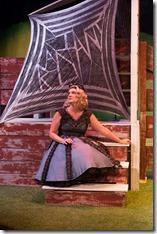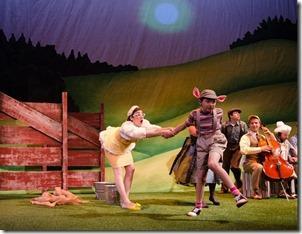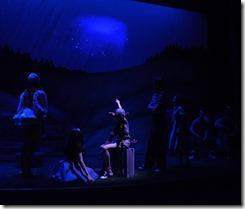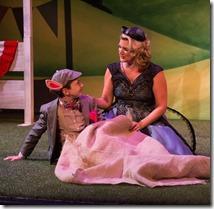 I do have one complaint (spoiler alert, again): Charlotte's death. The scene describing Charlotte's death is narrated from the book while Charlotte twirls around then exits offstage. I understand the impulse to make this scene less traumatic for kids, but as staged, it feels like an afterthought. White's whole point was that this should be hard. This was the death of a tremendously wonderful friend, and what makes the book so memorable is that White pulled no punches. So sad and so desolate is the description of Charlotte's death that to this day I cannot read the passage and maintain my composure. I'm not saying the goal should be to reduce every child to tears, but Charlotte is the hero of this story, and she deserves more than to be narrated away almost as an afterthought. She deserves a strong death scene.
Overall, though, this production's top-notch cast, costuming, set design, and overall production values do right by White's classic, and will satisfy and entertain purists and newcomers to the story alike. It's Terrific! It's Radiant! It's… Some Play!
Rating: ★★★½
Charlotte's Web continues through August 17th at Broadway Playhouse at Water Tower Place, 175 E. Chestnut (map), with performances Fridays-Sundays at 10am (with some weekday shows – check schedule for details).  Tickets are $16-$24, and are available by phone (800-775-2000) or online through Ticketmaster.com (check for half-price tickets at Goldstar.com). More information at BroadwayInChicago.com.  (Running time: 90 minutes, no intermission)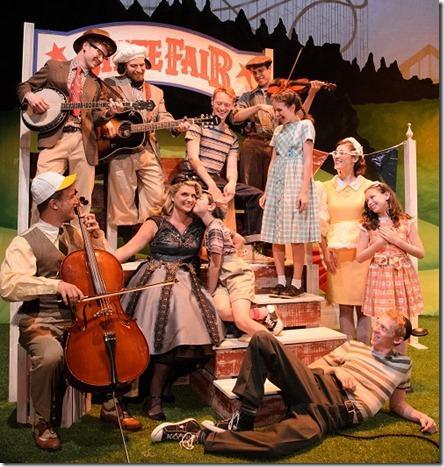 Photos by Tom McGrath 
---
artists
cast
Liam Dahlborn (Wilbur), Lily Dahlborn (Spectator, Charlotte's Daughter), Tosha Fowler (Charlotte), Laura A. Harrison (Goose, Spectator), Jay Mast (Gander, Uncle), Casey Morris (Homer), Avery Moss (Fern), Ryan Naimy (Lurvey, President of the Fair), Jeremy Pfaff (Mr. Arable, Sheep), Erik Strebig (Templeton), Harrison Weger (Avery, Carter)
behind the scenes
Ernie Nolan (director), Tierra Novy (scenic, design, props design), Alarie Hammock (costume design), Jeff Glass (lighting design), Christopher LaPorte (sound design), Michelle Underwood (video design), Meredith Matthews (stage manager), Tom McGrath (photos)
14-0715