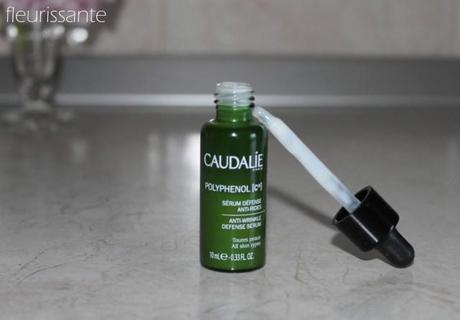 Hello lovelies,
today I'm going to talk about a product from Caudalie Polyphenol c15 line which I used quite a lot. It is Anti-Wrinkle Defense serum.
The full sized product comes in a 30ml glass bottle with a dropper and it retails for GBP35. You can get it from feelunique. I have used a GWP sized bottle, which contains 10 ml and I got a good month of daily usage from it.
My main skin concern is dehydrated, often flaky skin. My skin is oily/combination, but as I'm getting older (27 years at the moment) my skin is more easily dehydrated. I rarely brake out, but I can experience hormonal acne here and there. I still don't have any visible wrinkles (other than naturally occurring lines under eyes). Caudalie Polyphenol C15 products are not miracle-makers but they did solve a majority of my skin issues.
This serum is described as "concentrated serum which blocks free radicals and visibly corrects wrinkles. It defends the skin and boosts its natural protection against external aggressions (pollution, stress…)." with the following key ingredients: grape polyphenols, stabilised vitamin C, hyaluronic acid and oliv squalan.
The serum is surprisingly lightweight. It spreads easily and a small amount is enough. I used approximately 2 drops of serum for the entire face. It is not sticky and it sinks in quickly. I usually applied it during my PM routine, but I used it in my AM routine several times.
I cannot comment on its claims to visibly correct wrinkles as I still don't have them. What I can say is that the serum did help to moisturize my skin (although not as much as Detox oil did). I applied Vinosource Sorbet over the serum, and I do not find Vinsource Sorbet as moisturizing, which leads me to the conclusion that Polyphenol C15 Serum on its own wouldn't provide enough hydration.
I have to add another plus to the serum – it seems that it has a decent amount of vitamin C as it managed to drastically lighten the cut scar I have on my face. The scar is still there, but it is less visible.
It also improved my skin tone, which resulted in more even, radiant skin. Of course, it did nothing for the pores, but it doesn't claim that it helps with this concern.
INGREDIENTS:
Aqua (Water), Butylene Glycol, Glycerin*, Squalane*, Ascorbyl Tetraisopalmitate, Tocopherol*, Ceteareth-20, Palmitoyl Grape Seed Extract*, Parfum (Fragrance), Glyceryl Stearate Se*, Potassium Sorbate, Acrylates/C10-30 Alkyl Acrylate Crosspolymer, Caprylyl Glycol, Xanthan Gum, Hyaluronic Acid, Carbomer, Sodium Phytate*, Sodium Hydroxide.
*Plant origin
The serum has a pleasant, fruity scent which is not overwhelming. It didn't cause breakouts or clog pores.
In the end I feel that I have to mention that the serum is the least favorite product from the range. I like it enough to consider repurchasing it (and I probably will unless I find something better), but I'm not in love with it.
xoxo Tamara