A double-hitter of emotionally-charged morality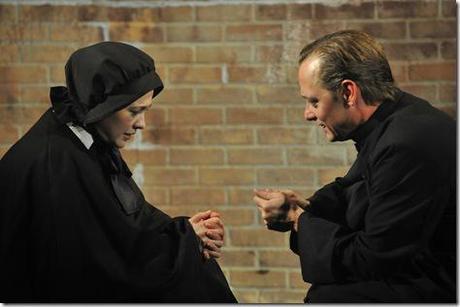 "Because in much wisdom there is much grief, and increasing knowledge results in increasing pain." – Ecclesiastes 1:18
PJ Paparelli opens his fifth season as artistic director of American Theatre Company by presenting two plays that have never before been paired together. The shows are ticketed separately, however. John Patrick Shanley's Doubt and John Pielmeier's Agnes of God comprise "The Catholic Repertory."
Three actresses bravely take on challenging roles in both plays. The demand is perhaps too great, as the cast often stumbles upon each other's lines or trip up their own. Some of the dialogue and scene transitions feel rushed, as two full-length plays are getting squeezed into one evening of drama.
Apart from the obvious topical similarity of both plays centering on a pair of nuns, these two works delve into shared thematic territory. They explore the essence of faith, challenge conventional notions of morality, and underscore the consequences of the relentless pursuit of truth.
---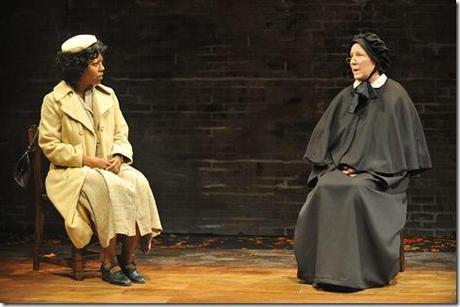 American Theater Company presents
Doubt
Review by Keith Glab
In Doubt, ATC has the unenviable task of not only competing with the 2008 film adaptation starring Meryl Streep, but also AstonRep's phenomenal production earlier this year. For that production, the Heartland Studio provided an intimate setting appropriate for the tension and subtlety of the show.
Catholic school principal (Kate Skinner) accuses a priest (Lance Baker) of an inappropriate relationship with one of her students. The expansive American Theatre Company stage instead keeps the actors a safe distance apart from each other and forces the actors to play their characters a little larger than life.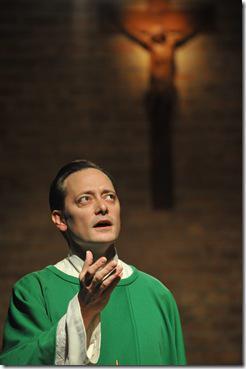 One choice not necessitated by the venue is the cast playing for laughs in this dramatic piece. Absolutely, there is humor in the script, but rather than let it blossom organically, they push it in your face. Skinner in particular makes Sister Aloysius into an over-the-top character, overemphasizing words with regularity. At one point she states that she "would prefer a discussion of fact rather than tone" – a performance more appropriately matter-of-fact than overtly emotional from that character would be preferable.
The wide stage is partially responsible for the audience losing Sadieh Rifai's facial expressions to her habit's hood, but she also could cheat her face out more and the depth of the stage could be used to put her in a better position to be seen. The actors are too often positioned in profile on a straight line.
One of the production's triumphs is its seamless transition from indoor to outdoor settings. The grounds (scenic design by Scott Davis) are represented by an upstage path with falling leaves, and Jesse Klug's lighting design effectively separates it from the school and church while also realistically simulating lighting and sunshine.
Overall, this is still an enjoyable and poignant production, but it isn't right for the venue and would benefit from more subtlety and simplicity.
Rating: ★★½
---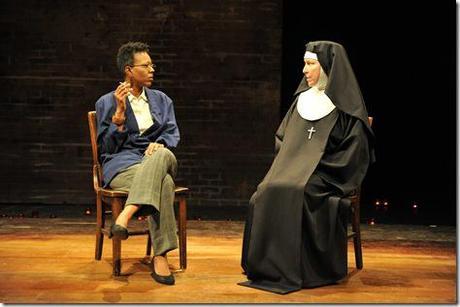 Agnes of God
Review by Keith Glab
Based on a real-life incident, Agnes of God is not as tight of a script as Shanley'saward-winning masterpiece, yet it is better-suited to PJ Paparelli's emotionally-charged style of direction.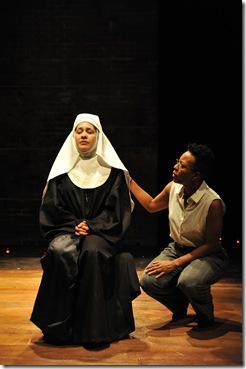 Dr. Livingstone (
Penelope Walker
) is evaluating the sanity of Sister Agnes (
Sadieh Rifai
) after she has apparently concealed a pregnancy and murdered her newborn baby. Agnes reveals that she was dropped on her head as an infant and sexually abused by her mother as a child. She now denies all knowledge of conception, pregnancy, and murder, and Livingstone investigates whether Agnes is lying, repressing, or whether there is more to the incident than meets the eye.
After a riveting performance in her brief scene as Mrs. Muller in Doubt, Walker carries most of the action in Agnes, narrating portions of the story and remaining onstage the entire time. She makes Livingstone a likeable though flawed character. Kate Skinner gives Mother Miriam – who is literally a mother figure for Agnes – a completely different feel from her earlier Sister Aloysius. Miriam manages to display a greater range of emotion yet seem more nuanced and believable at the same time. As Agnes, Sadieh Rifaidisplays much of the same obsequiousness and naïveté she did as James, but then excels in expanding her palette to love, fear, and self-loathing.
The plot unfolds as a choppy melodrama. Rather than proceed with a steady, logical build, revelations sprout abruptly from time to time. Paparelli often has the characters move to another part of the stage for no apparent reason other than to make use of the entire space. The cast maintains great energy amidst the chaos despite having just performed another play.
There are interesting psychological themes at play here, and it would be nice for the audience to have a little more time to consider them as they are taken on this thrill ride. But the production works as a cathartic, high-octane maelstrom.
Rating: ★★½
The Catholic Repertory continues through November 4th at American Theatre Company, 1909 W. Byron (map), with nightly performances Thursdays-Saturdays, withDoubt at 7:30pm and Agnes of God at 9:15pm; Saturday and Sunday matinees at 2pm and 3:45pm respectively.  Tickets are $38-$43 per play, and are available online through PrintTixUSA.com (check for half-price tickets at Goldstar.com). More info atATCWeb.com.  (Running time: Doubt runs approximately 75 minutes and Agnes of Godapproximately 80 minutes. There is a 20 minute break between shows)
Photos by Peter Coombs
---
artists
cast
Lance Baker (Father Flynn), Kate Skinner (Sister Aloysius/Mother Miriam Ruth), Sadieh Rifai (Sister James/Sister Agnes), Penelope Walker (Mrs. Muller/Dr. Martha Livingstone), Olivia Crary (Understudy, James/ Agnes), Brittany Love Smith (Understudy, Muller/Livingstone), Luke Couzens (Understudy, Flynn)
behind the scenes
PJ Paparelli (director); Michael Leibenluft (asst. director), Matt Dominguez (asst. director), Benjamin W. Dawson (technical director), Scott Davis (scenic design), Jesse Klug (lighting), Sally Dolembo(costumes), Andre Pluess (sound design), Ashley Nguen (props), Katie Klemme (stage manager),Christian Gero (asst. sound design), Greg Hoffman (asst. lighting), Dustin Z. West (asst. stage manager), Jason Nykiel (scenic fellow), Mac Vaughey (master electrician), Amanda Sager (sound engineer), Breanna Plack (run crew), Coco Ree Lemery (scenic artist) Peter Coombs (photos)