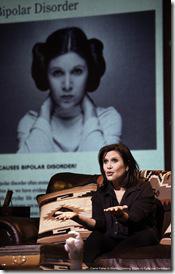 Wishful Drinking
Created by Carrie Fisher 
Directed for Broadway by Tony Taccone 
at Bank of America Theatre, 18 W. Monroe (map)
thru Oct 16  |  tickets: $25-$65  |  more info
Check for half-price tickets
  
  
   Read entire review
---
A hilarious journey from childhood to Leai to sobriety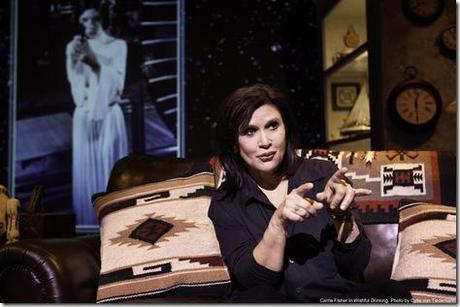 Broadway in Chicago presents
Carrie Fisher Wishful Drinking
Review by Katy Walsh 
"This is our most desperate hour. Help me, Obi-Wan Kenobi. You're my only hope."   The first time I heard Carrie Fisher speak it was the 70's and her ship had fallen under attack. She was a radically contemporary take-charge princess.  She was the anti-Disney heroine and I wanted to be her.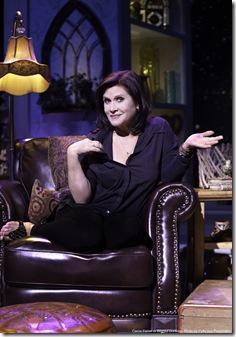 Broadway in Chicago presents
Carrie Fisher Wishful Drinking
for a limited two week engagement.  From a book by the same name, Carrie Fisher has created a tell-all one woman show.  She starts and ends her shtick with the story of a gay dude dying in her bed. It's the *simple* circle of life for the daughter of Hollywood royalty and the bikini-clad sex symbol from the future. Carrie Fisher chats frankly about being a bi-product of American sweethearts, Debbie Reynolds and Eddie Fisher.  She compares her father's philandering with Liz Taylor as the Brangelina of the time period.  At one point, she illustrates an org chart featuring the multiple marriages of Deb-Ed-Liz to rule out incest between her daughter and Liz's grandson.
Carrie Fisher Wishful Drinking
is liquid courage served straight-up and dry.
This show has been around since its 2006 Broadway run. It's even been on HBO. I read the book. But nothing beats seeing it in person or more specifically seeing *her* in person. Carrie Fisher is intoxicating in sobriety. She outs herself as a loon, drunk and bitch. She finds the humorous moments in working on these personal problems in public. The tabloids drooled over her past headline-worthy antics. Now, she has and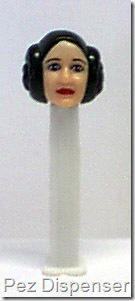 gives the last laugh by a confessional-style openness. She is selling her own dirt. It's worth the price of admission. A masterful storyteller, Carrie… yes, I'm convinced we are now on first name basis… is able to break the fourth wall and build a real kinship with the audience, frequently asking questions and interacting with those in the front rows. The set, designed by
David Korins
, is a cozy living room with comfy furniture and eclectic knick-knacks (including an R2D2 doll). Barefoot and with witty hospitality, Carrie extends her home into the audience. It's very welcoming! Throughout the show sporadic applause for her mother, George Lucas or Paul Simon, is met with a gracious 'I'll tell her (him) you said that.'
For me, Wishful Drinking was a nice hearty Malbec. Full-bodied, sassy and hangover proof! Sipping on it, I giggled a lot and begin to believe Carrie and I were friends.
"If my life wasn't funny, it would just be true."  In 2011, Carrie Fisher has radically taken-charge of her life to control addictions and a bi-polar disorder.  In the end Obi-Wan didn't save her.  Carrie Fisher rescued herself and I still want to be her.
Rating: ★★★½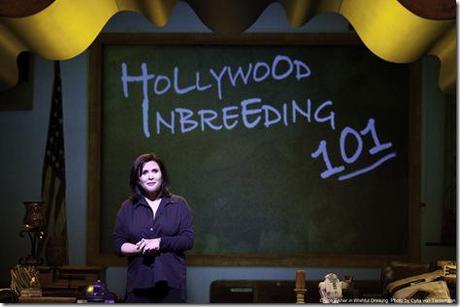 Carrie Fisher Wishful Drinking continues through October 13th at the Bank of America Theatre, 18 W. Monroe (map). Tickets are $25-$65, and can be purchased by online. Half-price tickets are also available through Goldstar.com. More information at BroadwayInChicago.com.
Show times: Thursday, Oct 6 at 7:30pm, October 7 at 8pm, October 8 at 2pm and 8pm, October 9 at 2pm and 7:30pm, October 11 at 7:30pm, October 12 at 2pm and 7:30pm, and October 13 at 7:30pm. (Running time: Two hours and thirty minutes, which includes one intermission)
All photos by Cylla von Tiedemann
---